Authored by Andrew Fenton via CoinTelegraph.com,
Almost 25,000 investors have signed up to trade alongside ChatGPT as they follow the GPT Portfolio experiment from copy trading firm Autopilot.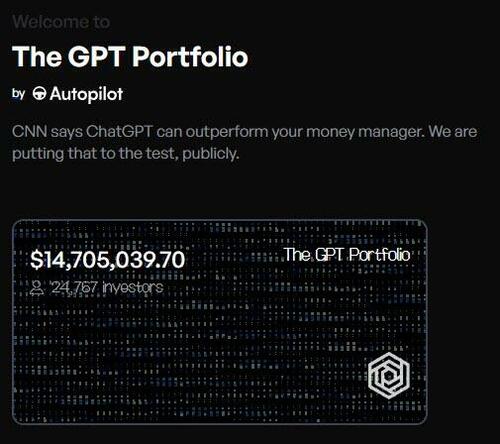 The traders have bet a combined $14.7 million on the AI's stock picks, which would average about $600 each if they all invested after signing up. They're hoping to take even a small slice of a purported 500% return from one of the strategies backtested in academic research.
This is absoutely isnane 🤯

A ChatGPT trading algorithm delivered 500% returns in the stock market.

A University of Florida study revealed ChatGPT achieved a staggering 500% return in one investing model

This outpaces conventional sentiment analysis models used by hedge funds… pic.twitter.com/8vxIWmpqrY

— AI Daily (@AlexAIDaily) May 10, 2023
The GPT Portfolio gets the AI to analyze 10,000 news articles and 100 company reports to select 20 stocks for the $50,000 portfolio, updated each week. The initial picks included Berkshire Hathaway, Amazon, D.R. Horton and Davita Health. After two weeks, the portfolio is up around 2%, which is pretty much the same as the stock market.
Interestingly the bottom five picks lost more in percentage terms than the top five gained — Dollar Tree lost 17% after it missed earnings — so it might be more sensible in future to only invest in GPT-4's best five or 10 ideas, but we'll see how it works out.
The smaller-scale ChatGPT Crypto Trader account is tweaking a similar strategy that gets GPT-4s advice on when to go long on Ethereum. He says it shows a profit of 11,000% backtested to August 2017, but in the real-world experiment since January, the portfolio is up by a third, while the Ethereum price has gained 60%.
It's worth being careful using AI for trading, however. Crypto derivatives platform Bitget recently abandoned its experiment of using AI on the platform due to the potential for misinformation. A survey of its users found 80% of users had a negative experience with the AI, including false investment advice and other misinformation.
Bitget Managing Director Gracy Chen says:
"AI tools, while robust and resourceful, lack the human touch necessary to interpret market nuances and trends accurately."
Loading…
22 total views, 1 views today