Authored by Jack Phillips via The Epoch Times (emphasis ours),
Former U.S. Secretary of State Henry Kissinger has doubts about older individuals running and serving as president of the United States.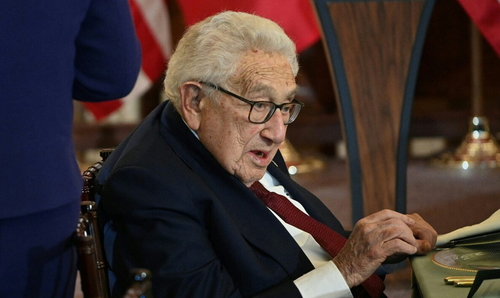 The 99-year-old foreign policy veteran recently told CBS News that the job of a president "takes a certain capacity, physically."
He said "there's some advantages in maturity" but also warned that "there are dangers in exhaustion, and a limited capacity to work" with increased age.
Kissinger's perspective on the presidency comes after serving as a national security adviser and then as a secretary of state for Presidents Richard Nixon and Gerald Ford between 1969 and 1977. He has also met with and advised other U.S. presidents and world leaders in the decades since. Kissinger's perspective is also informed by his own decline over time. Kissinger is blind in one eye, has difficulty hearing, and has endured multiple heart surgeries.
The former secretary of state offered his assessment of how age factors into the equation after President Joe Biden, the oldest man ever elected to the executive office, recently announced his bid for reelection.
Biden was 77 years old when elected in November of 2020 and turned 78 before his inauguration on Jan. 20, 2021. If re-elected in 2024, Biden will begin a second term shortly after his 82nd birthday and would be 86 years old by the end of that term in January of 2029.
Before Biden was elected, Trump was the oldest person ever elected to the office of the president. Trump was 70 years old when he was elected in 2016. Trump is also seeking a return to the Oval Office in 2024 and, if elected, would be 78 at the start of a term and 82 by its end.
Biden's Response to Age Concerns
Trump referred to Biden as "Sleepy Joe" throughout their 2020 match-up, implying that his Democratic rival was experiencing diminished energy and cognitive decline in his advanced age.
After Biden announced his reelection bid on April 25, Republican presidential contender Nikki Haley suggested Biden would be unlikely to finish his second term even if he did win reelection.
"I think that we can all be very clear and say, with a matter of fact, that if you vote for Joe Biden, you really are counting on a President [Kamala Harris], because the idea that he would make it until 86 years old is not something that I think is likely," Haley said in an interview with Fox News following Biden's campaign announcement.
Republicans aren't the only ones raising Biden's age as a point of concern. An April Associated Press-NORC poll found that just 47 percent of Democrats wanted Biden to run for re-election. Democratic respondents who spoke with the Associated Press frequently cited Biden's age as a factor undermining their support for his reelection.
Read more here…
Loading…
21 total views, 1 views today