After Rolling Out Blue Carpet, Biden Begs Mexico To Stop Migrants
'I'll reverse Trump's immigration policies' he said. 'You'll have a pathway to citizenship,' he said.
What President Biden didn't mention, however, was that the ensuing chaos at the border would see over 13,000 unaccompanied migrant children detained in federal custody, nearly one-third of whom have been sitting in the same 'cages' built by the Obama-Biden administration, and 3,000 of whom have been held beyond the 72-hour legal limit.
Now Biden is telling them to stop coming, after begging Mexico's president to help stem the flood of illegal migrants.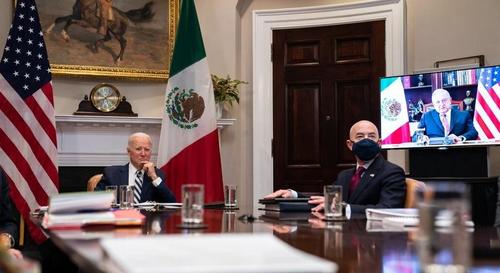 According to the New York Times, after Biden halted construction on the border wall (leaving gaping holes at construction sites), stopped turning away children, and proposed a pathway to citizenship, the surge in migrants has overwhelmed the Biden administration's ability to process them.
Faced with a crisis of his own making, Biden reportedly asked Mexican President Andrés Manuel López Obrador 'whether more could be done to help solve the problem.'
Biden and AMLO even discussed the possibility of the United States sending Mexico some of its surplus vaccine supply, a senior Mexican official told the Times, which notes that "Mexico has publicly asked the Biden administration to send it doses of the AstraZeneca vaccine, which has not been approved for use in the United States."
According to Mexican officials, efforts to secure vaccines are separate from immigration talks, but they have acknowledged that a shipment of doses would help relations.
"Both governments cooperate on the basis of an orderly, safe and regular migration system," said Roberto Velasco, director general for the North America region at Mexico's foreign ministry, though he added that there is no quid pro quo for the vaccines.
"These are two separate issues, as we look for a more humane migratory system and enhanced cooperation against COVID-19, for the benefit of our two countries and the region."
But there are also signs that Mexico's commitment to policing migration — a central demand of Mr. Trump, who wielded the threat of tariffs against all Mexican goods unless migration was curbed — may have flagged in the waning months of the Trump administration.

From October through December of last year, the number of Central Americans apprehended by Mexico declined, while detentions by American agents increased, according to Mexican government numbers and data compiled by The Washington Office on Latin America, a research organization that advocates for human rights. -NY Times
"The likelihood of the outgoing Trump administration threatening tariffs again was low, so there was an incentive for Mexico to go back to its default state of low apprehensions," said border security expert Adam Isacson of The Washington Office on Latin America.
Yet, with Biden less likely to slap Mexico with tariffs like Trump, it's hard to imagine they'll willingly hold the line against the surge of migrants.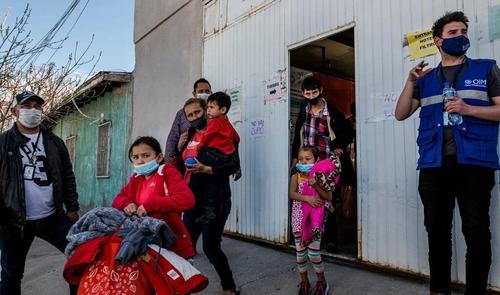 "They get to look like the good guys and the Mexicans look like the bad guys," said Cris Ramón, an immigration consultant based in Washington, DC.
"All the positive humanitarian policies are being done by the Biden administration," he added. "and then the Mexicans are left with the dirty work."
Lack of space
Exacerbating the situation, a Mexican law which went into effect in January prevents authorities from holding migrant families and children in detention centers, where a lack of space has become a major problem.
According to Enrique Valenzuela, a lead coordinator for the government of Chihuahua state's migration, "shelters are at near collapse," while local officials say that coordination has broken down between Mexican and US officials.
During the last years of the Trump administration, American officials would notify their Mexican counterparts before expelling migrants across the border and would orchestrate the crossings at a handful of well-staffed border checkpoints, they say.

Under the Biden administration, they say, Customs and Border Patrol agents now deposit migrants at some of the most obscure, understaffed checkpoints, leaving their Mexican counterparts scrambling when they discover dozens of migrants walking in from the United States. -NYT
And despite 'very public tensions with Mexico under Mr. Trump,' AMLO has been weary of the Biden administration, while the Mexican government has pushed the US to deter Central Americans from migrating by sending humanitarian aid to Honduras and Guatemala following two hurricanes which devastated the region and – experts say, pushed people to migrate.
Tyler Durden
Thu, 03/18/2021 – 17:00

Source: Zero Hedge News
72 total views, 2 views today