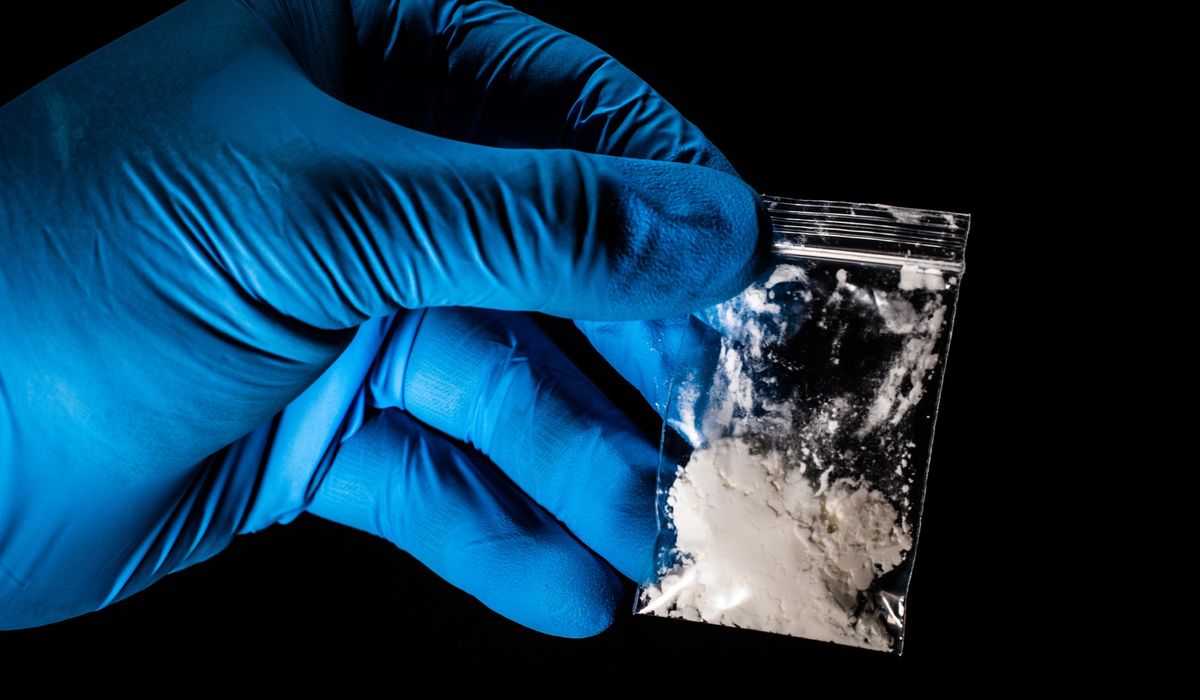 The Drug Enforcement Administration closed out last year with a startling statistic: It seized over 379 million deadly doses of fentanyl in 2022, enough to kill every American, and its haul included twice the number of counterfeit pills that agents seized the prior year.
Two decades ago, fewer than 1,000 people were dying from synthetic opioids in a given year. Now tens of thousands of Americans die from the potent drugs annually, as Mexican cartels churn out fentanyl-laced drugs with Chinese-made chemicals.
Overdose deaths involving a synthetic opioid have soared from nearly 10,000 in 2015 and 20,000 in 2016 —the period when fentanyl started to infiltrate the U.S. drug supply —to 56,000 in 2020 and over 70,000 in 2021, according to the most recent federal figures available based on death certificates.
The staggering and steady rise in U.S. overdose deaths accelerated during the COVID-19 years, as drug users were cut off from support networks and Washington focused much of its attention on the virus as its most pressing health crisis.
Now, the Biden administration and Congress are under pressure to attack fentanyl anew.
There are signs the rate of U.S. overdose deaths is beginning to decrease as the U.S. emerges from the pandemic, yet the fentanyl crisis continues to evolve and is impacting a wide swath of Americans.
While heroin users have been at-risk for years, fentanyl is showing up in stimulants like cocaine while counterfeit pills are being laced with the deadly drug, killing unsuspecting users who thought they were popping a Xanax or Adderall.
"Fentanyl presents an enormous profit opportunity for drug traffickers relative to heroin, so that means they are going to push it no matter what policymakers do," said Keith Humphreys, a Stanford University professor who tracks the opioid crisis. "You don't need land, good weather, peasant labor, processing of crops, etc. Instead, you can whip it up in a small lab, and every gram is 50 times as strong as heroin."
The Biden administration is deploying a two-pronged strategy of prevention and treatment for drug users with a parallel effort to disrupt international supply chains of fentanyl with DEA seizures and collaboration with international partners, such as India, where some precursor chemicals for fentanyl are made.
"The increasingly dynamic and complex nature of the international illicit drug trade demands enhanced cooperation with international partners that reflects the reality of a globalized supply chain for illicit drugs and their precursor chemicals," the White House's drug-control strategy says.
Mr. Biden hopes the massive year-end funding bill he signed will swat away barriers to addiction treatment. It includes new funding for the fight and removed the federal requirement that forced DEA-registered practitioners to obtain a waiver before prescribing certain medications, like buprenorphine, for the treatment of opioid use disorder.
On Capitol Hill, House Republicans who've taken charge of the chamber have pledged to take a harder line on the problem.
Rep. Morgan Griffith, Virginia Republican, said he will refile his Halt All Lethal Trafficking of (HALT) Fentanyl Act, to permanently schedule fentanyl and its chemical cousins as Schedule I drugs with no medical purpose.
"We need to make all of these Schedule I," Mr. Griffith said at a Jan. 11 roundtable hosted by the Energy and Commerce Committee. "I'm very hopeful that sometime in the next few days we'll get the newest version of the HALT Act out that would make it permanently scheduled, and I think that's extremely important."
Lawmakers also plan to scrutinize the role that big tech platforms play in the proliferation of synthetic opioids.
Witnesses at the opioids roundtable said fake prescription pills, which may be laced with fentanyl, are available through social media and e-commerce platforms, making them accessible to minors with smartphones.
"We have read numerous reports and heard personal stories from parents who have tragically lost their children to fentanyl and fentanyl-related substances from pills purchased from drug dealers on TikTok," lawmakers wrote in a September letter requesting information from the Chinese-owned platform. "The loss of these young lives shows not enough is being done to crack down on this illegal activity and prevent criminals from exploiting your platform to sell this deadly poison."
Each month, the U.S. Centers for Disease Control and Prevention issues provisional overdose counts for the preceding 12-month period through its National Vital Statistics System, though data often lags by several months.
The overdose situation started to deteriorate in 2015. In January of that year, CDC data show 47,500 persons had died from overdoses in the preceding 12 months.
The death toll steadily increased in the years that followed, as powerful synthetics like fentanyl flooded the street-drug supply, though it plateaued at a rate of about 70,000 annual deaths from mid-2017 to 2019.
The numbers started to ramp up ahead of the COVID-19 crisis and steadily increased through the height of the pandemic. Officials believe the pandemic hurt the effort because persons suffering from substance abuse were alienated from support networks.
At its peak, roughly 110,000 persons died from drug overdoses in the 12 months ending in March 2022, before the rate plateaued and eased slightly over the next several months.
About 107,000 people died of drug overdoses in the 12 months ending in August, an easing that allowed the White House to claim some progress.
"For the last two years, the Biden-Harris administration has taken historic steps to remove barriers to addiction treatment, go after drug traffickers and their profits, and get more naloxone into communities. As a result, today's data continue to show a decrease in overdose deaths for the fifth month in a row," said Dr. Rahul Gupta, director of the White House Office of National Drug Control Policy, said in a Jan. 11 statement about the latest data.
The DEA's seizure announcement in late December underscored the mix of good and bad news for the administration. The unrelenting flow of dangerous drugs is alarming, though agents were able to intercept a large amount before the pills reached U.S. communities and claimed more lives.
The DEA says fentanyl is being mass-produced in secret factories in Mexico with chemicals largely sourced from China. The drugs are then trafficked into the U.S.
"DEA's top operational priority is to defeat the two Mexican drug cartels — the Sinaloa and Jalisco Cartels — that are primarily responsible for the fentanyl that is killing Americans today," DEA Administrator Anne Milgram said in December.
Investigators are also concerned about home-grown production.
Law enforcement in Arizona last week raided two locations, including a residence, after investigators noticed a series of incoming packages containing chemicals from China.
"We're trying to find out who is doing this and for what purpose. Everything about the importation of this looks very suspicious," said Leo Lamas, the deputy special agent in charge of Homeland Security Investigations who worked on the case. "It's drawing our attention because one of our suspicions is, 'Can this be combined to produce a narcotic?'"
Investigators are testing a "couple hundred pounds" of seized chemicals from the home as part of a probe, which is ongoing.
The idea that fentanyl or other drugs are being crafted here in the U.S. runs somewhat counter to the typical pattern, in which drugs are trafficked up from Mexico.
"I would not say that's a common thing, but certainly it is something we have seen," Mr. Lamas said. "Separate from this investigation, we have found local pill pressers and labs in the United States, not just for opioids but for methamphetamine."
While stimulants such as cocaine and methamphetamine are key drivers of overdose deaths, fentanyl is the top problem.
The CDC maintains detailed data on about 51,000 overdose deaths recorded in 32 jurisdictions in 2021. Illicit fentanyl was involved in nearly three-quarters or about 37,000 of the deaths.
By comparison, heroin was involved in about 11% of the deaths and prescription opioids were tied to about 16%. Cocaine and methamphetamine were found more frequently — in about 28% of deaths for each category — though still paled in comparison to fentanyl.
DEA labs found that six in 10 fentanyl-laced pills contained a potentially lethal dose of fentanyl in 2022, an increase from four in 10 in 2021. The pills are made to look like OxyContin, Percocet, Xanax or other brands only to be counterfeit and deadly.
"Most people dying of fentanyl overdoses were using opioids intentionally, including some who were using fentanyl intentionally," Mr. Humphreys said. "But we are seeing significant numbers of deaths among people who were exposed accidentally, for example in a purchase of cocaine, meth, or a pill that is incorrectly labeled as Adderall or Ativan."
Deb and Ray Cullen, who live in Pennsylvania, told the House GOP roundtable their son Zachary, 22, died after using cocaine that was laced with fentanyl.
"This crisis should be attacked with the same priority and intensity that COVID was," Deb Cullen told the committee. "You could not turn on the television without hearing about COVID, its statistics and what the government was doing to fight it. It should be the same for the illicit fentanyl crisis."
13 total views, 2 views today