Continuing jobless claims worse in two years; industrial production's biggest YoY decline since COVID lockdowns; and homebuilder sentiment plunges back near COVID lockdown lows… but apart from that, Bidenomics is killing it!!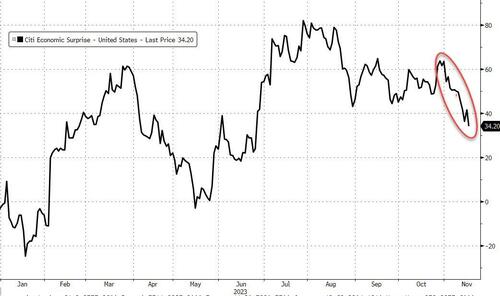 Source: Bloomberg
…and reflexively, as economic growth fears grow, yields decline, dollar slides, and financial conditions 'ease'. In fact, Goldman's FCI has erased more than half of the 'tightening' that occurred from Aug to Oct – that The Fed was so proud of – in two weeks.
Source: Bloomberg
And all that was interpreted dovishly for monetary policy with rate-cut expectations increasing marginally for next year…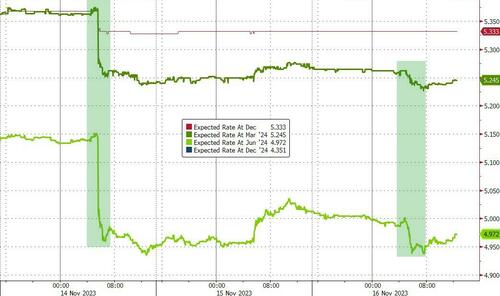 Source: Bloomberg
Bonds were aggressively bid today with yields down around 8-10bps across the curve, basically erasing yesterday's spike higher. On the week, yields are all down significantly with the long-end standing out as the underperformer as the belly does best…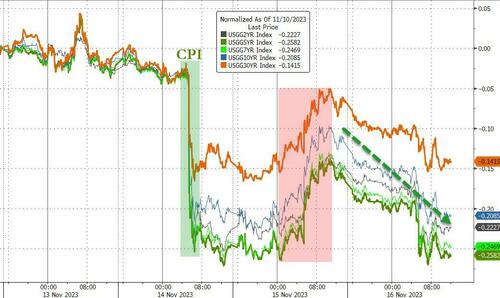 Source: Bloomberg
Lower yields did nothing for stocks today as most of the majors clung desperately to the unch-ish level. Small Caps were hammered hard from the open, tried to recover in the afternoon but still ended the biggest loser. Nasdaq and the S&P were almost perfectly unch and The Dow lagged a little.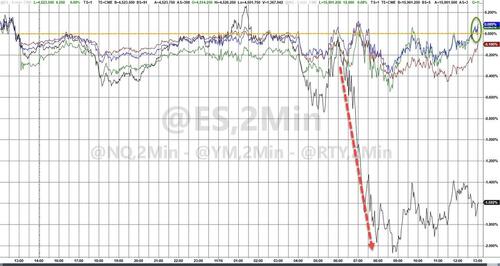 Hedge fund longs outperformed their shorts today, erasing some of the plunge this week…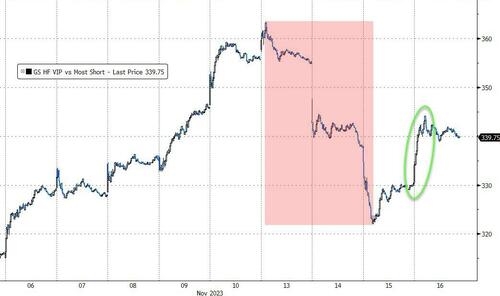 Source: Bloomberg
Crypto was a bloodbath today.
The most obvious candidate for the downturn is reports that the SEC has asked to delay its decision on ETFs.
The United States Securities and Exchange Commission (SEC) has delayed its approval for Spot Bitcoin and Ethereum Futures ETF applications. The regulator filed for an extension on November 15 stating that it needed more time to properly review the issues of the application and its decision regarding ETFs.

"The Commission finds it appropriate to designate a longer period within which to take action on the proposed rule change so that it has sufficient time to consider the proposed rule change and issues raised therein," the SEC stated in the filing.
Ethereum got an early boost after BlackRock filed for a spot ETF, but that was immediately slammed from almost $2100 to below $1950 where it found some support…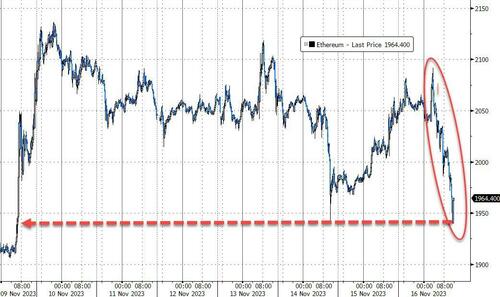 Source: Bloomberg
Bitcoin was also clubbed like a baby seal, round-tripping yesterday's gains, plunging from $28,000 to $35,5000 where it found support…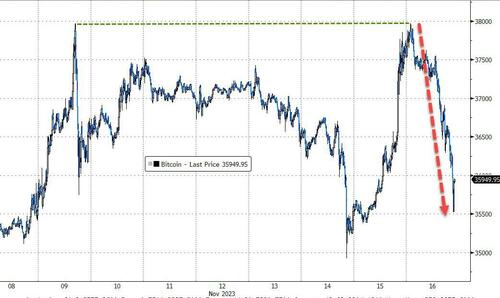 Source: Bloomberg
The dollar trod water for the second day in a row, taking a breather from Tuesday's bloodbathery.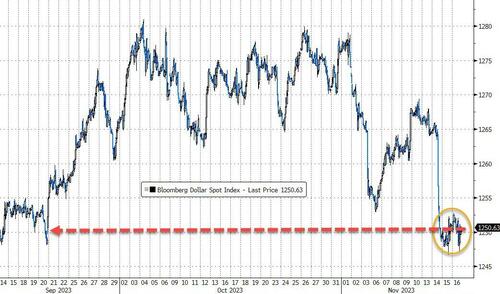 Source: Bloomberg
Gold was favored today with spot prices up over 1%, nearing $1990 intraday…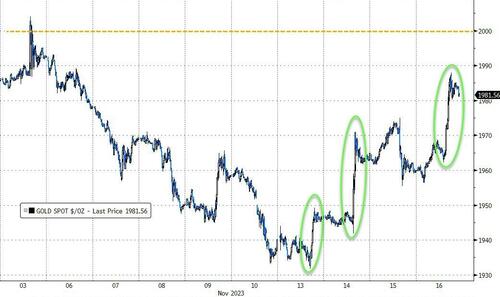 Source: Bloomberg
Notably, spot gold found support on Tuesday at the 200DMA and has ramped higher since…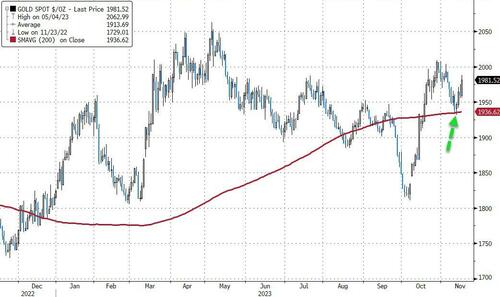 Source: Bloomberg
…but black gold was monkeyhammered today. WTI plunged arund 5% with front-month trading down to a $72 handle intraday before a tiny bounce. This is the lowest level since July and notably below the price level when OPEC+ surprised the world with a coordinated supply cut. Technically, it is also in trouble finding no support at the 200DMA. Today was in the Top 5 worst days of the year for crude…
Source: Bloomberg
Finally, somewhat ominously US Treasuries appear to be following a very similar path this year as they did in 1987 (of course at a different absolute level)…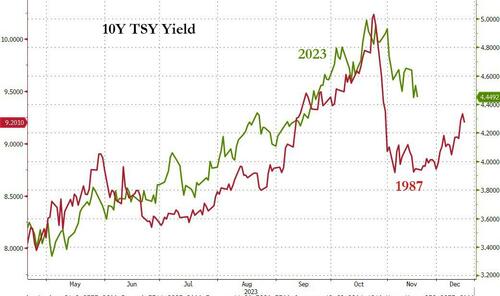 Source: Bloomberg
But stocks aren't…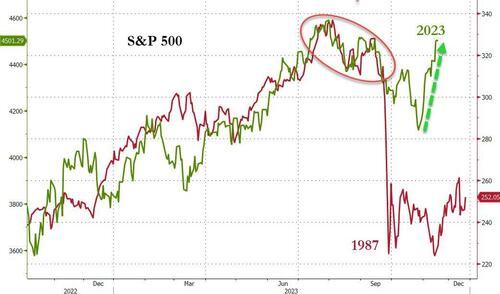 Source: Bloomberg
…yet!
Loading…
7 total views, 1 views today