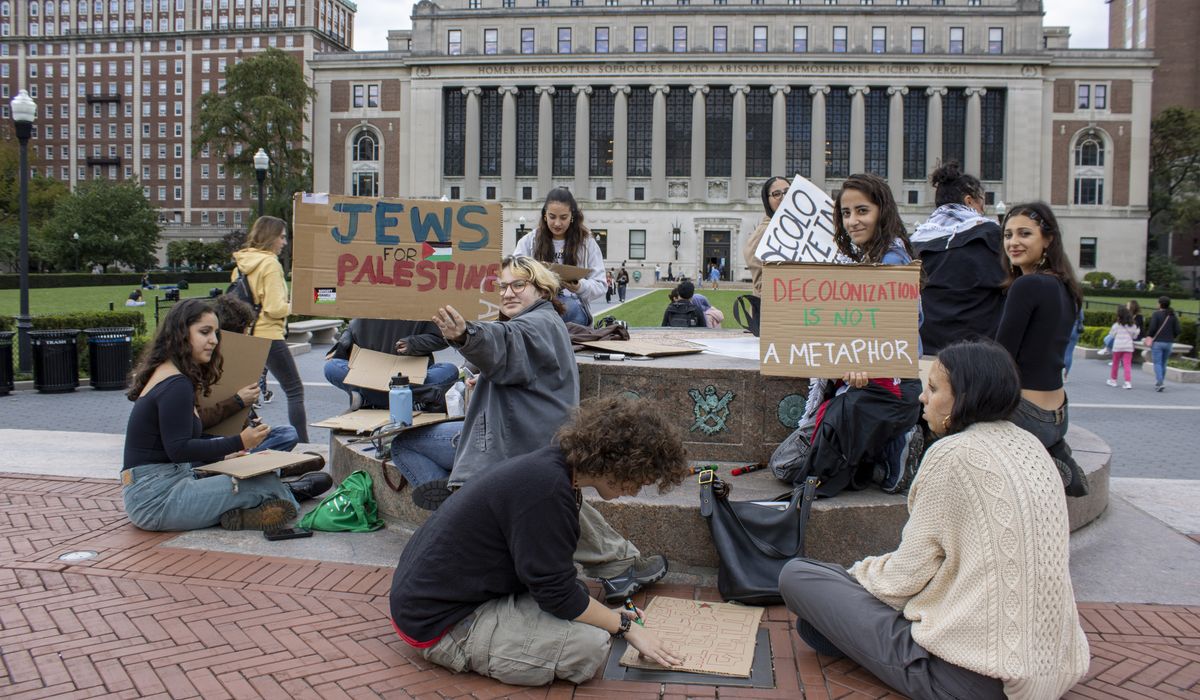 Columbia University has suspended two pro-Palestinian student groups for repeated protests in violation of university policies, as concerns about antisemitism and the safety of Jewish students fuel an Ivy League donor revolt.
Gerald Rosberg, Columbia senior executive vice president, said that Students for Justice in Palestine and Jewish Voice for Peace were both put on hold as "official student groups through the end of the fall term," rendering them ineligible to hold campus events or receive university funding.
He said the two groups had "repeatedly violated university policies, culminating in an unauthorized event Thursday afternoon that proceeded despite warnings and included threatening rhetoric and intimidation," referring to the mass "Shut It Down for Palestine" walkout.
---
---
"Lifting the suspension will be contingent on the two groups demonstrating a commitment to compliance with university policies and engaging in consultations at a group leadership level with university officials," said Mr. Rosberg, who chairs the special committee on campus safety, in a Friday statement.
The decision to crack down on the groups was announced as word leaked that Columbia graduate Henry Swieca, a Jewish billionaire and founder of Talpion Fund Management, resigned two weeks ago from the Columbia Business School Board of Overseers, calling the campus "unsafe."
"With blatantly anti-Jewish student groups and professors allowed to operate with complete impunity, it sends a clear and distressing message that Jews are not just unwelcome, but also unsafe on campus," Mr. Swieca said in an Oct. 30 letter obtained Tuesday by the Jewish Telegraphic Agency. "My resignation is an expression of my deep concern for the direction in which the university is heading."
Columbia is believed to be the first Ivy League school to suspend the two pro-Palestinian student groups, which have headed protests on campuses nationwide.
The pro-Israel group Stop Antisemitism applauded Columbia's decision, calling it a "good first step but not enough; both of these clubs MUST be totally dismantled and other schools should follow suit."
Pro-Palestinian student groups have held multiple protests on campus since the Oct. 7 Hamas attack on Israel, including the Thursday walkout and a Wednesday "die-in," both of which were reportedly held in violation of university rules that require applying for permits at least 10 days in advance.
At the sit-in, "University delegates distributed cards to students threatening academic sanctions for violating the university code of conduct," according to the Columbia Spectator, the student newspaper.
Hundreds of students walked out Thursday and gathered at the library steps for a "peaceful protest art installation." A large wooden board on display called on the university to "publicly call for a ceasefire" and "call it genocide," as well as cancel plans to launch a global center in Tel Aviv.
Those decrying the suspension included Columbia graduate and former journalism adjunct professor Ahmed Eldin, who said the decision "ushers in a menacing new moment in America's history."
"This implicates @columbia in Israel's obscene and daily crimes against humanity," Mr. Eldin said on Instagram. "You're suppressing both Jewish and Palestinian voices of conscience."
Columbia, on Manhattan's Upper West Side, has gained international notoriety for its pro-Palestinian and anti-Israel student demonstrations.
An Israeli comedy show recently mocked the university's pro-Palestinian students, calling the college "Columbia Untisemity" in a sketch featuring two left-wing "students" with pink and blue hair.
"I major in queer postcolonial astrology," one of the performers says. "Jews make the world dirty. And no, I'm not antisemitic, I'm racist fluid."
5 total views, 1 views today