Authored by Austin Alonzo via The Epoch Times (emphasis ours),
In a Nov. 12 interview with CNN, Republican National Committee Chairwoman Ronna McDaniel said she would support former President Donald Trump as the eventual nominee if voters pick him.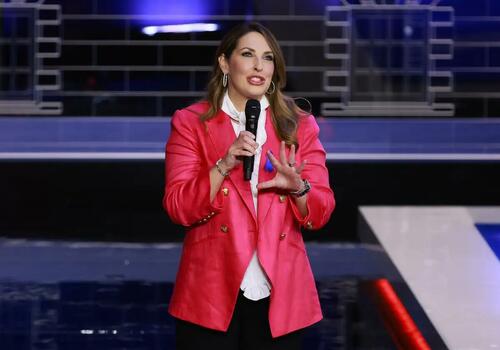 During the interview on Sunday with CNN's Dana Bash, the network's chief political correspondent, Mrs. McDaniel told Ms. Bash she will "support who the voters choose."
In her segment with Mrs. McDaniel, Ms. Bash, the co-anchor of CNN's "State of the Union with Jake Tapper and Dana Bash," began by asking if she found President Trump's Nov. 11 speech similar to former Secretary of State Hillary Clinton's infamous "basket of deplorables" remark.
During his speech Veteran's Day speech in Claremont, New Hampshire, the former president said he pledged to "root out the communists, Marxists, fascists, and the radical left thugs that live like vermin" in the United States.
Ms. Bash asked Mrs. McDaniel to "condemn" the remark, but she replied that CNN can ask President Trump what he meant. The RNC chairwoman redirected, saying the RNC is focused on beating President Joe Biden.
Ms. Bash then asked Mrs. McDaniel if she thought President Trump would be the "appropriate" nominee even if he's "a convicted criminal."
"The voters are looking at this, and they think there is a two-tiered system of justice," Mrs. McDaniel said. "They don't believe a lot of the things that are coming out in this. And they're making these decisions. And you're seeing that reflected in the polls."
The latest national poll on the topic, conducted by Tipp Insights and Issues & Insights LLC, revealed that 60 percent of Republican voters would choose President Trump over the other Republican candidates. The same poll said President Biden would win—43 percent to 41 percent—in a rematch of the 2020 presidential election.
Party of Losers, Abortion
Mrs. McDaniel also sounded off on the Democratic Party's victories on Nov. 7 and GOP presidential candidate Vivek Ramaswamy's comment about GOP losses in 2018, 2020, and 2022.
"He's at 4 percent," Mrs. McDaniel said. "He's looking for headlines."
Instead of attacking one another in a "circular firing squad," Republicans should be focused on taking on the Democrats.
Ms. Bash also pressed Mrs. McDaniel on the abortion issue. Liberals won a key election in Ohio establishing abortion as a constitutional right in the Buckeye State on Nov. 7.
Ms. Bash said Mrs. McDaniel previously told the press Republican candidates have "lost their messaging on abortion." She asked what that message should be then.
"I think commonsense limitations is where the country is," Mrs. McDaniel said. "I think most Americans do think that there should be a limitation when you know a baby feels pain as you're taking its life at 15 weeks."
Mrs. McDaniel said Democrats are using fear to drive support for abortion ballot measures. She said Republicans do support lifesaving care for ectopic pregnancies and in vitro fertilization. Still, Democrats are "going on TV and using Roe to scare people and misrepresent Republicans on this issue."
"I think our candidates have to get out in front of it," Mrs. McDaniel said.
Loading…
8 total views, 1 views today