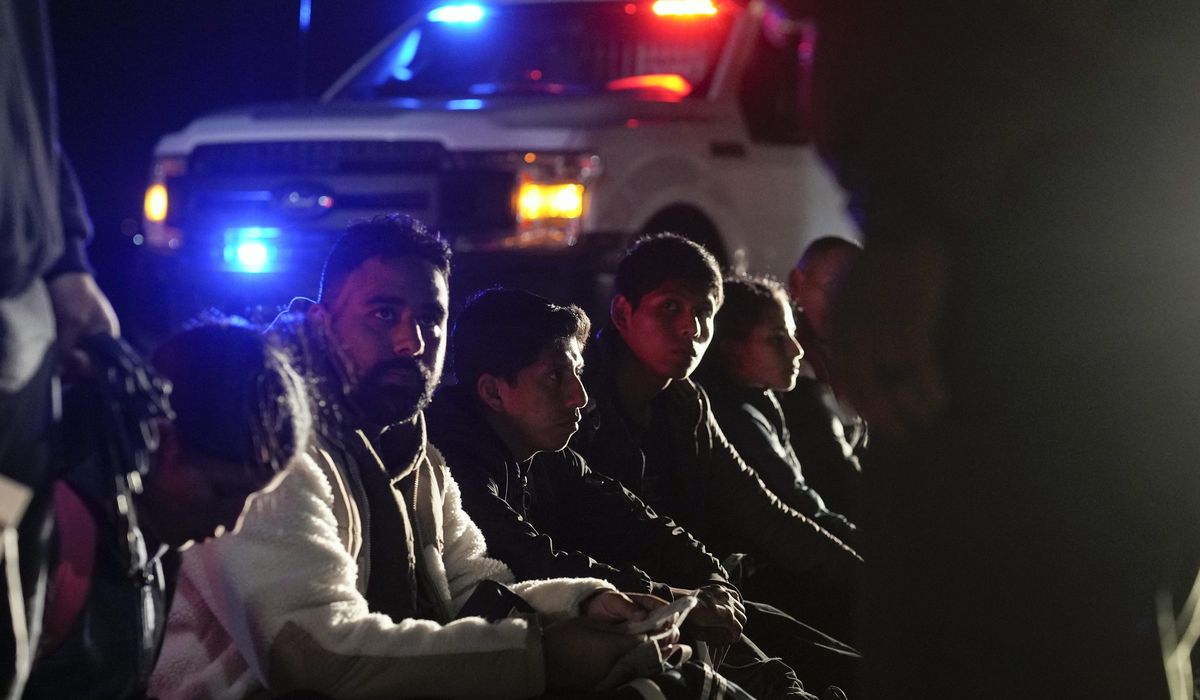 Homeland Security set a new record for chaos at the southern border in December with more than 250,000 encounters with illegal immigrants.
Border Patrol agents also detected 17 illegal immigrants whose identities were on the terrorist watch list, and Customs and Border Protection as a whole set a new record for fentanyl surging into the country.
The grim numbers were powered by large numbers of Cubans and Nicaraguans jumping the border.
But Biden administration officials also saw bright spots in the numbers, insisting that new programs put in place are shifting the patterns of illegal immigration for Venezuelans, who had surged late last year. Under a new program the administration created in October, Venezuelans who might otherwise attempt an illegal crossing can apply to come legally.
The number of Venezuelans jumping the border fell from about 22,000 in October to slightly less than 8,000 in November, and ticked up slightly to just more than 8,000 in December.
Acting CBP Commissioner Troy Miller trumpeted that change as evidence they've figured out some solutions.
"The December update shows our new border enforcement measures are working," he said.
Homeland Security has already announced an expansion of the Venezuela program to Nicaraguans, Cubans and Haitians, and officials are hoping to see improvement in those numbers by the next monthly update.
But analysts worry that other nationalities are ready to surge as well.
Colombians, Ecuadorians and Peruvians all surged to more than 10,000 illegal crossers per country in December, and India and Russia showed significant increases, though they remained below the 10,000 mark.
Also worrying is the rise in migrants traveling as families. CBP reported a 22% increase from November to December, reaching 77,088.
Families are particularly tricky for Homeland Security to handle, and most families are caught and released, meaning the chances of ever removing them are slim.
Digging into the numbers, the Border Patrol nabbed 221,181 illegal immigrants in December. CBP officers at the ports of entry encountered another 30,306.
Less than 20% were expelled under the Title 42 pandemic border expulsion policy — the lowest ratio since the early days of the pandemic.
Analysts say most of the rest of the 200,000 remaining illegal crossers were released into communities.
Mark Morgan, who led CBP in the Trump administration, said the Biden administration has normalized what would just a few years ago have been considered abominable levels of illegal activity.
"Under the last Democratic president, 25,000 encounters was a borderline crisis — for the Biden administration, 10 times that number is simply business as usual," he said.
Tom Homan, who ran ICE in the Trump years, said it's no accident that things have turned sour. He said Mr. Biden and his team erased a series of get-tough policies the Trump administration put in place that had largely solved the border, resulting in an unprecedented breakdown.
"Joe Biden is the first president in my lifetime to intentionally un-secure the border," he said.
91 total views, 1 views today