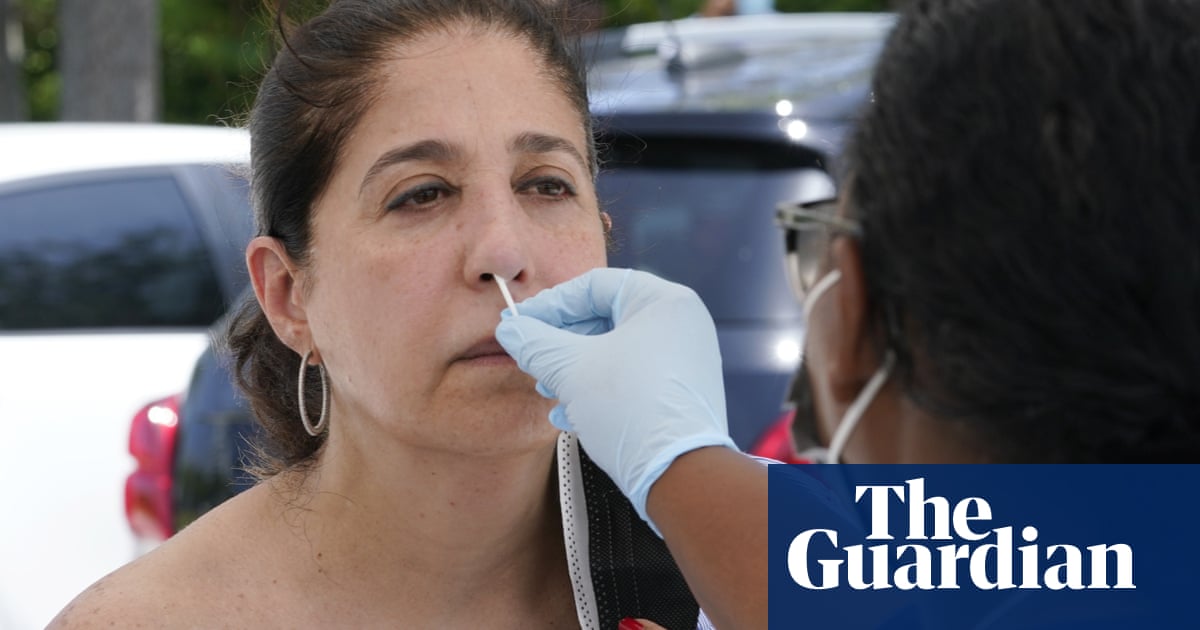 Dr Anthony Fauci, the leading US government infectious diseases expert, said on Sunday the wearing of masks to combat surging rates of Covid-19 was a "responsibility to society" – even as Florida, whose Republican governor has banned mask mandates, set a record for new daily cases.
The 21,683 new coronavirus cases reported on Saturday was Florida's highest one-day total since the start of the pandemic, coming a day after Ron DeSantis signed an executive order prohibiting school districts from requiring staff and students to wear masks.
DeSantis, a Donald Trump ally, has previously clashed publicly with Fauci and has discounted data from the Centers for Disease Control and Prevention (CDC) and the American Academy of Pediatrics supporting masks in schools.
"The federal government has no right to tell parents that in order for their kids to attend school in person, they must be forced to wear a mask all day, every day," DeSantis said in a press release announcing the order.
On Sunday, however, with Florida as the new national epicenter of the virus, and the state's theme parks again requiring guests to wear masks indoors, Fauci urged the public to follow CDC advice on masks to help curb the spread of the highly transmissible Delta variant.
"You understand people feeling that they have the individual right to make their own decisions, and I respect that for sure, but the issue is, if you're going to be part of the transmission chain to someone else, then your decision is impacting someone else," Fauci told CBS's Face the Nation.
"It's not only impacting you, and you've got to think about it that you are a member of society and you have a responsibility."
Vaccinated people can carry high levels of the virus and transmit the infection easily to the unvaccinated, data that prompted the CDC to amend its guidance and recommend that those vaccinated should wear masks indoors in certain areas.
"If you get breakthrough infections in individuals who are vaccinated and they don't spread at all to anybody else you would not worry. If they went home to a vulnerable person in the household, children or an elderly person, there wouldn't be any issue," Fauci said.
"But we know now they can transmit when they get breakthrough infections, even though they have minimal symptoms or no symptoms. We know they can do it. We know the mechanistic reason for it is that the level of virus is high, so you want to make sure they don't get infected. That's the fundamental basis for the CDC modifying their guidelines."
Florida now accounts for around a fifth of all new cases in the US as the highly contagious Delta variant spreads. The latest numbers were recorded on Friday and released on Saturday on the CDC website.
The figures show how quickly cases are rising: only a day earlier, Florida reported 17,093 new daily cases. The previous peak had been 19,334 cases reported on 7 January, before vaccinations became widespread.
The state reported 409 deaths this week, bringing the total to more than 39,000 since March 2020. The peak happened in mid-August 2020, when 1,266 people died over a seven-day period. Deaths usually follow increases in hospitalizations by a few weeks.
DeSantis has blamed the surge on a seasonal increase – more Floridians are indoors because of the hot weather with air conditioning circulating the virus. About 60% of Floridians 12 and older are vaccinated, ranking it about midway among the states.
The Florida Hospital Association said statewide Covid-19 hospitalizations are nearing last year's peak, and one of the state's largest healthcare systems, AdventHealth's Central Florida Division, advised it would no longer be conducting non emergency surgeries in order to free up resources for Covid-19 patients.
Universal Orlando Resort and SeaWorld on Saturday became the latest theme park resorts to again ask visitors to wear masks indoors, Universal also ordering employees to wear face coverings to protect against Covid-19.
All workers at Universal's Florida park are required to wear masks while indoors and to practice social distancing. The home to Harry Potter and Despicable Me rides also asked visitors to follow federal and local health guidelines by voluntarily wearing face coverings indoors.
"The health and safety of our guests and team members is always our top priority," Universal said.
SeaWorld posted on its website that it was recommending visitors wear face coverings while indoors. Crosstown rival Walt Disney World started requiring employees and guests older than two to wear masks on Friday, but it also went a step further. The Walt Disney Company said in a statement that it will be requiring all salaried and non-union hourly employees in the US who work on site to be fully vaccinated.
Disney employees who aren't already vaccinated will have 60 days to do so and those still working from home will need to show proof of vaccination before returning. Disney said it was discussing the vaccine requirements with the union, and added that all new hires will be required to be fully vaccinated before starting work at the company.
81 total views, 1 views today