After yesterday's furious gamma-squeeze rally, U.S. stock futures were slightly lower on the day, although near the overnight session highs as the ongoing Ukraine conflict and impact of Western sanctions continue to drive risk; sentiment was boosted after the Kremlin said that Ukraine's neutrality offer is a move "toward positive" and following reports that China's president Xi held a phone call with Putin who said Russia is willing to conduct high-level negotiations with Ukraine. S&P futures were down 10 points to 0.25% at 7:30am, after paring earlier declines of more than 1%, with Nasdaq futures down -0.15% and Dow futures down 0.4%. Europe's Stoxx Europe 600 was in the green, and oil was steady after Bloomberg reported that oil importers in China are briefly pausing new seaborne purchases as they assess the potential implications of handling the shipments following the Ukraine invasion. Gold was steady, while Brent crude reached $100 a barrel and Treasuries rose.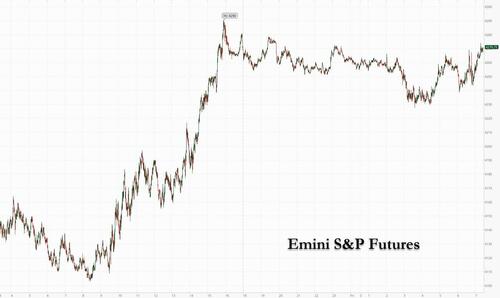 In the latest developments, Ukraine's president Zelensky said Moscow-led forces were continuing attacks on military and civilian targets on the second day of their invasion. Leaders from the North Atlantic Treaty Organization will hold virtual talks on the alliance's next steps starting at 3 p.m. in Brussels. Meanwhile, President Joe Biden imposed stiffer sanctions on Russia, promising to inflict a "severe cost on the Russian economy" that will hamper its ability to do business in foreign currencies after Moscow-led forces attacked military targets in Ukraine, triggering the worst security crisis in Europe since World War II. China urged Russia and Ukraine to negotiate to address problems, according to Chinese state TV. Here is a full recap of the latest Ukraine developments:
There were reports of heavy explosions rocking the Ukrainian capital of Kyiv and US Senator Rubio tweeted it appeared that at least three dozen missiles were fired at the Kyiv are in 40 minutes, while Ukrainian Foreign Minister Kuleba confirmed Russian rockets fired at Kyiv and President Zelensky also noted Russia resumed missile strikes at 04:00 local time/02:00GMT. Russia has not undertaken missile strikes on Kyiv, according to Russian press citing a source in the Defence Ministry.
There is currently gunfire in Kyiv with Russians in the City, according to a reporter (08:45GMT/03:45EST)
Gunfire has been heard near the government quarter of Kyiv, Ukraine, via LBC News (09:09GMT/04:09EST)
Ukrainian military vehicles seized by Russian troops wearing Ukrainian uniforms, heading for Kyiv, defense official says – UNIAN, cited by BNO News.
Russian paratroopers take control of Chernobyl nuclear power plant, according to the Ministry of Defence cited by Sputnik. Additionally, Ukraine nuclear agency says it is seeing higher radiation levels in Chernobyl; note, Sky News reports that the increase is insignificant and is due to military vehicles moving around the reactor.
Ukraine President adviser says that Ukraine wants peace, if negotiations are still possible, they should be undertaken. Subsequently, Russian Foreign Minister Lavrov says that Ukraine President Zelenskiy is "lying" when he says he is prepared to discuss the neutral status of Ukraine; however, the Kremlin says it has taken note of Kyiv's willingness to discuss neutral status; will need to analyze this.
Ukraine President Zelensky says the Russian assault is like a repeat of WW2, accuses Europe of an insufficient reaction, Europe can still stop the Russian aggression if they act quickly.
Ukrainian President Zelensky has proposed Russian President Putin joins him at the negotiating table, according to Ria.
In premarket trading, Block jumped after fourth-quarter sales beat consensus, while Coinbase dropped after warning that trading volume will decline in the first quarter. Zscaler slumped 13% after the security software company's second-quarter results failed to live up to the most optimistic expectations, even though they beat estimates. Analysts slashed their price targets, including a new Street-low at Barclays. Here are some of the other notable U.S. premarket movers today:
Block Inc. (SQ US) shares climb 15% in U.S. premarket trading after the firm posted fourth-quarter sales that beat Street consensus. Analysts say the results are a relief, supported by "impressive" Cash App figures.
Coinbase Global Inc. (COIN US) shares were 1.6% lower in premarket trading after the biggest U.S. cryptocurrency exchange cautioned that trading volume will decline in the first quarter.
Etsy (ETSY US) shares are up about 18% in premarket trading, after the e- commerce company reported fourth-quarter results that featured better-than-expected revenue and gross merchandise sales. It also gave a forecast.
Beyond Meat (BYND US) shares dropped 10% in premarket as analyst questioned its profitability outlook and pricing strategy after the maker of plant-based foods forecast sales that missed market expectations.
KAR Auction Services (CVNA US) climbs 50% in U.S. premarket after agreeing to sell its Adesa U.S. physical auction business to Carvana for $2.2 billion in cash. Truist Securities sees positive implications for both stocks.
Farfetch (FTCH US) shares rally 27% in premarket trading after co. posted a smaller-than-expected 4Q loss.
A prolonged conflict could deliver a major blow to global markets and slow the normalization of central bank policy that's expected this year. Wall Street strategists cut their forecasts on European equities on concern that the war in Ukraine will hurt economic growth, with Goldman Sachs Group Inc. expecting virtually no full-year returns.
A the same time, disruptions of raw materials and food could stoke already-high prices and heap pressure on central banks to act faster to curb inflation. Russia remains a commodity powerhouse and Ukraine is a major grain exporter. Markets still see around six quarter-point increases by the Federal Reserve, but bets on other central bank's hiking cycles have been pared in recent days.
"This conflict implies a further deterioration of the already tricky growth-inflation trade-offs central banks have been facing, making the upcoming decisions particularly hard," Silvia Dall'Angelo, senior economist at the international business of Federated Hermes, wrote in a note to clients. "Downside growth risks from the geopolitical backdrop mean that they are likely to proceed gradually and cautiously."
Penalties by the U.S. and its allies spared Russia's oil exports and avoided blocking access to the Swift global payment network. With flows of natural gas returning to Europe, prices reversed a record-breaking rally with the benchmark contract down as much as 28%.
European stocks climbed as investors bought the dip after a volatile week led by developments on the Ukrainian front. Stocks trade at session highs after the Kremlin says that Ukraine's neutrality offer is a move "toward positive" while oil slips to session low. U.S. futures decline. Euro Stoxx 50 rallies 1.2%. FTSE 100 outperforms, adding 1.8%, IBEX lags, adding 0.9%. CAC 40 up 1.3%. Utilities, real estate and food & beverages are the strongest sectors. Russia's MOEX index rebounds, rising ~15%. Here are some of the biggest European movers today:
European shares in sectors that were beaten down by Russia risk on Thursday rebound, with travel and basic resource stocks among the top gainers, as well as banks with exposure to eastern Europe.
Bank Polska Kasa Opieki +14%, Dino Polska +7.3%, Polymetal International +7.5%, Wizz Air +5.8%
The European utility sector leads gains among subindexes on the Stoxx 600, gaining about 5%, after European natural gas prices halted their rally rally, as Russian flows to the continent ramped up.
Rightmove shares rise as much as 7.4% after the online property listings firm reported FY revenue growth of 48% from a year earlier. The results show encouraging momentum into 2022, Numis says.
Pearson has its biggest gain in almost a year, rising 11% after results. Goldman Sachs notes the education publisher's adjusted operating profit for FY22 was in line with market expectations.
Freenet rises as much as 6.7% after results, the most since May, as analysts see positive profitability updates despite revenue weakness.
Vallourec climbs as much as 20% after the French steel-pipe maker gave guidance that Oddo BHF calls "reassuring" in spite of incidents at a Brazil mine.
Valeo falls as much as 12% in Paris after the French company set out targets for this year and 2025, with analysts noting 2022 guidance came in below expectations.
BASF drops as much as 4.9% in Frankfurt after adjusted Ebit missed consensus and results show a squeeze on margins, Berenberg said.
Swiss Re plunges as much as 8.4% after reporting results that missed analyst estimates. The insurer also proposed new targets that "don't seem supportive enough," Citi writes.
Casino slumps as much as 17% to its lowest level in more than three decades after the French grocer reported FY results that Jefferies says showed "no progress" on deleveraging.
An uneasy calm returned to Asia's stock markets on Friday, as investors assessed the fallout of Russia's invasion of Ukraine and the outlook for China's tech sector. The MSCI Asia Pacific Index climbed as much as 1.2%, rallying from its worst drop in a year on Thursday. Weaker-than-expected U.S. sanctions on Russia supported market sentiment, helping lift tech and industrial shares. China's tech stocks advanced even after Alibaba announced the slowest revenue growth since it went public. Benchmarks in Japan and India were among the top performers. India's Sensex turned from the biggest loser in Asia to the biggest winner on Friday. Hong Kong's Hang Seng Index dropped as the city deals with record Covid-19 cases. Asian equities "showed signs of excessive drops, so today's rise appears to be a technical rebound," Seo Jung-hun, a strategist at Samsung Securities, said by phone. "Markets will continue to face volatility as Russia-sparked risks, the Fed's policy tightening and inflation issues still persist." Federal Reserve Governor Christopher Waller said a half percentage-point increase in U.S. interest rates next month could be justified, although the Ukraine conflict has added to uncertainty. The Asian stock benchmark is set for its worst week this month, down almost 4%, and remains close to entering a bear market. Geopolitical risks, regulatory concerns for Chinese private enterprises and a relatively slower pace of earnings growth compared with the rest of the world are all weighing on sentiment
Japanese equities climbed, sealing their first gain in six sessions, as blue chips led the charge following a late U.S. rally from the recent selloff in anticipation of Russia's invasion of Ukraine. Electronics makers and telecoms were the biggest boosts to the Topix, which rose 1%. Tokyo Electron and SoftBank Group were the largest contributors to a 2% rise in the Nikkei 225. The yen retraced some of its 0.5% loss against the dollar overnight. "Expectations are spreading that the pace of rate hikes will be slowed down in the U.S. and Europe, considering the impact the Ukraine situation will have on the economy," said Nobuhiko Kuramochi, a market strategist at Mizuho Securities
In rates, treasuries were slightly cheaper across the curve, with yields higher by 1bp to 1.5bp from Thursday's session close. U.S. 10-year yield around 1.975%, cheaper by 1bp on the day with bunds lagging a further 1bp following data including France CPI beat, while Estoxx rally 1.5%; gilts outperform by around 2bp vs. Treasuries.
Treasuries pared an advance after Federal Reserve Governor Christopher Waller said a half percentage-point rate increase may be justified if economic data remain hot. European benchmark bonds traded steady to slightly lower. Gilts gained, led by the belly of the curve; Bank of England's Huw Pill speaks later, with the pace of tightening in focus. IG dollar issuance slate empty so far; borrowers stepped away from debt sales Thursday leaving weekly total around $18b vs. $25b expected. German bunds bear-flatten on the back of a stronger-than-expected French CPI print, while money markets price as much as 42bps of ECB tightening in December, an increase of 5bps compared to Thursday.
In FX, the Bloomberg Dollar Spot Index was little changed as the greenback traded mixed versus its Group-of-10 peers, though most currencies were confined to narrow ranges relative to yesterday's moves. The Australian and New Zealand dollars led G-10 gains on short covering after Thursday's plunge; The yen was also higher while the euro fell a third consecutive day to trade below $1.12 and the pound erased an early advance. Hedging costs in the major currencies turned south early Friday, but investors aren't ready to shift bias into risk-on exposure. French consumer prices rose 4.1% in February from a year earlier versus 3.3% in January. That's the strongest reading since the data series started in 1997. Economists had forecast a 3.7% advance. Currencies from the European Union's east weakened against the euro and the dollar, but were far from levels reached Thursday. A gauge of one-week implied volatility in the dollar against the Taiwan dollar jumped to a six-month high on Friday while the Taiwan dollar slid to the weakest since October in the spot market. The conflict in Ukraine may raise the risk premium for China and Taiwan over the medium term, according to Morgan Stanley.
In commodities, Brent trades around $99, while WTI slips below $93. Spot gold rises roughly $6 to trade near $1,910/oz. European natural gas prices halt a record-breaking rally. Benchmark futures fell as much as 28%, after four consecutive days of gains. Most base metals trade in the red; LME aluminum falls 2.5%, underperforming peers. LME lead outperforms
Looking at the day ahead, data highlights from the US include the personal income and personal spending data for January, preliminary durable goods orders and core capital goods orders for January, pending home sales for January, and the final University of Michigan consumer sentiment index for February. In Europe, we'll also get the preliminary French CPI reading for February, and the Euro Area's economic sentiment indicator for February.
Market Snapshot
S&P 500 futures down 1.1% to 4,237.75
MXAP up 1.0% to 181.44
MXAPJ up 0.8% to 593.50
Nikkei up 1.9% to 26,476.50
Topix up 1.0% to 1,876.24
Hang Seng Index down 0.6% to 22,767.18
Shanghai Composite up 0.6% to 3,451.41
Sensex up 2.5% to 55,878.05
Australia S&P/ASX 200 up 0.1% to 6,997.81
Kospi up 1.1% to 2,676.76
STOXX Europe 600 up 0.8% to 442.68
German 10Y yield little changed at 0.16%
Euro down 0.2% to $1.1172
Brent Futures up 0.9% to $99.98/bbl
Gold spot up 0.3% to $1,909.09
U.S. Dollar Index little changed at 97.18
Top Overnight News from Bloomberg
Federal Reserve officials stuck to their resolve to raise interest rates next month despite uncertainty posed by Russia's invasion of Ukraine, with at least one policy maker considering a half-point move
Out of 18 potential red flags in Citi's global Bear Market checklist, only seven are currently waving, far fewer than before bear markets of 2000 and 2007, strategists led by Beata Manthey wrote in a note. In Europe, the number of danger signs is only five, they said
China's Politburo vowed to strengthen macroeconomic policies to stabilize the economy this year, suggesting more support could be on the cards to boost growth ahead of a key leadership meeting later this year
Russia still has about $300 billion of foreign currency held offshore – – enough to disrupt money markets if it's frozen by sanctions or moved suddenly to avoid them
China's central bank ramped up its short-term liquidity injection in the banking system, providing support just as global markets are roiled by geopolitical tension
A more detailed look at global markets courtesy of Newsquawk
Asia-Pacific stocks mostly gained after the firm rebound on Wall St. ASX 200 was capped amid a slew of earnings and with outperformance in tech offset by weakness in miners and financials. Nikkei 225 outperformed and reclaimed the 26k status with exporters underpinned by a more favourable currency. KOSPI gained with index heavyweight Samsung Electronics underpinned as it launched global sales of its flagship smartphone and latest tablet which have attracted record pre-orders. Hang Seng and Shanghai Comp. were mixed with the mainland underpinned after the PBoC boosted its daily liquidity operation which resulted in the biggest weekly cash injection in more than two years. although Hong Kong was constrained by losses in the energy majors and with financials subdued amid pressure in HSBC shares and after China Communist Party inspections on financial institutions.
Top Asian News
China Pledges Stronger Economic Policies to Stabilize Growth
China Leaves Russia's War Off Front Pages as Xi Stays Silent
Currency Traders Remain Vigilant Even as Hedging Costs Retreat
Asian Stocks Gain as China Tech, India Rebound; Hong Kong Drops
European bourses are firmer and back in proximity to initial best levels after losing traction shortly after the cash open, Euro Stoxx 50 +1.3%; FTSE 100 +1.9% outperforms amid Basic Resources strength. US futures are lower across the board, ES -0.9%, after yesterday's significant intra-day reversal to close positive; albeit, action has been rangebound within the European morning. US SEC's EDGAR feed is reportedly down; fillings cannot be made. In Europe, sectors are all in the green featuring noted outperformance in Utilities and Basic Resources, Energy remains firmer in-spite of the crude benchmarks pullback
Top European News
Wall Street Cuts European Stock Targets as War Prompts Outflows
U.K. Takes Aim at Russia's Opaque Embrace of London Property
UBS Triggers Margin Calls as Russia Bond Values Cut to Zero
What to Watch in Commodities: Ukraine Impact Roiling Markets
In FX, Aussie regroups alongside broad risk sentiment and rebound in Aud/Nzd cross amidst mixed NZ consumption and trade data – Aud/Usd near 0.7200 vs sub-0.7100 low yesterday. Buck bases after abrupt reversal from new 2022 highs in DXY terms and residual rebalancing may underpin alongside underlying safe haven bid – index above 97.000 again vs 96.770 low and 97.740 y-t-d best. Rouble supported by ongoing CBR intervention via higher repo auction cap – Usd/Rub around 84.000 compared to almost 90.000 record peak.
Yen and Gold off best levels, but both retain elements of safety premium – Usd/Jpy circa 115.35 and Xau/ Usd
hovering above Usd 1900/oz
In commodities, WTI and Brent have continued to pull back after overnight consolidation, Brent April notably below USD 99.00/bbl
vs USD 101.99/bbl highs. Focus remains firmly on geopolitics (see section above) while participants are also attentive to next week's OPEC+ meeting. Japan's Industry Minister said they will appropriately deal with an oil release from national reserves in cooperation with relevant countries and the IEA. Spot gold is rangebound after an initial move higher failed to gather steam and hit resistance at USD 1922/oz. Goldman Sachs recently commented that the rally for gold has a lot further to go on the situation in Ukraine and prices and that prices could reach as high at USD 2,350/oz if there is a build in demand for ETF.
Geopolitical updates
US Senior US administration official said the US still has room to further tighten sanctions if Russian aggression accelerates further and is keeping the option open to impose import-export controls on less advanced mainline chips such as those used in the Russian auto industry.
European Commission President von der Leyen said steps agreed by EU leaders include financial sanctions and they are targeting 70% of the Russian banking market, as well as key state owned companies including defence. Furthermore, the export ban will impact Russia's oil sector by making it impossible to upgrade refineries and EU is limiting Russia's access to key technologies such as semiconductors.
EU Council President Michel says they are urgently preparing additional sanctions against Russia, via AFP; subsequently, a German gov't spokesperson says a discussion of third sanctions package against Russia is in its early stages.
French President Macron said EU sanctions will be followed by French national sanctions on certain people which are to be announced later, while they will offer EUR 300mln of aid to Ukraine and military equipment, as well as target Belarus for penalties.
Russian Central Bank said it will provide any support needed for sanctions-hit banks and that banks have been well prepared in advance, while Ukraine's Central Bank banned operations with RUB and BYR, as well as banned banks from making payments to entities in Russia and Belarus.
Russia may retaliate for UK ban on Aeroflot flights to Britain, according to Tass citing the aviation authority; subsequently, Russia banned London registered craft from its airspace.
Russian Parliamentary Upper Chamber speaker says that Russia has prepared sanctions to hit the weak points of the West, according to Interfax.
Australian PM Morrison announced the nation is to impose further sanctions on Russian individuals and said it is unacceptable that China is easing trade restrictions with Russia at this time. Taiwan will join democratic countries to put sanctions on Russia for invasion of Ukraine and Japanese PM Kishida said they will immediately impose sanctions in Russia in three areas including the financial sector and military equipment exports, while Russia's envoy to Japan later said there will be a serious Russian response to Japanese sanctions.
UK Defence Minister Wallace says we would like to cut Russia off from SWIFT; French Finance Minister Le Maire says the option of cutting Russia off from SWIFT remains an option, but it a last resort.
India is reportedly exploring setting up INR trade accounts with Russia to soften the blow on India from Russian sanctions, according to Reuters sources.
Central Banks
Fed's Waller (voter) said it is too soon to judge how Ukraine conflict will impact the world or US economy and concerted action to rein in inflation is needed. Waller said rates should be raised by 100bps by mid-year and there is a strong case for a 50bps hike in March if incoming data indicates economy is still exceedingly hot, but added it is possible a more modest tightening is appropriate in wake of Ukraine attack , while he also stated the Fed should start trimming the balance sheet no later than the July meeting, according to Reuters.
ECB's Lane said there would be a significant increase to 2022 inflation forecast amid the Ukraine crisis but hinted at inflation below target at end of horizon according to Reuters sources; Lane presented several scenarios: Mild scenario: no impact to EZ GDP; seen as unlikely; Middle scenario: 0.3-0.4ppts shaved off EZ GDP; Severe scenario: EZ hit by almost 1ppt. Note, sources cited by Reuters suggested these were rough calculations.
BoE's Mann says all of the MPC agree that UK inflation is way above the BoE's goal; Mann added that domestic demand is strong and UK labour market is tight. BoE agents survey has been fundamental in guiding Mann's view on policy.
US Event Calendar
8:30am: Jan. Personal Income, est. -0.3%, prior 0.3%
8:30am: Jan. Personal Spending, est. 1.6%, prior -0.6%
8:30am: Jan. Real Personal Spending, est. 1.2%, prior -1.0%
8:30am: Jan. Cap Goods Orders Nondef Ex Air, est. 0.3%, prior 0.3%
8:30am: Jan. Cap Goods Ship Nondef Ex Air, est. 0.5%, prior 1.3%
8:30am: Jan. -Less Transportation, est. 0.4%, prior 0.6%
8:30am: Jan. PCE Deflator MoM, est. 0.6%, prior 0.4%; PCE Deflator YoY, est. 6.0%, prior 5.8%
8:30am: Jan. PCE Core Deflator MoM, est. 0.5%, prior 0.5%; PCE Core Deflator YoY, est. 5.2%, prior 4.9%;
8:30am: Jan. Durable Goods Orders, est. 1.0%, prior -0.7%
10am: Feb. U. of Mich. Sentiment, est. 61.7, prior 61.7; Current Conditions, est. 68.5, prior 68.5; Expectations, est. 57.3, prior 57.4
10am: Feb. U. of Mich. 1 Yr Inflation, prior 5.0%
10am: Feb. U. of Mich. 5-10 Yr Inflation, prior 3.1%
10am: Jan. Pending Home Sales (MoM), est. 0.2%, prior -3.8%; YoY, est. -1.8%, prior -6.6%
DB's Jim Reid concludes the overnight wrap
It's been a pretty seismic 36 hours and at some points yesterday the outlook for markets and economies felt very bleak. However remarkably after an 8 dollar round trip that first sent Brent crude over $105/bbl, oil (+2.31% on the day) eventually closed last night at $99.08 (still the highest since 2014), and only around the levels seen just before Russia launched the invasion just over 24 hours ago. It's edged up again in the Asian session to $100.75 as I type but the fact that oil stopped going parabolically higher helped turn the whole market around yesterday.
Indeed markets hit peak pessimism around lunchtime in Europe but Biden not yet putting sanctions on Energy or restricting Russian access to SWIFT seemed to cap off a more positive tone thereafter. Indeed the S&P and Nasdaq rose +4.23% and +7.04% respectively from the opening lows to close up +1.50% and +3.34% on the day. A remarkable turnaround. S&P 500 (-0.53%) and Nasdaq (-0.76%) futures are down again this morning but this is still clearly well off the lows.
If this event is going to have a lasting macro and market impact it has to hit energy prices and for much of yesterday it looked like it was on course to aggressively do so, and to be fair still might. European natural gas will be one to watch today as it soared +63.89% at its peak yesterday, only to fade towards the close to be 'only' up +33.31%. On a bigger picture basis the events of this week have to be forcing governments to think of their energy security in much more detail than they have in the past. Will it also impact the green transition? Surely it makes it more urgent in the medium-term but tougher to stick with in the short-term. Much will depend on what happens next for energy prices. Clearly the West may still put sanctions on this Russian supply which will undoubtedly risk a renewed spike in energy.
Diving into yesterday. The intraday turnaround in asset prices followed clarity on what the west's next round of sanctions would look like. The sanctions were expanded to more connected individuals and entities, were designed to cut off high-tech exports crucial to Russian defense and tech industries, impinge Russia's ability to raise capital on foreign markets by restricting access and freezing assets of some of their largest banks, and restrict Russia's ability to deal in dollars, yen, and euros. The sanctions not applied, however, drove an intraday turn in risk assets and reversed measures of inflation compensation. Namely, President Biden noted the sanctions package was specifically designed to allow energy payments to continue, and that the US would release strategic oil reserves as needed to help ameliorate price pressures. Further, they did not cut off Russia's access to the international payments system, SWIFT, though maintained the option of doing so.
Before the rally back there was a complete rout in numerous markets yesterday, and when it came to Russian assets there was frankly a capitulation, with the MOEX equity index (-32.28%) shedding more than a third of its value in a single day (-45.06% at the session lows). Bloomberg wrote a piece saying that the worst single day equity loss in their database for any country's index was Argentina's -53.1% fall in January 1990. In total, there have been seven worst days in stock market history than -33.3%. For what it's worth, those equity declines are the sort that would trigger circuit breakers if they happened elsewhere. For example we couldn't see that for the S&P 500 in a single day, since trading rules stipulate that there's a complete halt for the day once you get to a -20% loss.
On top of that, the Russian Ruble -5.15% hit a record low against the US dollar, after suffering its worst daily performance since the height of the Covid crisis back in March 2020. And yields on 10yr Russian sovereign debt were up by +435.0bps to 15.23%.
The STOXX 600 fell -3.28% as it reached its lowest level since last May, with major losses for the other European indices including the FTSE 100 (-3.88%), the CAC 40 (-3.83%) and the DAX (-3.96%).
With investors pricing in a less aggressive reaction function from central banks, sovereign bonds saw a decent rally yesterday, having also been supported by the dash for haven assets. However the moves didn't match the severity of the flight to quality shock, even at the worse point of the day, as the real return consequence of buying government bonds at a yields of 0-2% was all too apparent with inflation rife.
There was some big ranges though. 10yr US real yields were -27.7bps lower and breakevens +14.4bps wider as news of the invasion, and commensurate stagflation fears hit. However, the intraday turn around led to much more modest closing levels, with 10yr real yields -4.2bps lower and breakevens +1.5bps higher. 10yr nominal Treasury yields settled -2.8bps lower on the day at 1.96%. At shorter tenors, 5yr breakevens also displayed a remarkable intraday roundtrip, finishing +1.4bps higher after having hit an intraday peak +24.8bps wider at +3.39%, which would have been the highest reading on record. In Europe the breakeven widening was more sustained, and the 10yr German breakeven actually managed to close above 2% for the first time in over a decade yesterday, having climbed +12.9bps to +2.10%. Meanwhile nominal yields on 10yr bunds (-5.8bps), OATs (-7.0bps) and gilts (-3.2bps) all moved lower.
Energy prices are going to continue to keep central bankers awake at night, since they can't do anything about the supply issues directly. More shocks will lead to both lower growth (absent fiscal suppprt) and higher inflation, with the risk being that you start to see second-round effects if higher inflation becomes entrenched. Notably, one of the ECB's biggest hawks, Robert Holzmann of Austria, said in a Bloomberg interview that the conflict meant "It's possible however that the speed may now be somewhat delayed." That was music to the ears of peripheral sovereign debt in particular, which rallied strongly on the news, with the Italian spread over 10yr bunds moving from an intraday high of 178bps to close at 164.5bps.
In Asia the Nikkei (+1.63%), Kospi (+1.15%), Shanghai Composite (+0.54%), and the CSI (+0.78%) all are higher in line with the second half rally yesterday. Meanwhile, the Hang Seng (-0.16%) is lower.
In economic data, overall inflation for Tokyo rose +1.0% y/y in February, its fastest pace of growth since December 2019, on higher energy prices and after an upwardly revised +0.6% increase in January. Bloomberg estimates were for a +0.7% rise. Excluding fresh food, consumer prices in Japan advanced +0.5% in February y/y, accelerating from a +0.2% increase in January and outpacing a +0.4% gain expected by analysts.
In central banks news, the People's Bank of China (PBOC) beefed up liquidity by injecting 300 billion yuan ($47.4 bn) into the financial system via 7-day reverse repos, amid concerns over the Russia-Ukraine conflict. For the week, the PBOC injected a net 760 billion yuan – the biggest weekly cash offering since January 2020.
Data releases understandably took a back seat yesterday, but we did get the weekly initial jobless claims from the US for the week through February 19, which fell to 232k (vs. 235k expected). We also saw the continuing claims for the week through February 12 fall to a half-century low of 1.476m, a level unseen since 1970. Otherwise, new home sales in January fell to an annualised rate of 801k (vs. 803k expected), and the second estimate of Q4's GDP was revised up by a tenth from the initial estimate to an annualised +7.0%.
To the day ahead now, and data highlights from the US include the personal income and personal spending data for January, preliminary durable goods orders and core capital goods orders for January, pending home sales for January, and the final University of Michigan consumer sentiment index for February. In Europe, we'll also get the preliminary French CPI reading for February, and the Euro Area's economic sentiment indicator for February.
56 total views, 1 views today