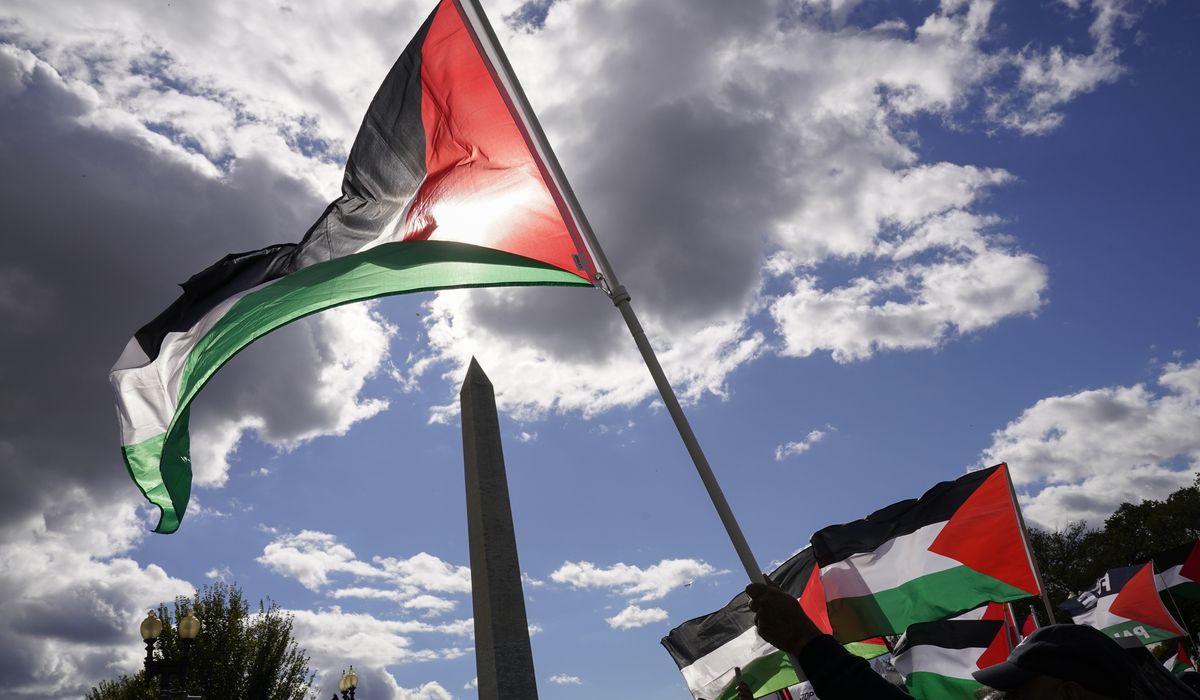 George Washington University has suspended the student group that last month projected onto a campus building a Hamas slogan calling for the destruction of Israel.
The university said in a statement to multiple media outlets, including the Hill and the student newspaper GW Hatchet, that the actions by Students for Justice in Palestine "violated university policies."
"As a result, effective immediately, the university has prohibited SJP from participating in activities on campus," the statement said.
---
---
"SJP cannot sponsor or organize on-campus activities on university property or use university facilities … for the next 90 days," the university stated. "Also effective immediately, SJP is prohibited from posting communications on university property through May 20, 2024."
As part of an Oct. 24 demonstration against Israel's counterattack against Hamas terrorists, the group projected onto a campus library such slogans as "Glory to our martyrs" and "Free Palestine From the River to the Sea."
The statement from George Washington said SJP had violated rules for use of the library, which bar offensive posters, and also a policy against noncompliance because SJP members refused to stop the projections that night as university officials demanded.
University President Ellen Granberg called the projections antisemitic on the day after the demonstration.
An SJP representative whom the Hatchet did not name vowed to fight the ban "on every front."
"We see this very clearly as being a political response to a growing wave of backlash and repression towards Palestinian organizing, but specifically the Palestinian student movement that's been happening the past few weeks," the representative said.
"GW is continuously proving," the student added, "that they will always align with the Zionist lobby."
The Hatchet said it did not name the student because of "threats of doxxing and harassment."
Two other major universities — Columbia and Brandeis — have suspended their campus SJP chapters on similar grounds as George Washington.
9 total views, 2 views today