A few weeks ago, when Goldman reported dismal Q4 earnings which saw its subprime-targeting consumer finance group report very ugly numbers, we joked that while "In 2008 Goldman made a killing on subprime; in 2022/23 Goldman is getting killed by subprime"
Goldman provision for credit losses (mostly credit cards and wholesale loans) +183% Y/Y to $972MM.

In 2008 Goldman made a killing on subprime; in 2022/23 Goldman is getting killed by subprime

— zerohedge (@zerohedge) January 17, 2023
The final joke however appears to be on the CEO himself: on Friday, Goldman announced in a regulatory filing that it paid chief executive David Solomon $25 million for 2022, down almost 30% from the year before after the Wall Street bank reported a steep drop in profits, cut thousands of jobs and slashed employee bonuses. But don't cry for the part-time DJ: in 2021 his bonus was doubled to $35 million from the year before so he probably won't starve (then again, we doubt D-Sol's predecessor Lloyd Blankfein would even bother bending over for such pittance).
Goldman also disclosed that Solomon received a base salary of $2mn, and $23 million in variable compensation.
Mr. Solomon's total annual compensation for 2022 is $25 million (which consists of an annual base salary of $2 million, unchanged year-over-year, as well as annual variable compensation of $23 million). 70% of this annual variable compensation (i.e., $16.1 million) is in the form of performance-based restricted stock units ("PSUs"), which tie 100% of Mr. Solomon's equity-based compensation to ongoing performance metrics, with the remainder to be paid in cash. This compares to Mr. Solomon's total annual compensation for 2021 of $35 million.
Goldman said its compensation committee considered, among other things, "the firm's 2022 performance, both on an absolute basis and relative to peer results, as well as in comparison to the record performance delivered in 2021".
As the FT notes, Solomon's pay for 2022 had been the subject of speculation among Goldman's rank and file in recent weeks, with many expecting a sizeable cut given the bank's financial performance and a far-reaching review of expenses at the company.
Not surprisingly, the cut to Solomon's pay is larger than that taken by Wall Street peers and reflects a challenging year for Goldman. However, it is still less than the cut to the bonus pool for the firm's senior partner ranks, which as was previously reported, is about 40%.
The cut to Solomon's bonus comes as Goldman's profits plunged almost 50% from record earnings in 2021 and the bank fell short of a key profitability target. Its investment banking business suffered from an industry-wide dearth of dealmaking activity, resulting in a cut to bonuses for employees in that unit.
Goldman was also hit by sharp markdowns in public equity holdings at its asset management division and reported $2bn in losses for 2022 at its fledgling "Platform Solutions" unit, which houses part of its retail banking business that has been pared-back following disappointing performance.
Goldman's overall spending on compensation and benefits for 2022 was down 15% year on year at $15.1bn.
Despite the cut, we are confident that Solomon will be just fine: the $35 million the Goldman CEO earned in 2021 made him the highest-paid big bank chief executive alongside Morgan Stanley boss James Gorman. In 2022, Gorman's compensation was cut 10% to $31.5 million despite much stronger performance by the bank, especially when compared to Goldman.
Other bank CEOs also won't starve: JPMorgan's Jamie Dimon was paid $34.5 million in 2022, the same as last year; Wells Fargo CEO Charlie Scharf's pay was also flat at $24.5mn.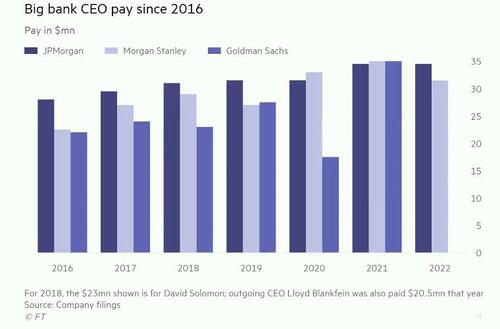 According to FT calculations, Solomon's compensation for 2022 is his lowest since the $17.5 million he earned in 2020 when his pay was hit by Goldman's involvement in the 1MDB corruption scandal.
Loading…
14 total views, 1 views today