The end of the biggest pandemic-fueled personal-computer boom has been ugly, and it's still not over.
New data via International Data Corporation's (IDC) Worldwide Quarterly Personal Computing Device Tracker shows first quarter shipments were around 56.9 million, or about a 29% decline compared to the same quarter in 2022.
IDC blamed continued "weak demand, excess inventory, and a worsening macroeconomic climate" as contributing factors to the drop in shipments for the quarter.
The results also show the "era of COVID-driven demand and at least a temporary return to pre-COVID patterns," the report said. Shipments in 1Q were more than the 59.2 million units shipped in 1Q19 and 60.6 million in 1Q18.
"Even with heavy discounting, channels, and PC makers can expect elevated inventory to persist into the middle of the year and potentially into the third quarter," Jitesh Ubrani, research manager for IDC's Mobility and Consumer Device Trackers, said in the report.
Among the top computer makers, Apple Inc.'s computer shipments plunged by 40.5%, Lenovo Group Ltd., ASUSTek Computer Inc., and Dell Technologies Inc. recorded drops of more than 30%, and HP Inc. was down 24.2%.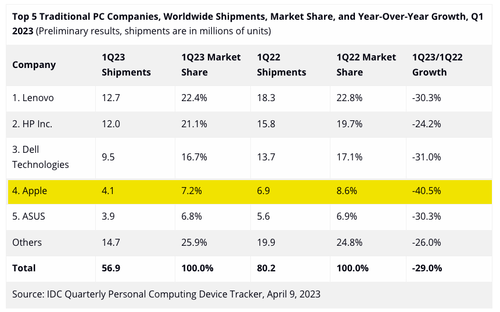 The continued demise of the PC market comes as no surprise to readers. We have pointed out the bubble and shown the unfolding bust for nearly a year. We even said the bust cycle might not experience a turnaround until 2024.
Recall that we have also outlined how graphics cards, memory chips, and monitor prices have plunged in the last two quarters. There are also great deals on networking equipment.
Now's the time to upgrade the home office if you didn't buy into the Covid hype.
Loading…
20 total views, 1 views today