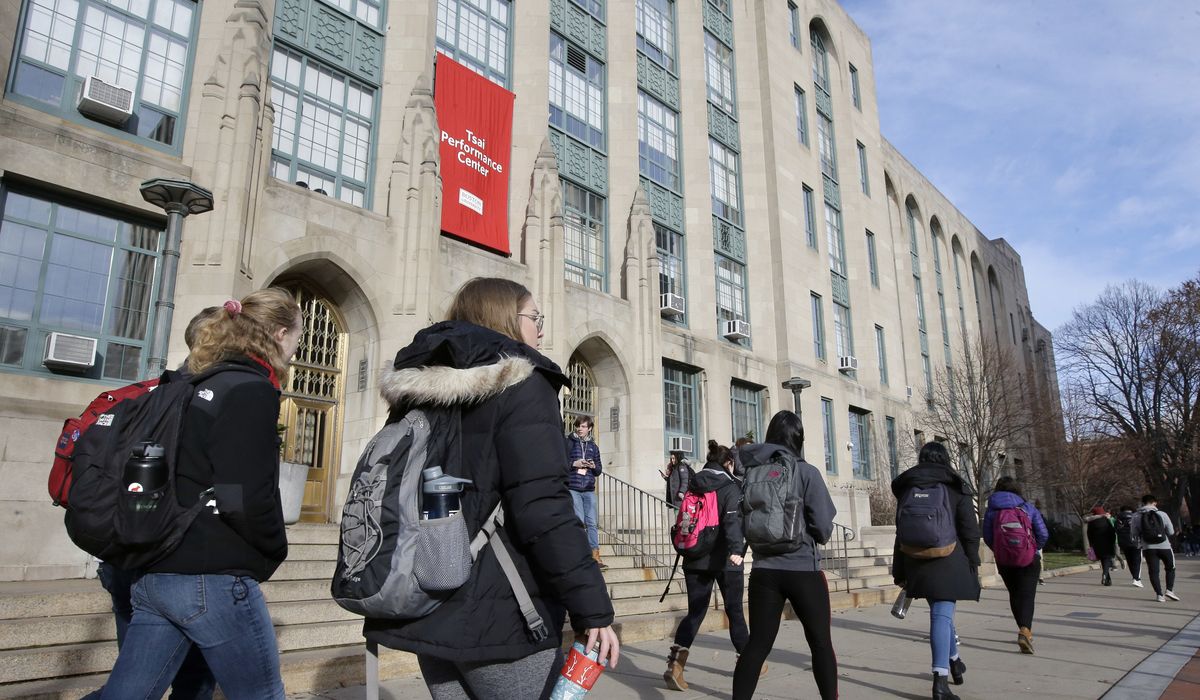 More than 1 million international students attended U.S. universities last year, the most since 2019-20, as surging numbers of graduate students from India helped end a pandemic-era slump in foreign enrollment.
The Institute of International Education reported Monday in a federally funded study that the overall number of foreign exchange students at U.S. institutions rose to 1,057,188 in 2022-23 — a 12% increase from the previous year and the fastest annual surge in more than 40 years.
Internationals made up 5.6% of the 18,961,280 total students at U.S. campuses last year, according to the study, which was sponsored by the State Department.
---
---
"Over one million international students studying in the U.S. reflects a strong rebound, with the number approaching pre-pandemic levels," Alan E. Goodman, the institute's CEO, said. "This reinforces that the U.S. remains the destination of choice for international students wishing to study abroad, as it has been for more than a century."
According to the study, international student enrollment nearly returned to its pre-pandemic high of 1,095,299 in 2018-2019. That number had fallen to 914,095 students in 2020-2021 and grew only slightly in 2021-2022 as pandemic travel restrictions stifled overseas applications.
Commenting on the findings, Assistant Secretary of State Lee Satterfield called international education "a vehicle that promotes peace and cross-cultural connections and provides the tools necessary to address the shared challenges of our time."
"It continues to shape the leaders of the future, both here at home and abroad, and we look forward to doing even more to attract international students to the United States and serve as the global leader in international education," Mr. Satterfield said.
China remained the top sender of 200 nations that sent scholars to the U.S. last year, but its 289,526 students marked a 0.2% decrease from two years ago and represented a third straight year of decline.
The study found that India, the second biggest exporter of students, increased its U.S. enrollment by 35% to a high of 268,923.
More than half of last year's international students were in graduate programs in science, technology, business and engineering.
According to the study, 23 of the top 25 exporters of students to the U.S. increased their numbers last year.
Besides India, seven other countries reached new highs: Bangladesh, Colombia, Ghana, Italy, Nepal, Pakistan and Spain. Notably, Ghana broke into the top 25 places of origin for the first time, with 6,468 students studying in the U.S.
Enrollment for international students pursuing master's, doctoral or professional degrees grew by 21% from 2021-22 to 467,027 last year. Undergraduate student enrollment grew by 1%, the first year-over-year increase in five years.
Overall, the number of international students enrolling for the first time at a U.S. college increased by 14% annually to 298,523 last year, building on an 80% increase the year before.
Some higher education leaders welcomed the findings on Monday.
"I think the rise in international student applications at American colleges and universities demonstrates that our higher education system remains the most vibrant and effective in the world at providing students with increased options to expand their career prospects," said Arthur Keiser, chancellor of Keiser University in Florida.
Peter Wood, president of the conservative National Association of Scholars, said international students are a "treasure trove" for U.S. colleges because they generally pay full tuition at a time when campuses are struggling with falling enrollments and rising costs.
"The shortest answer to why international students are so important to college finances is that colleges are in a panic over enrollments, which have already declined significantly and are on a domestic demographic path to much deeper declines," said Mr. Wood, a former associate provost at Boston University.
According to the National Student Clearinghouse research center, freshman enrollment fell by 3.6% in fall 2023 as colleges continued a years-long slide in the number of new students entering undergraduate programs.
At the same time, U.S. universities have attracted foreign graduate students by offering "amenities" not found in other countries, said Ronald J. Rychlak, a professor and former associate dean at the University of Mississippi School of Law.
"Modern dorm rooms are comfortable and attractive, and they are set in universities that offer art, theater, music, and opportunities that are not found elsewhere," Mr. Rychlak said. "We are the only nation that ties large athletic programs to universities. Why wouldn't you come here for college?"
That pipeline could be drying up when it comes to China, however.
Recent reports have found Indians outpacing Chinese exchange students for the first time in recent years amid worsening political tensions between Washington and Beijing.
U.S. university recruiters have started focusing more on India, which the United Nations has projected will overtake China as the most populous country by the end of this year.
"It is driven by the lack of jobs for young [Chinese] people in an economy that has not recovered from the COVID lockdown," said Alan Ruby, a director of global engagement at the University of Pennsylvania.
He added that "a demographic surge and a general 'opening up' of the Indian economy" by new policies promoting higher education have pushed enrollment from India in the opposite direction.
The Council of Graduate Schools reported that India passed China as the leading exporter of graduate students to the U.S. for the first time in 2021-2022.
From fall 2020 to fall 2021, the council found in an annual survey that graduate program applications from India increased by 36% — well above the previous 5% high for a yearly increase dating back to 2016. Over the same period, new applications from Chinese students dropped by 16%.
In a report made public last month, Congress' General Accountability Office said national security concerns have forced about 100 Confucius Institutes sponsored by China's communist government on U.S. campuses to close.
Only about five of the Chinese language and cultural centers remain open, the GAO estimated.
Meanwhile, the Asian American Scholar Forum has reported that the number of Chinese-born academic researchers who dropped their U.S. academic or corporate affiliation to return to mainland China jumped by 23% from 2020 to 2021. The total included both early-career scientists and tenured professors.
Responding to an accompanying survey between December 2021 and March 2022, 86% of more than 1,300 Chinese-born U.S. faculty members told the forum it was harder to recruit top international students than five years earlier. Another 61% said they felt pressured to leave the U.S., and 70% said they no longer felt safe working in the U.S. as academic researchers.
Economist Weifeng Zhong, a senior research fellow at George Mason University's Mercatus Center, said the number of Chinese students studying in the U.S. peaked before COVID-19 because of "China's shrinking demographics and the slowdown of economic growth since President Xi [Jinping] came to power."
"But the strained bilateral ties are surely contributing to the decline, too, because the proportion of Chinese students studying abroad who chose the United States is also becoming smaller," Mr. Zhong, who immigrated from mainland China, told The Washington Times. "The fact that China's propaganda apparatus under Xi's rule is constantly spreading negative narrative about our land of the free doesn't help either."
5 total views, 1 views today