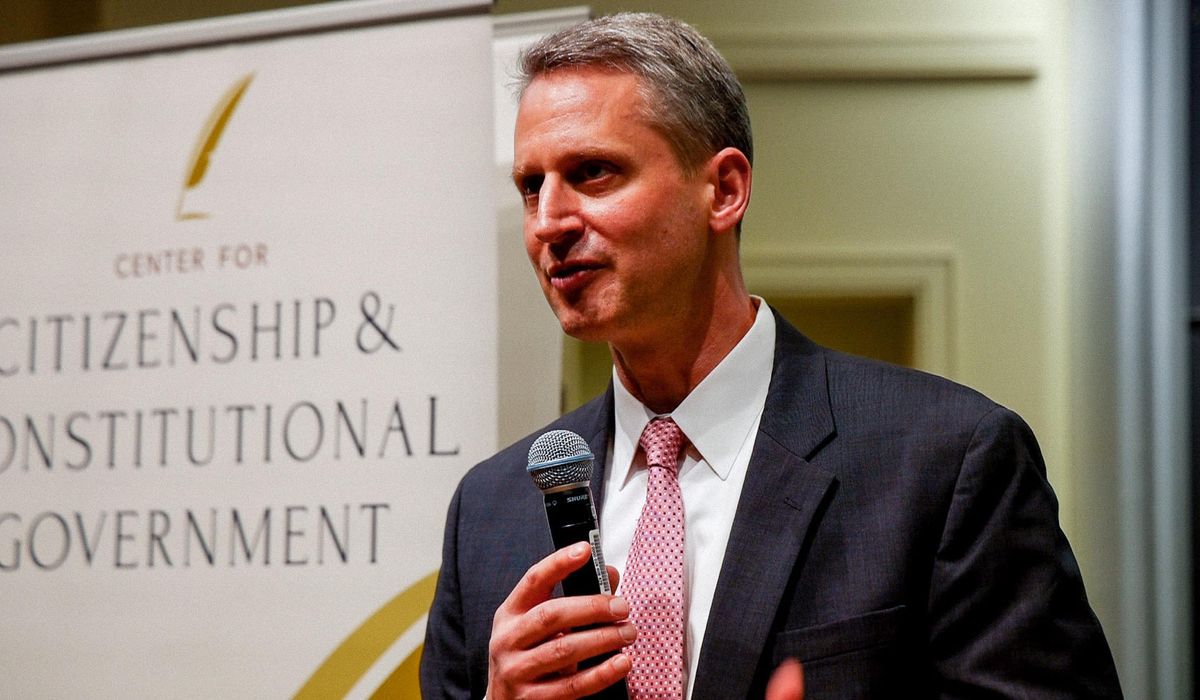 U.S. District Judge Kyle Duncan delivered a lecture at the University of Notre Dame about free speech and legal education without being heckled or shouted down, a dramatic departure from his experience two weeks ago at Stanford Law School.
In his first public appearance since the Stanford melee, Judge Duncan disputed the contention that being jeered and interrupted by about 100 students at his March 9 visit represented a legitimate free-speech exercise, calling the raucous protest a "disgrace" and a "parody" of free expression.
"Let's say the quiet part out loud: The mob came to target me because they hate my work and my ideas," said Judge Duncan, a Trump appointee, in his Friday address at Notre Dame's Center for Citizenship & Constitutional Government.
"None of this spectacle, this obviously public shaming, had the slightest thing to do with free speech," he said. "It had everything to do with intimidation. And to be clear, not intimidating me. I'm not intimidated by this. I'm a life-tenured judge. I'm going to go back to my court and keep writing opinions. No, the target of the intimidation was the protesters' fellow students."
He praised Stanford Law Dean Jenny Martinez for her "extraordinary" and "profound" March 22 memo drawing a distinction between free expression and the "heckler's veto" and outlining the administration's next steps, including a requirement for students to attend a half-day session on free speech and norms in the legal profession.
Ms. Martinez herself became the target of a classroom protest for issuing with Stanford President Marc Tessier-Lavigne a March 11 apology to Judge Duncan, who was invited to deliver a lecture by the law school's student chapter of the Federalist Society.
"It is not free speech to silence others because you hate them. It is not free speech to jeer and heckle a speaker who's been invited to your school so that he can't deliver a talk,'" Judge Duncan said. "It is not free speech to form a mob and hurl taunts and threats that aren't worthy of being written on the wall of a public toilet. It is not free speech to pretend to be harmed by words or ideas you disagree with, and then use that feigned harm as a license to deny a speaker the most rudimentary forms of civility."
Notre Dame law professor and center director Vincent Phillip Munoz opened the lecture by saying that "the importance of today's event I think really needs no explanation."
"What happened two weeks ago at Stanford Law School raises fundamental questions about free speech and our liberal democracy," said Mr. Munoz, especially "at our nation's elite schools."
Left-wing student activists routinely seek to disrupt or heckle conservative pundits on campus, but the specter of a federal judge being shut down by law students at one of the nation's premier law schools was widely viewed in the legal community as crossing a line.
Big day @NDConStudies. Join us via live stream at https://t.co/IYlVkKrSaq for today's lecture by Judge Kyle Duncan on "Free Speech and Legal Education in Our Liberal Democracy" at 12:30pm ET. @FedSoc @NotreDame pic.twitter.com/R0MLB8Gxv5

— Phillip Muñoz (@VPhillipMunoz) March 24, 2023
The students plastered Dean Martinez's classroom last week with flyers saying that the protesters were exercising their First Amendment right to engage in "counter-speech," an argument flayed by Judge Duncan.
"Counter-speech means offering a reasoned response to an argument. It doesn't mean screaming, 'Shut up, you scum, we hate you' at a distance of 12 feet," Judge Duncan said.
He also dismissed the contention that the students were engaging in the "marketplace of ideas."
"Again, wrong," Judge Duncan said. "The marketplace of ideas describes a free and fair competition among opposing arguments with the most compelling one we hope emerging on the top. What transpired at Stanford was no marketplace. It was more like a flash mob on a shoplifting spree."
Other students, specifically those holding right-of-center views, were the real target of the protests, he said.
"The message could not have been clearer: Woe to you if you represent the kind of client Judge Duncan does, or if you take the same views that he has," said Judge Duncan, who was ultimately escorted from the Stanford classroom by federal marshals without delivering his lecture.
Among his clients while in private practice was Hobby Lobby, which won its legal challenge against the Affordable Care Act's contraception mandate.
In her memo, Ms. Martinez said the school had decided against disciplining individual students, citing the difficulty of figuring out which students engaged in permissible versus impermissible behavior under the school's speech policy.
She did say that Tirien Steinbach, associate dean for diversity, equity and inclusion, is on leave. Ms. Steinbach intervened at the protest by scolding the judge, telling him that he was welcome but also asking him whether his appearance was worth "the pain that this causes and the division that this causes."
Judge Duncan had no comment on Stanford opting not to discipline the student protesters, saying the decision was "not for me to say."
250 total views, 1 views today