Authored by Tom Ozimek via The Epoch Times (emphasis ours),
An Arizona judge has dismissed Kari Lake's latest legal challenge to last year's gubernatorial contest while "confirming the election" of Democrat Katie Hobbs as Arizona governor.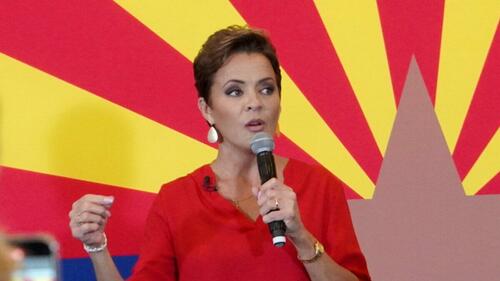 Maricopa County Superior Court Judge Peter A. Thompson said in a May 22 ruling obtained by The Epoch Times that Lake's team failed to provide enough evidence that Maricopa County did not verify signatures on mail ballots in accordance with the law.
Lake had argued that Maricopa County did not perform signature verification on hundreds of thousands of early ballots correctly during the November 2022 midterms, while county officials had insisted that the verification was done in line with statutes.
Her lawyers argued that there was evidence that lower-level screeners who found inconsistencies in signatures ran them up the chain of command, where they were neglected by higher level verifiers.
They also argued that some 274,000 signatures were compared in less than two seconds each, though the judge ruled that the time was not relevant and did not amount to a statutory violation.
Reynaldo "Rey" Valenzuela, the Maricopa County director of elections, said that over 150 people reviewed the signatures and that a total of four levels of signature verification took place.
"Mr. Valenzuela testified that the final canvass was accurate," Thompson wrote in the ruling. "No clear and convincing evidence, or even a preponderance of evidence, contradicts him."
At the conclusion of the three-day trial, Thompson said the court did not find enough evidence of misconduct as alleged by Lake's team.
"It is ordered: confirming the election of Katie Hobbs as Arizona Governor," the judge ruled.
Lake has not publicly commented on the ruling, though she said in a Twitter post that there would be a "big announcement" coming on Tuesday.
She later reposted a meme poking fun at the fast pace of signature verification with the comment "Arizona signature verification. Judge: nothing to see here."
Hobbs has not publicly commented on the ruling, though an attorney representing the governor called it a "victory for Arizona, our election processes, and voters across the state."
'No Way to Review Signatures'
Early voters in Arizona must sign an affidavit on the ballot envelope that says they are registered to vote in the state. Those signatures are one of several security measures for mail-in ballots.
Lake's lawyers argued there was a flood of mail-in ballots in Maricopa County at a time when there were too few workers to verify ballot signatures.
Lake sued Hobbs, along with Secretary of State Adrian Fontes and Maricopa County election officials, requesting last year's election results be thrown out or that she be declared the victor.
Election data show that Lake was behind Hobbs by about 17,000 votes.
Lake's attorneys said the county ultimately accepted thousands of ballots that had been rejected earlier by workers for having mismatched signatures.
"There's simply no way to review signatures with respect to procedures," Kurt Olsen, one of Lake's attorneys, said at trial, according to The Associated Press.
Based on Maricopa County data that was analyzed by expert witness Erich Speckin, Olsen said that "approximately 274,000 ballots out of 1.3 million cast were compared and signature verified, purportedly, in less than three seconds a ballot. Seventy thousand in less than two seconds a ballot."
"That's not signature comparison" as defined by Arizona statute, Olsen said.
Read more here…
Loading…
6 total views, 1 views today