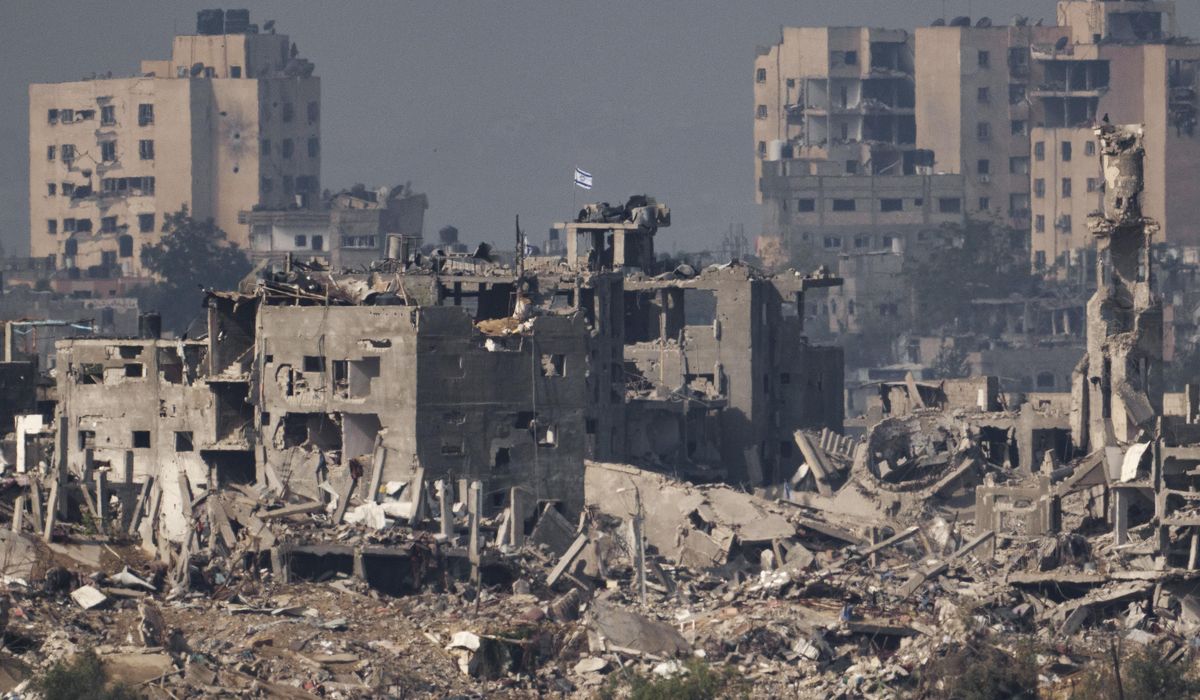 Palestinians in parts of southern Gaza said they received evacuation notices Thursday. The signal that fighting is about to expand in the south comes a day after Israeli forces began searching a north Gaza hospital where they claimed Hamas militants operate – a claim that Hamas and hospital staff deny.
On Thursday, Saudi Arabia condemned the raid on Shifa Hospital, which has become a symbol of the widespread suffering of Palestinian civilians since Israel vowed to wipe out Hamas after the militant group launched its Oct. 7 incursion. Some 1,200 people have died in Israel, mostly during the initial attack, and around 240 were taken captive by militants.
The Israeli military displayed what it said were Hamas weapons and military equipment it uncovered in Shifa, but it has yet to show any evidence of an alleged Hamas command center underneath or in the hospital. The Associated Press could not independently verify the Israeli claims that the weapons were found inside the hospital.
---
---
Only a quarter of Gaza's hospitals are still functioning, either because they have been damaged or because they ran out of fuel, the World Health Organization said Wednesday.
More than 11,200 Palestinians – two-thirds of them women and minors – have been killed since the war began, according to the Health Ministry in Hamas-run Gaza, which does not differentiate between civilian and militant deaths. About 2,700 people have been reported missing.
Currently:
– A protest in Washington calling for a cease-fire in the Israel–Hamas war ends in arrests.
– The Israeli military has set its sights on southern Gaza in its campaign to stamp out Hamas.
– Their families wiped out, grieving Palestinians in Gaza ask why.
– ASEAN defense chiefs call for the fighting in Gaza to cease, but they struggle to address Myanmar.
– Find more of AP's coverage at https://apnews.com/hub/israel-hamas-war
Here's what's happening in the latest Israel-Hamas war:
GENEVA – The United Nations human rights chief says "the Israeli occupation must end" in Palestinian areas, and that countries and peoples must recognize Israel's right to exist.
Volker Türk spoke to diplomats in Geneva and heard their views in the wake of his trip to the Middle East the week prior. Aside from addressing Israel's military campaign in Gaza and reiterating his concern about the Oct. 7 attacks by Hamas in Israel, the rights chief also expressed his concern about rising tensions in the West Bank.
"I am ringing the loudest possible alarm bell about the occupied West Bank," he said, expressing concern about attacks on Palestinians by Israeli settlers, and the use of force there by Israeli security forces.
Overall, he said, "It is clear that the Israeli occupation must end. It is essential to ensure the rights of Palestinians to self-determination and to their own State. And it is essential to acknowledge that Israel has a right to exist."
DEIR AL-BALAH, Gaza Strip – In the central Gaza city of Deir al-Balah, an outdoor funeral service was held for 28 Palestinians killed in overnight bombing, their bodies pulled from the rubble of destroyed buildings. Some of the mourners crouched over bodies wrapped in sheets of white plastic.
JERUSALEM – Shooters opened fire Thursday at a checkpoint south of Jerusalem, wounding at least four people, one critically, Israeli police said.
The attackers arrived by car at the checkpoint on the main road connecting Jewish settlements in the West Bank and southern Jerusalem and opened fire at Israelis, police said, and at least three shooters were killed by security guards at the crossing. Police and bomb disposal units finished their search of the area around noon, having found no more shooters nor bombs.
Tensions have been rising as a result of the war in the Gaza Strip and deadly Israeli military raids in the West Bank. Violence has soared in the Israeli-occupied West Bank since the start of the war, with nearly 200 Palestinians killed, according to the Palestinian Health Ministry. Most were killed during gunbattles triggered by Israeli arrest raids or in violent demonstrations. Israel says it has arrested hundreds of people, mostly suspected Hamas members.
RIYADH, Saudi Arabia – Saudi Arabia condemned Israel's raid on Shifa Hospital in Gaza City, calling it a "blatant violation of international law" in a statement Thursday from the Foreign Ministry. It also condemned what it said was shelling near another hospital and called on international bodies to hold Israel accountable.
Israel says its troops are carrying out a targeted operation in Shifa, where it has long accused Hamas of maintaining an underground command center. Hamas and hospital staff have denied the allegations. Israeli forces searching the medical compound since early Wednesday say they have found guns and other indications that Hamas militants were inside, but have not shown any evidence regarding the alleged command center.
Hospitals can lose their protections under international law if combatants use them for military purposes. Even then, civilians must be given ample time and opportunity to flee and any action must be proportional to the military objective.
Before the war, Saudi Arabia was in talks with the United States over potentially normalizing relations with Israel.
COPENHAGEN, Denmark – Another 60 Norwegian citizens will be able to leave Gaza on Thursday, the Foreign Ministry in Norway said, with Scandinavian Prime Minister Jonas Gahr Støre saying that they have received information from relatives that a citizen from the Nordic country was killed in Gaza.
Gahr Støre said that "many countries have several of their citizens in Gaza," and it's estimated that of the approximately 250 people with ties to Norway in Gaza, more than half of them are children.
Those able to leave Gaza will be able to enter into Egypt via the border crossing at Rafah. On Wednesday, Norway said it had been informed that 51 Norwegians could leave Gaza through Rafah.
Copyright © 2023 The Washington Times, LLC.
4 total views, 1 views today