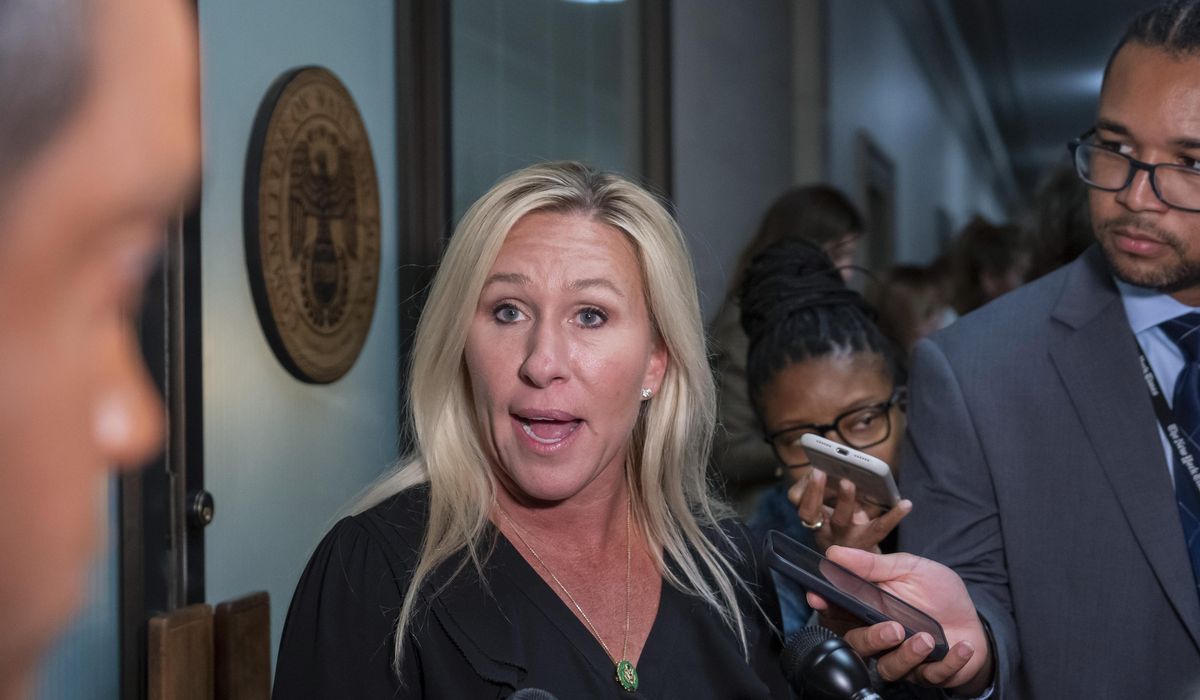 Rep. Marjorie Taylor Greene on Monday blasted the eight Republicans who sided with Democrats in derailing her effort to impeach Homeland Security Secretary Alejandro Mayorkas, saying she couldn't fathom what more evidence they needed.
Impeachment usually boils up through the committee process but Ms. Greene, frustrated at what she saw as too-slow progress in the committees, forced a snap vote on an impeachment resolution.
Democrats moved to head off impeachment by sending her measure to a committee, and they prevailed on a 209-201 vote, which saw eight Republicans vote with the Democrats.
---
---
Ms. Greene, taking to social media, called the vote on behalf of Mr. Mayorkas "absolutely unbelievable."
"Everyone all over America knows how bad this guy is and that he's willfully breaking our laws," Ms. Greene said on X. "I don't know how we ever win, guys, if we can't get Republicans to stick together."
The eight Republicans were Reps. Cliff Bentz of Oregon; Ken Buck of Colorado; Tom McClintock, John Duarte and Darrell Issa of California; Patrick McHenry and Virginia Foxx of North Carolina; and Mike Turner of Ohio.
8 Republicans just joined Democrats to KILL my Articles of Impeachment against Mayorkas https://t.co/DYCLubvjJH

— Rep. Marjorie Taylor Greene🇺🇸 (@RepMTG) November 14, 2023
Ms. Greene said she didn't understand some of her colleagues' stances. She said Mr. Turner, chairman of the intelligence committee, should know the threats of an unsecured border. And she was particularly miffed by the three Californians.
"How did they vote against impeachment?" she said.
As for Mr. Buck, she said he is retiring and is trying to get "revenge" and "anybody he doesn't like."
She said Mr. Duarte was one of just two Republicans to oppose the GOP's border bill earlier this year.
Rep. John Duarte: "I'm not interested in these peripheral impeachment efforts." pic.twitter.com/beIlreaXEb

— The Epoch Times (@EpochTimes) November 9, 2023
Mr. Duarte last week called Ms. Greene's resolution "peripheral" and said he was waiting for the official machinery of the House to work in producing an impeachment inquiry.
Ms. Foxx is actually on record supporting an impeachment inquiry into Mr. Mayorkas. But Ms. Greene's resolution skipped past the inquiry stage and would have actually impeached the secretary.
7 total views, 1 views today