A 15-year-old Michigan teen is two facing felony assault charges after she was caught on video launching a metal chair at her teacher's head during a heated argument with another student.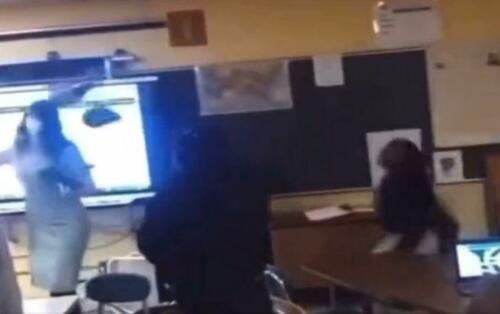 The teacher, who attempted to break up the fight, turned her back to the assailant when the chair was hurled at the educator, striking her in the head and causing her to drop to the floor where she did not move for approximately seven seconds.
The Genesee County Prosecutor's office made the arrest following the "unacceptable act of violence," which went viral last week, ABC 12 reports.
A teacher in Flint, Michigan is knocked unconscious after a student threw a chair at her head. This happened in Flint Community Schools in Michigan pic.twitter.com/T8La7gCgAJ

— Libs of TikTok (@libsoftiktok) September 29, 2023
The teacher was found lying on the ground by the school resource office, who entered the classroom to break up the fight, according to Flint Police Chief Terence Green.
Both girls involved in the fight were placed under arrest, while the unnamed teacher was quickly rushed to the hospital. She has since been released and is "doing well."
"We are committed to ensuring that our schools are safe and conducive to learning for all scholars, and we take this responsibility very seriously," wrote the district's superintendent, who said that the girl who threw the chair will be held accountable.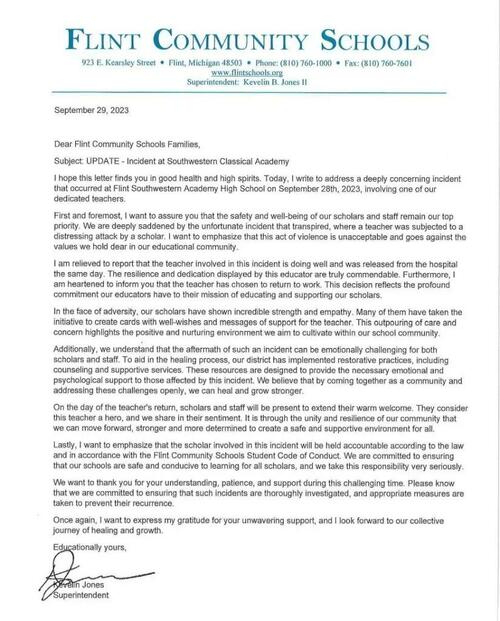 As the NY Post notes, former Detroit Police Chief James Craig said "This video perfectly captures the sad state of Education in Michigan – no sense of order or direction, no respect for teachers, and worst of all, NO LEARNING," adding "Failure to educate young Michiganders is a recipe for increased CRIME, upticks in UNEMPLOYMENT, and SOCIETAL DISORDER. Michiganders deserve better."
Craig is planning to run as a Republican in the upcoming Senate race.
This video perfectly captures the sad state of Education in Michigan – no sense of order or direction, no respect for teachers, and worst of all, NO LEARNING.

Failure to educate young Michiganders is a recipe for increased CRIME, upticks in UNEMPLOYMENT, and SOCIETAL DISORDER.… https://t.co/AiQJ5wRQ2F

— Chief James Craig (@chiefjamescraig) September 29, 2023
Loading…
10 total views, 1 views today