The National Weather Service issued the first blizzard warning for the mountains of Los Angeles in over three decades as a powerful winter storm is set to dump feet of snow in higher elevations.
The NWS office in Los Angeles warned about a dangerous winter storm across the mountains of Los Angeles, Ventura, and Santa Barbara counties. The agency said there would be "extremely dangerous mountain conditions."
Blizzard conditions above 8000 feet. Additional snow accumulations of 38 to 73 inches. Winds gusting as high as 60 mph.
Travel could be very difficult to impossible. The hazardous conditions could impact the morning or evening commute. Strong winds could cause tree damage. The dangerously cold wind chills as low as 40 below zero could cause frostbite on exposed skin in as little as 10 minutes.
NWS' map of weather warnings shows dangerous conditions across much of the Golden State.
FOX Weather meteorologist Britta Merwin said, "Your eyes are not deceiving you … All the way down in Southern California, that orange box is a Blizzard Warning that's in effect for Friday morning until 4 p.m. on Saturday afternoon."
Areas above 3,000 to 4,000 feet are under a blizzard warning and will see heavy snow Friday and Saturday.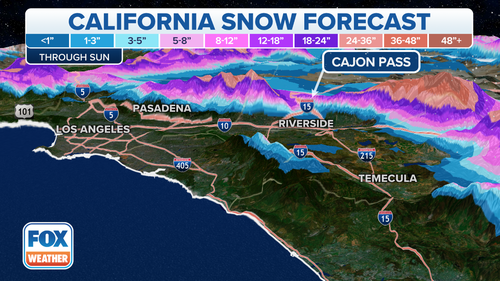 Accumulating snow is expected in elevations of less than 2,500 feet but only between one and six inches. Areas along the coast and valleys could see nearly five inches of rain.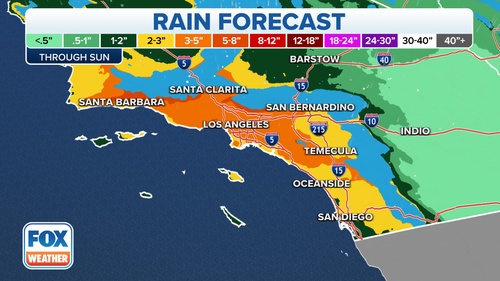 Maybe Punxsutawney Phil was right earlier this month: six more weeks of winter. Meanwhile, winter weather has been absent on the East Coast this season. In Washington, D.C., temperatures are expected to reach nearly 80 degrees Fahrenheit today.
Loading…
102 total views, 1 views today