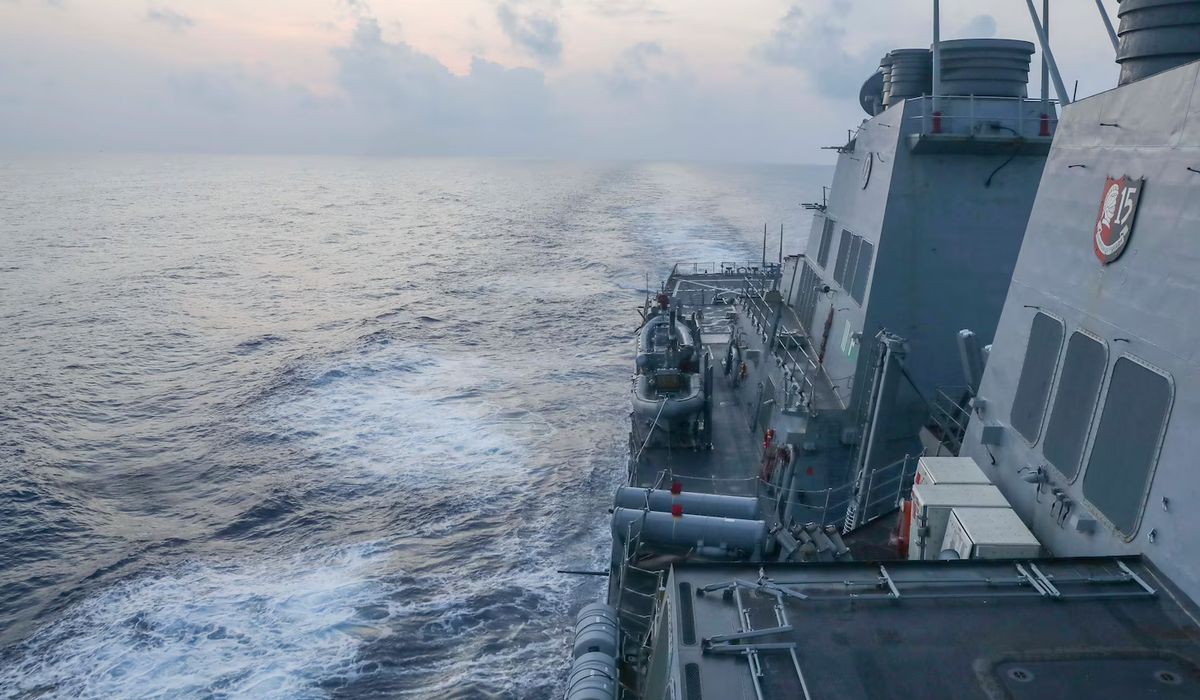 A U.S. Navy guided-missile destroyer sailed through a disputed area of South China Sea on Monday, pushing back against territorial claims by China amid rising bilateral tensions, the Seventh Fleet said in a statement.
The destroyer USS Milius sailed near Mischief Reef, part of the Spratly Islands where China has built up several military bases and deployed missiles in recent years.
The warship made the "freedom of navigation operation" (FONOP) within 12 nautical miles of the reef and then continued operations nearby, Seventh Fleet spokesman Lt. Luka Bakic said, in a symbolic demonstration to uphold "the rights, freedoms, and lawful uses of the sea."
The USS Milius, he added, "demonstrated that Mischief Reef, a low-tide elevation in its natural state, is not entitled to a territorial sea under international law."
A Chinese military spokesman said the Milius "illegally trespassed" without Chinese government approval. Chinese military aircraft and warships tracked and monitored the Milius, said a spokesman for the PLA southern theater command.
"China has indisputable sovereignty over the South China Sea islands and their adjacent waters," the spokesman said. "The troops of the PLA southern theater command will always stay on high alert and resolutely safeguard China's national sovereignty and security, as well as peace and stability in the South China Sea."
China's People's Liberation Army said in a statement the three-day exercises prove Beijing is prepared to do what it takes to back up China's claims to sovereignty over Taiwan.
"The theater's troops are ready to fight at all times and can fight at any time to resolutely smash any form of 'Taiwan independence' and foreign interference attempts," the Chinese military statement said Monday.
The Navy claims that a submerged reef at high tide is not recognized as maritime sovereign territory. China's land-reclamation efforts, installations and structures on Mischief Reef "do not change this characterization under international law," Lt. Bakic said. Satellite photographs of Mischief Reef have shown what appears to be cruise missile deployments as well as a long runway.
The latest FONOP came just as Chinese military forces ended large-scale wargames north of the sea near Taiwan, exercises that state media said simulated multi-directional Chinese military attacks on the island democracy and reflected Beijing's anger over last week's meeting between House Speaker Kevin McCarthy and Taiwan President Tsai Ing-wen in California. Taiwan's Defense Ministry, which monitored the Chinese exercises, said a total of 232 Chinese military aircraft and 32 military vessels were detected near Taiwan between Saturday and the end of the exercises on Monday.
During this period, 134 military aircraft crossed the median line down the 100-mile-wide Taiwan Strait.
China has limited contacts with U.S. military counterparts as tensions have ramped up over Taiwan and other issues. A Pentagon spokesman said China continued to reject talks with senior U.S. defense and military leaders.
"While we will continue to maintain open channels of communication with the PRC, the PRC continues to decline requests for engagement with the secretary of defense and the chairman of the Joint Chiefs of staff," Pentagon spokesman Chris Meagher told reporters Monday. "Lines between our militaries are particularly important in scenarios like this, and we call on Beijing to engage us in this channel."
U.S. defense officials have said the planes crossing the media line were violating the fragile status quo between China and Taiwan that has kept the peace between the two rivals since Nationalist forces fled the mainland to Taiwan during a civil war in 1949.
Chinese state media described the exercises as "encirclement combat alert patrols" by PLA forces of the Eastern Theater Command, exercises that "pressured the island from all four directions" using an aircraft carrier, long-range rockets, warships and fighter jets and conventional missiles.
It was the second time the Chinese military conducted aggressive exercises near Taiwan in response to a meeting with a senior House leader. In August 2022, the Chinese conducted the largest military exercises in decades around Taiwan after then-House Speaker Nancy Pelosi visited Taiwan and met with Mrs. Tsai.
The Chinese exercises during the weekend practiced seizing control of sea, air and information domains using joint forces. Video posted on Chinese state media showed a graphic with the locations of medium- and short-range missile firings from China that landed in areas around Taiwan.
Actual rocket and missile launches also were shown in videos of the exercises.
The Chinese Communist Party-affiliated outlet Global Times stated that the aircraft carrier strike group led by the carrier Shandong and its jets "practiced assaults on fleeing hostile vessels and a maritime blockade while other forces conducted blockade and joint strike drills."
Chinese units also practiced electronic warfare operations, including suppression of radar and anti-missile defenses on Taiwan.
• Ben Wolfgang contributed to this story.
30 total views, 1 views today