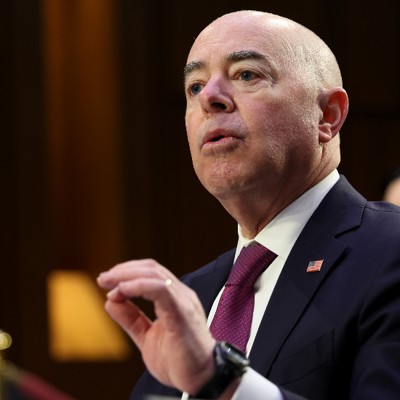 Emerging technologies play a role in both exacerbating and alleviating threats to U.S. security, according to Department of Homeland Secretary Alejandro Mayorkas, who spoke at a Senate Committee one the Judiciary hearing Tuesday. He cited his agency's efforts to better police threats on the country's digital frontiers., highlighting the existing efforts like Cybersecurity and Infrastructure Security Agency's Shields Up program and public-private partnerships, such as the Joint Cyber Defense Collaborative to "harden" digital networks within critical infrastructures and businesses alike.
"Emerging technology is creating new threats," he said. Mayorkas also highlighted the ongoing security issue unnamed aircraft systems––or drones––present.
"Unmanned aircraft systems can be used to conduct attacks, and increasingly violate temporary flight restrictions that protect high ranking officials, disrupt airport operations, surveil outdoor mass gatherings and attempt to transport illegal narcotics across borders," he said.
Mayorkas explained to Sen. Dick Durbin, D-Ill., that the national security concern stems from technological advancement within the drone industry: they are able to fly at greater speeds over greater distances, with greater visibility and carry larger physical loads.
Mayorkas then advocated for Congress to continue its oversight and regulatory efforts, notably to grant DHS more authority in monitoring UAEs.
"It is vital that Congress act to extend and expand the department's counter UAS authorities to protect against malicious drone activity," he said.
The issue of drone regulation has been popular within Congress, with several senators asking CISA to conduct an analysis for more information on Chinese-made drones retailed in North America. Proposed legislation would also implement more rules for UAEs in the shared airspace.
Other emerging technologies, such as artificial intelligence, were also noted as having both a positive and negative impact on national security. Mayorkas acknowledged AI's potential as a helpful software capability, but also commented on its destructive potential.
"In the wrong hands, it can be a weapon…of harm, and we have to build the defenses that are ready to secure the homeland with respect to the potential that AI presents," he said.
Concerns about the social media application TikTok also briefly resurfaced during the hearing following the widely-publicized grilling of the company's CEO Shou Zi Chew during a House hearing last week.
Mayorkas was asked by Sen. Richard Blumenthal, D-Conn., about data security and TikTok, reiterating federal concern over both the app's content moderation algorithms and the user data it gathers.
Mayorkas told Blumenthal that he does have a "tremendous concern" over TikTok's ties to the Chinese government and its continued use among Americans.
"I have a tremendous concern with respect to aspects of the PRCs aggression, with respect to the United States and other democracies around the world," he said, declining to comment on foreign surveillance, citing ongoing legal proceedings that are investigating this question.
10 total views, 1 views today