There was good news for fans of weight loss drugs this weekend, when Novo Nordisk unveiled details from a closely watched study that supports the use of Wegovy, its blockbuster weight-loss drug, to cut the risk of death by 18% in a trial that the Danish pharmaceutical company hopes will convince more health systems and insurers to pay for the treatment.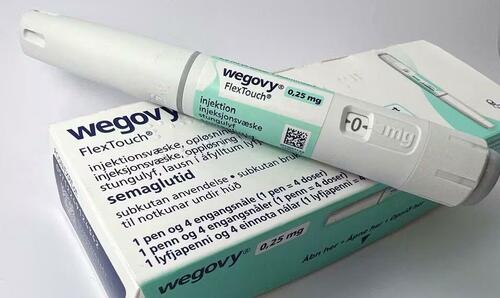 Novo Nordisk on Saturday said the heart protective benefits of its wildly popular Wegovy obesity treatment are due to more than weight loss alone, according to new data presented at a major medical meeting on Saturday. Early data from the Danish drugmaker's Select trial released in August demonstrated that Wegovy, which has been shown to help patients lose an average of 15% of their weight, also reduced incidence of heart attack, stroke or death from heart disease by 20%.
The full results from the study, presented at the American Heart Association annual scientific meeting in Philadelphia in front of a standing room only crowd and published in the New England Journal of Medicine, suggest the drug has other beneficial effects beyond the known health benefits from losing weight.
The heart risk difference between patients who received Wegovy, known chemically as semaglutide, and those on placebo began to appear almost immediately after starting treatment, researchers said.
In the study of overweight and obese patients based on body mass index who had preexisting heart disease but not diabetes, Wegovy reduced the risk of non-fatal heart attack by 28%, non-fatal stroke by 7% and death from cardiovascular causes death by 15% compared to a placebo (though the numbers did not quite meet the bar for statistical significance).
According to Novo, which of course is extremely incentivized to present the drug in the most favorable light so it can force insurance companies to cover the ~$1000/month drug, given that patients had not started losing weight when the cardiovascular benefits first appeared suggests the heart protection was not purely the result of weight loss. The trial also showed a 73% reduction in progression to diabetes and a 22% reduction of kidney disease, both of which significantly add to cost effectiveness of Wegovy treatment, write JPMorgan analysts including Richard Vosser in a note.
Still, the result is hardly a shock: in August, initial data from the Select trial sent shares in Novo Nordisk up as much as 16%, as investors became excited that the results could win over any health systems and insurers reluctant to cover the new class of weight-loss drugs (Wegovy has a US list price of more than $1,300 a month). It begs the question: how much of the good news has already been priced in.
Dr Chad Weldy, a cardiologist at Stanford University, said on the sidelines of the conference that it was important to note that the trial did not study how semaglutide might stop heart disease from happening and only looked at how to stop it from getting worse.
Despite that, the size of the patient population covered by this trial should make doctors think about the sorts of patients who should be prescribed Wegovy based on the data.
"Anyone who has had a heart attack or obstructive coronary disease and has a body mass index of more than 27 fits in with this study, which is a very large patient population," he said, which of course makes sense: after all GLP-1 drugs, extremely expensive as they may be and requiring a $1000 outlay every month to keep the weigh loss results, do miracles in muting appetite and slashing excess weight.
Dr Bruno Halpern, head of the obesity center at Hospital 9 de Julho in São Paulo, Brazil, also said at the conference that Wegovy should now be a frontline treatment for heart disease.
The study researchers said that while understanding of the mechanisms of the cardiovascular protection from semaglutide remain speculative, there was a consistent effect on associated risk factors that support the idea that multiple pathways are behind the drug's clinical benefit.
Ironically, the associated risk factors – which include inflammation, blood pressure and blood sugar control, all of which can impact heart health – can potentially be just as bad if not worse, however in the end of the day, it's all about how the trial was structured.
John Deanfield, one of the study's authors and cardiology professor at University College London, said at the medical meeting that the trial data would spur a debate over where Wegovy fits into doctors' treatments.
"When do we start these drugs in our patients? How do we stop them? How much weight do we want them to lose to get the benefit?" he said.
Patients on Wegovy experienced decreases in C-reactive proteins, an indication of inflammation, similar to those reported with cholesterol lowering statins, which are known to significantly lower heart risks, researchers reported.
"The cardiovascular benefit (of Wegovy) is a combination of many factors, but I would call out glycemic (blood sugar) control, weight loss and inflammation," Martin Lange, Novo Nordisk's head of development, said in an interview.
It was not all roses: in the 17,604-patient trial with a mean duration of 33 months, almost 1,500 of those taking Wegovy discontinued treatment due to adverse side effects, mostly gastrointestinal disorders like nausea and vomiting, compared to 718 patients in the placebo group, according to the study.
Though the trial was not conducted to test weight loss, participants lost an average of nearly 10% of their total body weight. Novo said patients in the heart study were not required to track diet and exercise as they are in obesity trials.
The study showed Wegovy to be safe and well-tolerated in line with previous semaglutide trials, Novo said. It was unclear whether the results could be applied to all GLP1-class drugs or were specific to semaglutide, Barclays analyst Emily Field said in an interview.
Lange said he expected the company's application to have Wegovy's label updated to include the heart benefits to be approved in the U.S. in the first half of next year and in the EU in the second half. Drug regulators can update the information on medicine labels to include new data or reflect new indications for use after initial approval.
U.S. and UK drug regulators approved Eli Lilly's rival weight-loss treatment on Wednesday, which had previously been approved and marketed as Mounjaro for diabetes.
Yet what should have been a strong week for GLP-1 and health loss drugs, as well as the healthcare sector in general, was anything but. The Healthcare sector was hammered in a tumultuous week, with underperformance leading the sector back to YTD lows in terms of relative performance vs. the market (XLV vs. SPY). At the sector level, the tail end of the 3Q earnings season has continued to skew towards near-term uncertainty + persisting headwinds into '24 – with particular focus around updates from the Life Sciences Tools and Medtech companies through the week. Updates from biopharma were more mixed, with several notable setbacks (VTYX, AMLX, NBIX, etc) partly balanced by BMRN (news of activism) and underscored by LLY's highly anticipated obesity approval for their GLP-1.
Meanwhile, a violent sell-off in Large Biopharma on Thursday am, that quickly spread to other subsectors (XLV's worst 1D performance YTD) as well as Novo Nordisk itself, drove a scramble by investors to identify the driver of the weakness… without a clear smoking gun beyond the culmination of recent negative news cycle and potential angst ahead of the SELECT trial, whose favorable outcome was greatly anticipated, as it was the catalyst that initially sparked the latest frenzy around this drug class in early August.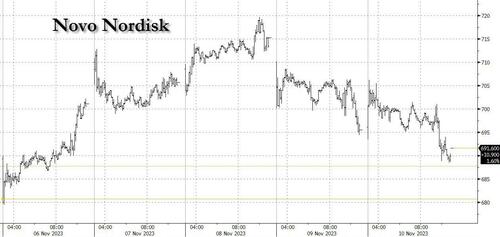 As Goldman concludes, debates are high ahead of this update – with potential for far reaching implications + stock moves this coming Monday – where there continues to be focus on the GLP-1 At-Risk cohort.
Loading…
9 total views, 1 views today