NY State To Give Up To $2.1 Billion To Illegal Immigrants
Just when you thought things couldn't get more surreal, New York State's democratic-party-dominated legislature decides to crank the virtue-signaling 'equity' amplifier up to 11.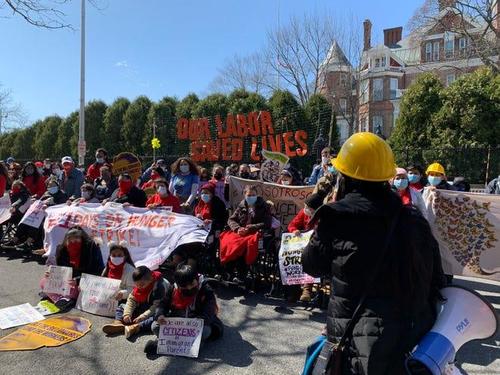 Embattled Gov. Andrew Cuomo – desperate for any news to distract from his dueling sex abuse and nursing home death scandals ("Hey, want some pot?") – struck a deal on Tuesday with New York Lawmakers to spend $2.1 billion towards to assist jobless workers who were excluded from unemployment benefits during the pandemic – primarily undocumented immigrants and ex-convicts, after activists launched several hunger strikes.
Lawmakers justified the stunning addition to the state's broader $212 billion budget agreement, by claiming – as Lohud.com's Tifany Cusac-Smith and David McKay Wilson report – many undocumented immigrants have not received aid such as stimulus checks or federal unemployment benefits during the pandemic, even though studies show that they pay billions of dollars in taxes each year.
The study in question – by The Institute on Taxation and Economic Policy – appears custom-tailored to justify classifying illegal immigrants as qualifying residents, as they claim tax revenues would skyrocket if currently illegal workers were suddenly made legal and paid taxes… legally?
Here is the table showing that undocumented workers paid $1.108 billion in taxes (which, if our math is correct, is around half what they are about to get from the state).
Like other people living and working in the United States, undocumented immigrants pay state and local taxes. They pay sales and excise taxes when they purchase goods and services (for example, on utilities, clothing and gasoline). They pay property taxes directly on their homes or indirectly as renters. Many undocumented immigrants also pay state income taxes. The best evidence suggests that at least 50 percent of undocumented immigrant households currently file income tax returns using Individual Tax Identification Numbers (ITINs), and many who do not file income tax returns still have taxes deducted from their paychecks.
Actual details of the bill are not available yet, including whether the handouts from the state would be taxable themselves… like they are for all legal tax-paying residents.
"The federal government has given trillions of dollars of relief to Americans, the state of New York is getting billions of dollars, but not everybody. We're here to fix that," said state Sen. John Liu, D-Queens.

"Excluded workers may not have a piece of paper, but they're New Yorkers just as much."

…

In one iteration of the proposal, those who could prove residency for 60 days, had a federal Tax Identification Number, and show they earned less than $26,000, would qualify for $15,000.
Is it just us, or does "excluded worker" feel like a focus-group phrase designed to gaslight readers into believing that illegal immigrants – whose presence in the country hurts low-income legal residents the most – have suffered "injustice" and "inequity" when it comes to the social safety net that honest taxpayers will have to subsidize for decades to come? Perhaps the term "illegally-employed-worker" would be more appropriate?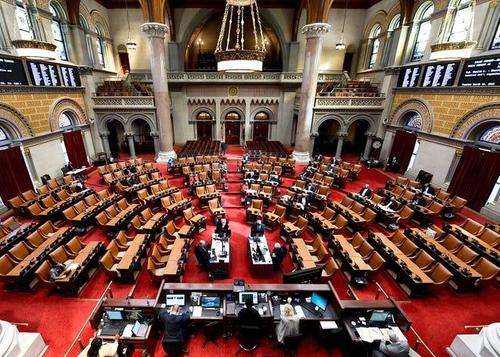 After watching near record numbers of immigrants crossing the US-Mexico border to reach Biden's promised land, some lawmakers expressed fears that the bill would make New York a magnet for illegal immigrants. Others view the pandemic as a humanitarian crisis that illegal immigrants have been caught on the wrong side of.
Murad Awawdeh, interim co-executive director of the New York Immigration Coalition, said undocumented families in New York deserve a chance at recovery from this pandemic.
"Undocumented immigrant New Yorkers on the frontlines of this pandemic are still struggling to pay their bills and feed their families because of the injustice of nearly every federal stimulus relief package, which excluded these New Yorkers from all social safety nets just because of their immigration status."
Yet, we can't help but wonder how low-income, law-abiding, tax-paying, legal immigrants and American citizens will feel about their taxes being used to subsidize those who chose to cut in line.
As a reminder, we detailed yesterday that after years of paying the highest income tax in the country, the privilege of being the most IRS-abused group shifts from virtue-signaling California 1%-ers to New York millionaires, who would pay the highest income tax in the United States under a new budget currently being finalized by embattled NY Governor Andrew Cuomo.
According to the WSJ, Cuomo and NY state lawmakers are nearing a budget agreement that would increase corporate and income taxes by $4.3 billion a year and would make top earners in New York City pay the highest combined local tax rate in the country.
Vote woke, go broke.
Tyler Durden
Tue, 04/06/2021 – 22:25

Source: Zero Hedge News
122 total views, 1 views today