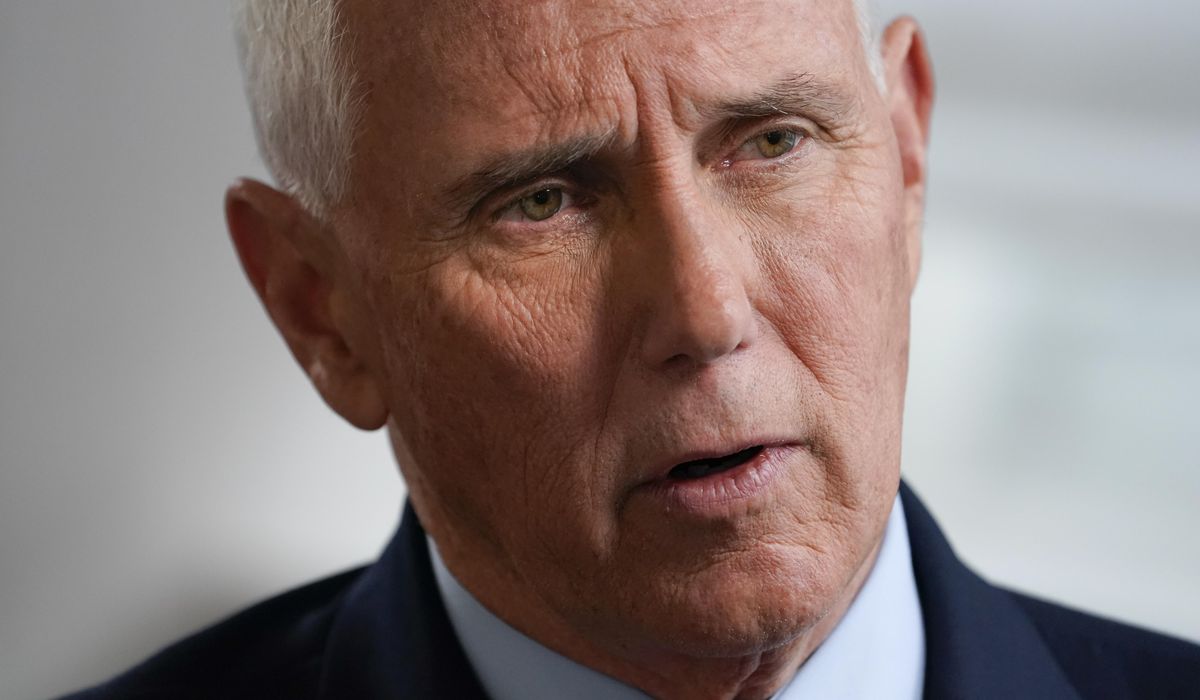 The revelation Tuesday that classified documents were discovered at former Vice President Mike Pence's home in Indiana threatens to change the political and legal landscape under Justice Department probes of former President Donald Trump and President Biden mishandling government secrets.
A "small number" of classified documents were discovered in Mr. Pence's home in Carmel, Indiana, according to letters his legal team sent to the National Archives and Records Administration.
In the political arena, the surprising discovery gives both sides cover as Mr. Biden's allies can point to the fact that he and Mr. Pence immediately turned over documents found to be in their possession. That contrasts with Mr. Trump, who has insisted the documents are his personal property and repeatedly refused to give them back.
However, Mr. Pence's situation also makes it more difficult to prosecute Mr. Trump, who is currently under criminal investigation for possessing classified documents.
"Each of these finds could make a singular prosecution of Trump seem more like selective prosecution," said Jonathan Turley, a professor of public interest law at George Washington University. "After all, it may be getting increasingly difficult to assemble a jury pool in Washington," he said. "It is not clear who would be left after the question on the voir dire form 'do you have classified material at home?'"
Federal law strictly forbids the removal or retention of classified documents or materials outside secured locations without authorization.
---
SEE ALSO: White House offers cool response to House Republicans' classified documents probe
---
Kevin O'Brien, a white-collar criminal defense attorney and former Justice Department official, said the Pence and Biden discoveries make it seem as if the retention of secret documents is "normal." That could be a problem for public perception if prosecutors decide to charge Mr. Trump.
"Ironically, the more violations we discover, even if they are inadvertent, the harder it might be to successfully prosecute Trump because the public and ultimately the jury may have a hard time distinguishing an inadvertent violation from an intentional one," Mr. O'Brien said. "Biden and Pence may have given Trump a cover."
One thing everyone in Washington seems to agree upon is that there must be more scrutiny on how classified documents are tracked and stored.
"I don't know how this happened," Sen. Lindsey Graham, South Carolina Republican, told reporters on Capitol Hill. "Clearly we have got a problem here. … Maybe we are over-classifying things. That may be part of the problem, but count me in for getting this fixed."
Mr. Pence, who is a potential Republican 2024 presidential candidate, went public Tuesday with the discovery of government secrets stashed in his house.
In a letter sent last week to the National Archives and Record Administration, Mr. Pence's lawyer, Greg Jacob, wrote that the documents "were inadvertently boxed and transported to the former vice president's home at the end of the Trump administration.
---
SEE ALSO: GOP senators join call for Secret Service to release Biden visitor logs
---
A total of four boxes containing copies of administration papers, including two which held "a small number" of papers with classified documents and two containing "courtesy copies of vice presidential papers" were discovered during the search. All four boxes were delivered to the National Archives on Monday.
Mr. Pence was "unaware" that sensitive documents were at his residence until they turned up during a search of his residence by his lawyers, Mr. Jacobs wrote. The materials were locked away until they could be retrieved by the National Archives.
"Vice President Pence understands the high importance of protecting sensitive and classified information and stands ready and willing to cooperate fully with the National Archives and any appropriate inquiry," his lawyer said.
Mr. Jacob said the documents were discovered on Jan. 16 after the former vice president requested outside counsel with experience handling classified documents search his home out of "an abundance of caution." The move was prompted by the discovery of classified documents at Mr. Biden's home and office after his days as vice president.
The FBI sent agents to Mr. Pence's home Thursday evening to retrieve the documents, which were being stored in a safe, according to Mr. Jacob. At the time of the search, Mr. Pence was in Washington attending the March for Life anti-abortion demonstration.
Lawyers also searched the office of Mr. Pence's political advocacy group, Advancing American Freedom, but no sensitive materials were discovered.
Mr. Jacob expressed confidence that a thorough review would show that most of the documents were copies of records that had already been sent to the archives.
The letter said Mr. Pence's lawyers couldn't provide an exact description of the materials because they did not view the contents.
With both Mr. Trump and Mr. Biden under special counsel investigation for the potential illegal mishandling of confidential materials, it remains to be seen how the Justice Department will respond to the Pence revelation.
Attorney General Merrick Garland declined to discuss the Pence situation at a press conference Tuesday where he announced a Justice Department antitrust lawsuit against Google.
Mr. Trump stood up for his former No. 2.
"Mike Pence is an innocent man. He never did anything knowingly dishonest in his life. Leave him alone!!," Mr. Trump said in a Truth Social post.
House Oversight and Accountability Committee Chairman James Comer, Kentucky Republican contrasted the Biden and Pence cases.
"Former Vice President Mike Pence reached out today about classified documents found at his home in Indiana," said Mr. Comer, who is leading a probe of the Biden matter. "He has agreed to fully cooperate with congressional oversight and any questions we have about the matter. Former Vice President Pence's transparency stands in stark contrast to Biden's White House staff who continue to withhold information from Congress and the American people."
Rep. Jamie Raskin, Maryland Democrat and ranking member of the House Judiciary Committee, said the hypocrisy lies on the other side of the aisle.
"My Republican colleagues' glaring failure to acknowledge that former President Trump refused to cooperate with the government and continually rebuffed calls to turn over thousands of presidential records and hundreds of classified documents illustrates that they are simply not serious about these goals as a basic policy commitment," he said.
Mr. Biden has suffered a torrent of criticism, including from within his Democratic Party, about waiting weeks to disclose the discovery of classified documents at his former Washington office and his administration's refusal to answer questions about the matter.
Some Republican lawmakers also demanded more answers about how Mr. Pence could end up with government secrets.
Rep. Mike Turner, Ohio Republican and incoming chairman of the Permanent Select Committee on Intelligence, said he wanted a damage assessment to see if there are any national security threats. National Security officials typically provide Congress with a damage assessment whenever sensitive materials have been mishandled or improperly stored. It is to determine if any national secrets have been put at risk by mishandling.
"It is a serious matter for any government official to mishandle classified documents," Mr. Turner said.
In August, Mr. Pence told The Associated Press that he didn't take any classified documents with him when he left office.
When asked if he retained any classified files upon leaving office, Mr. Pence told the news outlet, "No, not to my knowledge."
In a January interview with Fox Business, Mr. Pence described "a very formal process" used by his staff to handle classified information, insisting that he took all the necessary steps to turn over the materials to the National Archives.
"Before we left the White House, the attorneys on my staff went through all the documents at both the White House and our offices there and at the vice president's residence to ensure that any documents that needed to be turned over to the National Archives, including classified documents, were turned over. So we went through a very careful process in that regard," Mr. Pence said.
Mr. Pence had been critical of Mr. Biden's handling of classified documents and accused the Justice Department of having a "double standard" in how they treated the current president compared with Mr. Trump.
"But having now created that standard and now abandoned that standard when the current president of the United States is found to have had classified documents in his possession after leaving office, I think it just, I have no words right now. It's just incredibly frustrating to me," Mr. Pence said earlier this month.
13 total views, 1 views today