LOS ANGELES — A man the authorities described as "possibly" being a suspect in the Monterey Park mass shooting overnight is dead, according to two law enforcement sources familiar with the investigation.
Earlier, sources familiar with the investigation into the attack told NBC News that the person in a white van subjected to a traffic stop in the coastal city of Torrance, about 30 miles from the violence, fit the description of a person seen at crime scenes in Monterey Park and adjacent Alhambra.
Authorities, some appearing to be tactical SWAT officers, surrounded and then breached the van where the unidentified individual was found dead.
Late Saturday night, 10 people were killed and another 10 were wounded in the midst of Lunar New Year celebrations in Monterey Park, an Asian American enclave, the Los Angeles County Sheriff's Department said.
It was not clear what the motive was, Homicide Capt. Andrew Meyer said at a news conference early Sunday, as the search for the suspected gunman continued.
Monterey police officers first responded to a dance hall, identified in government records as Star Ballroom Dance, after reports of a shooting came in at 10:22 p.m. Saturday, Los Angeles County Sheriff Robert Luna said. People were rushing out of the hall as officers went into the business.
Ten people were killed at the venue, and 10 others were taken to hospitals in conditions from stable to critical, Luna said. Four of the injured were being treated at LAC + USC Medical Center, the hospital confirmed.
Authorities were still working to identify the victims. Luna reported that five were women and five were men.
The suspected gunman may have been an Asian male 30 to 50 years old, Luna said, warning that it was still a preliminary description.
The sheriff's office released a photo of a suspect and described him as about 5 feet, 10 inches tall, wearing a black leather jacket, a beanie and glasses.
Asked whether the case was being investigated as a hate crime, Luna told reporters that "everything is on the table."
"We don't know if this is specifically a hate crime defined by law, but who walks into a dance hall and guns down 20 people?" Luna said. "The description we have now is of a male Asian. Does that matter? I don't know. I can tell you that everything's on the table."
Follow along here for live updates.
Monterey Park police and fire units could be seen swarming the area in video posted to social media. Others showed victims being transferred to ambulances.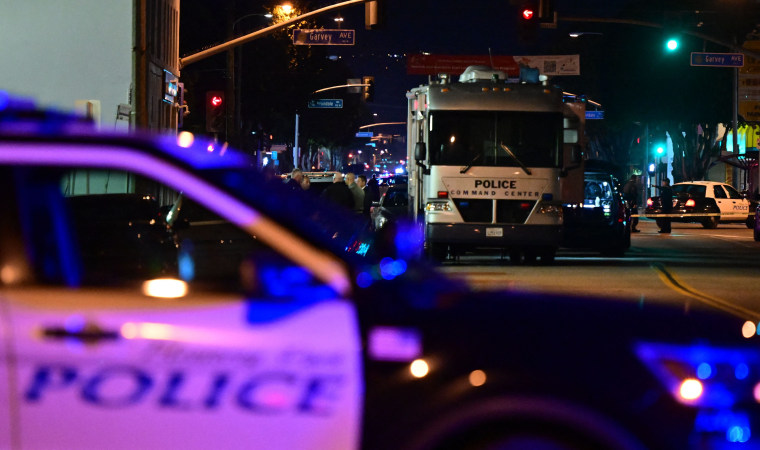 Officials are investigating an incident in Alhambra, just north of Monterey Park, to see whether it's connected. The sheriff's department, which has its homicide bureau in the city, was leading the investigation into the mass shooting.
About 20 minutes after the shooting in Monterey Park, a man described as Asian entered another dance hall with a firearm, Luna said. People in the hall wrestled the gun away from him, and he took off in a white cargo van.
Luna said at a briefing that he believed the Alhambra incident was connected to the Monterey Park shooting but that investigators were looking at all possibilities.
Thousands of people had gathered for a Lunar New Year Festival in Monterey Park, a city of about 60,000, about two-thirds of whom are Asian American. It is about 10 miles east of Los Angeles.
More than 50% of the residents in Alhambra say they're Asian American, according to the U.S. Census Bureau.
The two-day festival event features "food booths with various types of delectable items, amusement rides, and lots of live entertainment," according to the city's website.
Previous festivals have drawn crowds of more than 100,000 visitors a day, the city's website said, attracting crowds from throughout Southern California.
Meyer said that police "will look at every angle as far as whether it was a hate crime or not" but that it was too early in the investigation to know whether the attack was racially motivated.
California Gov. Gavin Newsom tweeted Sunday morning that he was closely monitoring the shooting. His office said it was working with local law enforcement in response.
"Monterey Park should have had a night of joyful celebration of the Lunar New Year," Newsom said. "Instead, they were the victims of a horrific and heartless act of gun violence."
President Joe Biden said in an early evening statement that he's praying that the injured will recover. He said federal support for victims would be available.
"I directed my Homeland Security Advisor to mobilize full federal support to local and state authorities as they continue to respond and investigate this shooting," the president said. "I want to assure the community of Monterey Park and the broader area that we will support you in every way we can."
Monterey Park Police Chief Scott Wiese told reporters: "I'm monitoring this situation closely as it develops and urge the community to follow guidance from local officials and law enforcement in the hours ahead."
Sunday's event was canceled out of respect for the victims, he said.
Rep. Judy Chu, D-Calif., offered her condolences at the news conference. Chu not only represents the district, but she has also lived in Monterey Park for 37 years, and she served was the city's mayor after having been elected in 1990.
"It is horrible that such a thing could occur at a time of celebration for so many in the AAPI community and in the Asian community worldwide," Chu said, using the initialism for Asian Americans and Pacific Islanders. "This is a time to be with family to celebrate, and yet this tore a hole through all of our hearts."
The shooting stunned those familiar with the normally quiet area.
Simu Liu, who portrays the warrior Shang-Chi in Marvel's first Asian superhero movie, tweeted that he was "shocked and saddened" by the incident.
"It's home of Asian American families, parents, grandparents, siblings, sons and daughters, aunts and uncles. All of whom were looking forward to celebrating the New Year this weekend," he said.
The latest violence comes two months after five people were killed at a nightclub in Colorado Springs, Colorado.
Linda Takahashi reported from Los Angeles, Cristian Santana and Doha Madani from New York and Leila Sackur from London.
13 total views, 1 views today