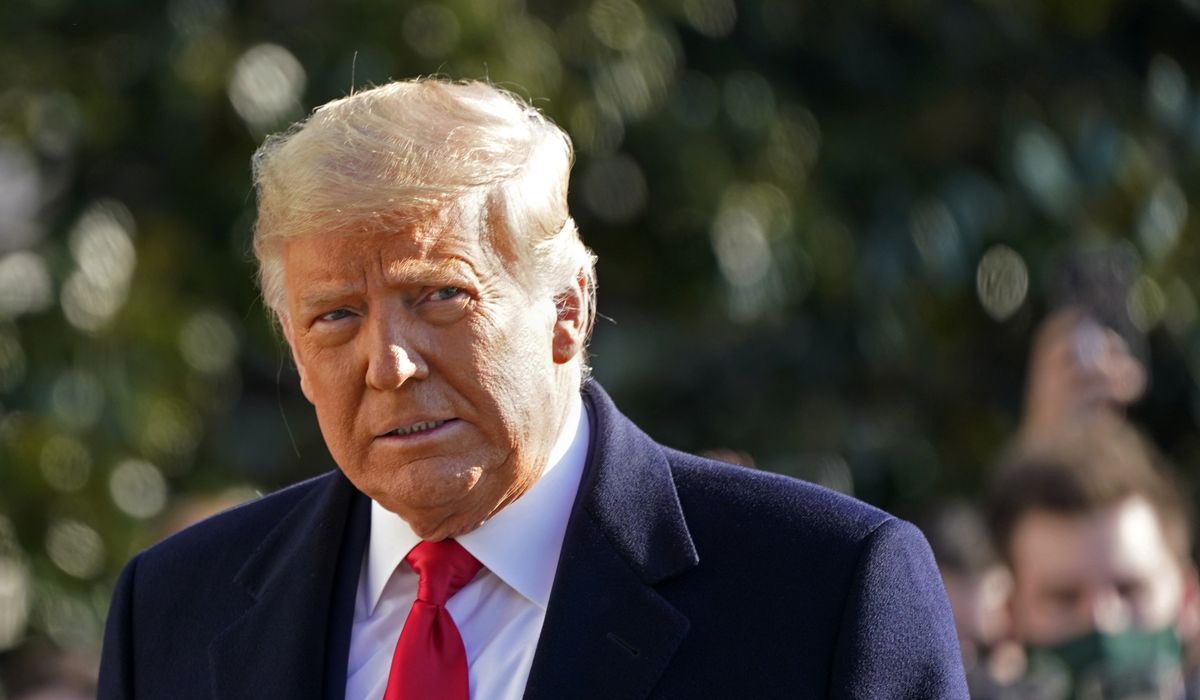 Pro-life leaders and advocates are split on former President Donald Trump's 2024 candidacy, with many saying the ex-commander-in-chief will have to win back their trust after blaming the GOP's lackluster midterm performance on abortion opponents.
Attendees at the 50th annual March for Life told The Washington Times that Mr. Trump's recent comments were hurtful and had damaged his standing within the pro-life movement.
"He's certainly the most pro-life president we've ever had, we have Roe vs. Wade [overturnned] because of the Supreme Court nominees that he put in place," said Kelly Lester, who works for a group that helps abortion workers transition from the industry. "But I do think in the primary he's going to have a tough time getting my vote over what he said."
Mrs. Lester, a 46-year-old mother of six, added that if Mr. Trump won the GOP presidential nomination, she would vote for him in the general election. The v was one echoed by numerous attendees at the march, which was the first since the Supreme Court overturned Roe v. Wade last year.
"He said we lost and it was the pro-lifers' fault, that hurt him a lot with pro-lifers," said Josh Mercer, the founder of Catholic Vote a socially conservative voter mobilization organization. "It's not that he can't win them back … but a lot of conservatives, Catholics, and pro-lifers are trying to figure out what's motivating him in his presidential campaign."
Ostensible this year's March for Life should have been a celebration of Mr. Trump's legacy. The former president helped establish a conservative majority on the Supreme Court by appointing three pro-life justices during his four-year tenure.
The impact of Mr. Trump's appointees was witnessed last year when the court voted 5-4 to overturn Roe. The decision reversed a decades-long precedent about the federal right to abortion, returning the issue back to the states.
Overturning Roe made it possible for 24 states, from West Virginia to Idaho, to institute near-total bans on abortion. Yet, while pro-life advocates are willing to give Mr. Trump credit for the triumph, some say the ex-president cannot count on past accomplishments alone to get their vote in 2024.
"I'm not worried about the trust, I'm worried about the position, that's what it's always been," said Marjorie Dansfeller, the president of the pro-life political group Susan B. Anthony List. "His commitments before and that he followed through on were rock solid, the same is going to have to happen in order attract the support of the pro-life and evangelical and Catholic movements."
Mr. Trump, who identified as pro-choice in the late-1990s, won strong support from evangelical leaders and pro-life social conservatives in both of his White House runs. The former president repaid that support earlier this year by blaming some of those very same supporters for the GOP's lackluster midterm performance after coming under fire himself for the results by pundits.
"It wasn't my fault that the Republicans didn't live up to expectations in the midterms," Mr. Trump wrote on Truth Social. "It was the 'abortion issue,' poorly handled by many Republicans, especially those that firmly insisted on no exceptions, even in the case of rape, incest, or [the] life of the mother, that lost large numbers of voters."
"Also, the people that pushed so hard, for decades, against abortion, got their wish from the U.S. Supreme Court, [and] just plain disappeared, not to be seen again," the former president added.
One March for Life attendee likened Mr. Trump's comments to a "gut punch."
"He was our champion," said Doris, a 68-year-old grandmother from Ohio. "Then he said these things, which just hurt everyone. It's one thing to expect this from the [politically correct] police, but not from President Trump. I don't know if I can vote for him again."
As Mr. Trump mounts a third White House bid such feelings could be politically perilous, especially as other candidates with strong pro-life records weigh entering the contest. But Mr. Trump's recent comments are only part of a bigger issue facing pro-life advocates in a post-Roe America.
For decades, the end goal of abortion opponents was the overturn of Roe. Now that the landmark ruling is gone, the movement is struggling to find a new loadstar.
"We've got to change our target. For 50 years, we've been running at the Fort of Roe to take it down, [well] the fort's down," said former Kansas Republican Gov. Sam Brownback. "So now we've got to shift focuses."
Some would like to see the movement galvanize behind a national abortion ban, while others believe a state-by-state incremental approach is best. As the debate takes place and pro-life advocates look toward the future, Mr. Trump's place seems uncertain.
"He became a real pro-life president, he got Roe overturned, and he's a great figure in the history of the pro-life movement because of it," said former Pennsylvania Sen. Rick Santorum, who ran against Mr. Trump for the 2016 GOP nomination. "But he's not the person who is going to take us to the next step, which is building a pro-life culture in America, that's just not Trump."
95 total views, 1 views today