Ram Truck Production Delayed Amid Global Chip Shortage
Stellantis, the world's fourth-largest automaker, announced Saturday production of its Ram Classic pickup trucks in Saltillo, Mexico, and Warren, Michigan, will be affected for "a number of weeks" due to a worsening global semiconductor shortage, reported Reuters. 
Assembly plants in Saltillo and Warren will build and hold the Ram 1500 Classic trucks for final assembly until semiconductor components become available.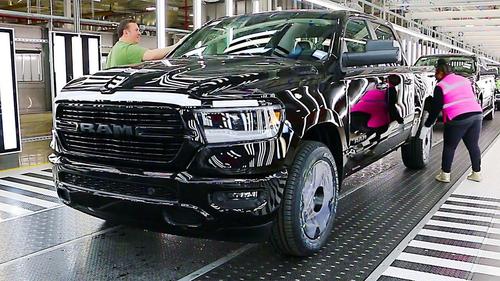 A Stellantis spokeswoman told Reuters the issue could take "a number of weeks" to resolve, declining to share the actual number of trucks affected by the chip shortage. 
"We continue working closely with our suppliers to mitigate the manufacturing impacts caused by the various supply chain issues facing our industry," a statement read, quoted by Bloomberg. 
The global shortage in semiconductors forced Ford Motor Company on Thursday to build its top-selling F-150 trucks and Edge SUVs without certain semiconductor components and hold the vehicles until the chips arrive. 
Production woes for Ford don't stop there. Ford canceled three production shifts through Friday at a Kentucky plant that produces Ford Escape and Lincoln Corsair crossovers. This coming week, Ford expects to limit production of the Ford Fiesta car made in Germany.  
On Friday, Toyota Motor Corp. suspended operations at a plant in the Czech Republic for two weeks due to chip shortages. 
Carmakers have repeatedly warned about shortages developing worldwide. 
A report from Goldman Sachs summarizes recent media reports on supply chain disruptions. 
The semiconductor shortage appears to be "very widespread" and could begin to drag on global auto production. Goldman economist Jan Hatzius notes that many consumer goods – from headphones to sofas to roller skates – have also faced supply challenges this year.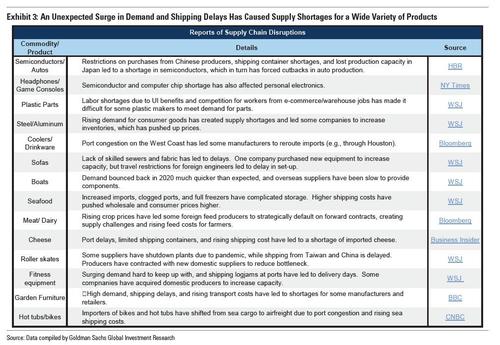 Goldman's conclusion to the worldwide supply-chain turmoil is that it may not alleviate until 2022. 
Tyler Durden
Sun, 03/21/2021 – 17:00

Source: Zero Hedge News
98 total views, 1 views today