Robinhood, SoFi Plan To Offer Amateur Investors 'Insider' Access To IPOs
Just in time for its long-awaited IPO (for which the company has already filed confidentially with the SEC), infamous discount brokerage Robinhood and payment-for-order-flow pioneer is building a platform to allow users to receive coveted IPO "allocations", in theory allowing them to capture some of the deal profits that are typically reserved for institutional investors (and, of course, Wall Street investment banks).
Since brokerages like Robinhood can't really earn much from facilitating trading in equities and ETFs, they've been working to push the new retail investors into other, more lucrative, products, like options. Of course, since this is Robinhood we're talking about, the company has couched this new project as another effort to "democratize" finance.
But in an age where more companies are going public via direct listings, Robinhood's new platform could be a threat to investment banks, while also – according to CNBC – helping to facilitate offerings like Robinhood's own. In fact, the company sees its IPO as a test-run for its this new platform.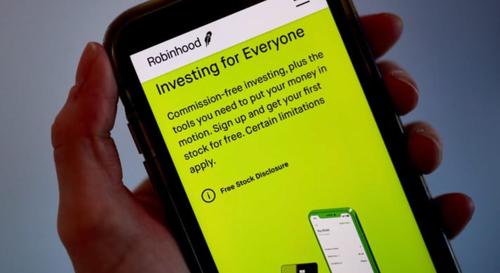 Here's more on that.
Currently, Robinhood users and other amateur traders cannot buy into stock of a newly listed company until its shares start trading. Since shares often trade higher when they debut, big funds that get allocations in the IPO have an advantage. The average first-day trading pop on U.S. listings of businesses in 2020 was 36%, according to data provider Dealogic.

Robinhood plans to carve out a chunk of its shares on offer in its IPO for its 13 million users, and to use technology it is building to administer this part of the offering, the sources said.

While Robinhood's technology would be new, the concept of reserving shares for users is not. Deliveroo Holdings Plc, the Amazon.com Inc-backed food delivery firm that announced plans this month to list in London, is doing this, although a third-party provider is administering the process.
While implementing the service for its own IPO would be relative straightforward (from a regulatory perspective), the company has a long road ahead of it if it wants to start routinely offering early access to IPOs of other companies. And the powers that be (ie the investment banks who reap enormous profits from IPOs), will likely do all they can to kill it.
Notably, CNBC pointed out that the project could help bolster Robinhood's own valuation ahead of its planned offering.
More novel are Robinhood's ambitions to let users directly buy into IPOs of other companies. It would need to negotiate agreements with companies and their brokerages and get the blessing of U.S. regulators, the sources said. Robinhood could have leverage in these negotiations by arguing it would be acting as a bridge between the IPO and a major pool of investor demand, the sources added. It was not clear what kind of arrangements Robinhood would seek to put in place, and no certainty its ambition will come to fruition, said the sources, who requested anonymity because the matter is confidential. Robinhood declined comment.

Providing access to IPOs could boost Robinhood's appeal with users, some of whom criticized it over restrictions it placed on trading of heavily shorted "meme stocks" such as GameStop Corp following a Reddit-driven buying frenzy earlier this year. Robinhood said its clearinghouse forced it to place the curbs because it lacked sufficient capital to settle the trades. The move could also boost Robinhood's valuation in its own IPO, as the offering would price in additional demand for the shares that would normally have come through only after the stock market debut.
Interestingly, RH isn't the only firm trying to broaden access to share offerings. SoFi is also working on a similar project. However, SoFi has an advantage over RH, since it plans to act as an underwriter for the deals it offers to its retail customers. SoFi CEO Anthony Noto (a former Twitter executive) told CNBC that the new platform will give main street access to deals typically reserved for Wall Street.
"Main Street will have access to investing in a way they wouldn't have before," CEO Anthony Noto said in a phone interview. "It gives more differentiation, and more access so people can build diversified portfolios."

[…]

"Individual investors don't generate those types of revenues, therefore they don't get access to the unique product," Noto said. "The cost of serving retail, if they did decide to do that, would be too high."
Anybody who watches markets intraday is probably familiar with the post-debut bump enjoyed by high-profile new offerings. This dynamic often rewards bankers and early backers with an immediate premium. However, it also can come with increased risks, as Noto pointed out.
"Investing early is inherently is risky, and those are less-proven companies," Noto said. "In the same way as cryptocurrency, we disclose to people that these come with a higher degree of risk."
Whatever happens with the SoFi project, we look forward to watching Robinhood convince the SEC that it should be allowed to directly sell its own shares to the army of retail traders still using the platform.
Tyler Durden
Fri, 03/26/2021 – 10:35

Source: Zero Hedge News
69 total views, 1 views today