Robots, Like Humans, Are Also Struggling In This Market
By Cormac Mullen, Bloomberg Markets Live commentator and strateigst
Exasperated fund managers can take some comfort from the fact that the machines are struggling just as much as humans with this year's volatility.
An artificial intelligence-guided fund has fallen almost 9% — lagging its benchmark, the S&P 500 Total Return Index, by about 5 percentage points — according to data compiled by Bloomberg through Wednesday.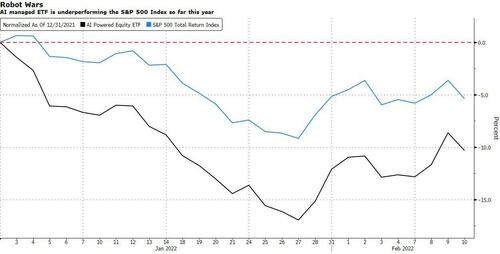 The AI Powered Equity ETF seemed to have been positioned well going into the new year, having sold down its so-called FANG+ positions in December. But stock picks in the financials and energy sectors have weighed on the fund, even as it benefited from a lower-than-benchmark exposure to communication services, according to Bloomberg's Portfolio & Risk Analytics function.
The AI fund's "manager" is a quantitative model which runs 24/7 on IBM Corp.'s Watson platform and was developed by EquBot. It's still overweight tech stocks with chipmaker AMD the largest holding, and is close to benchmark with the three key value sectors of financials, energy and materials stocks.
And Apple remains the only FANG+ stock in its top 20 holdings, suggesting it is sticking with a strategy of avoiding the mega-cap tech names for now.
Tyler Durden
Sun, 02/13/2022 – 20:30
Source: Zero Hedge News

102 total views, 1 views today