Lebanon's Hezbollah has issued a rare announcement Friday, saying that seven of its fighters have been killed, describing that they were "martyred on the road to Jerusalem" – which is code for fighting Israel.
But it's being widely reported that at least some of the slain Hezbollah members were killed inside Syria, after a new Friday Israeli airstrike on central Homs. In total on Friday, Hezbollah released seven death notices.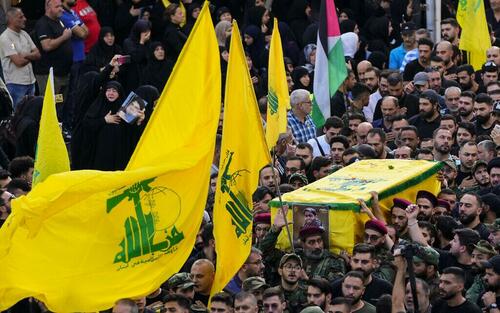 Hezbollah as well as international sources have cited a death toll of at least 68 Hezbollah fighters since the Oct.7 conflict began, centered on southern Israel and Gaza.
"A Hezbollah official and a Lebanese security official said the seven fighters were killed in neighboring Syria this morning," international press agencies and regional reports indicated. "They spoke on condition of anonymity in line with regulations."
Israel's attacks on Syria, where Hezbollah has long been operating in coordination with the Assad government, have grown to almost daily of late. This presents the prospect that the war could go regional, given these assaults are ultimately aimed at the 'Iran axis'.
On Wednesday, there were reports that three 'pro-Iran' fighters had been killed in Israeli airstrikes on the outskirts of Damascus. And Bloomberg on Friday says that cross-border fire in southern Lebanon has persisted:
Iran-backed Hezbollah said it launched missiles at Israeli soldiers, the militant group's Al-Manar TV reported. Israel Defense Forces said that a group launched a number of anti-tank missiles from Lebanon toward an army post in northern Israel. The Israeli army said it responded and struck the source of fire.
There also appears to be a concerted effort to degrade and destroy Israel's string of observation and communications posts along the border…
For those who ask why Hezbollah is hitting the towers:

Hezbollah is destroying all Israeli observation stations, leaving the border completely open for an invasion of Israel.

Israel has spent billions of dollars on these observation towers. pic.twitter.com/J5m3Hj3R2M

— Iran Observer (@IranObserver0) November 10, 2023
While most analysts have underscored that a full 'war front' has yet to be opened by Hezbollah, the fact of 60+ Hezbollah deaths does mean that significant fighting is taking place.
Hezbollah leader Hassan Nasrallah in a recent speech said part of the purpose of operations was to divert up to one-third of Israel's military hardware and personnel to the north, in order to divert these way from Gaza operations.
Loading…
8 total views, 1 views today