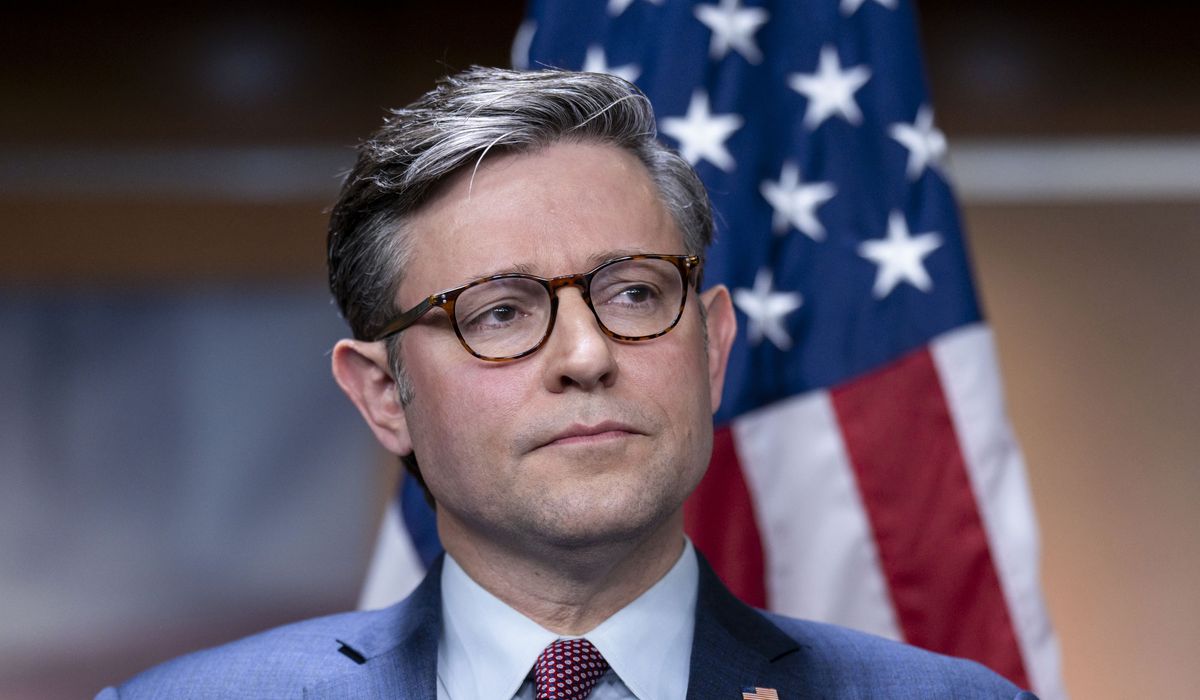 Speaker Mike Johnson said that he would like to use billions in seized Russian assets to pay for President Biden's Ukraine aid request.
Mr. Johnson's pitch comes as the top House Republican already diverted from Mr. Biden's $106 billion request by splitting Israel aid from the larger package that included aid spending for the Jewish state, Ukraine, Taiwan and spending on the U.S.-Mexico border to bolster the president's catch and release policies.
House Republicans have increasingly shifted their stance on providing more aid to Ukraine, arguing that no more taxpayer dollars should flow to the war-beleaguered country until the Biden administration offers clear-cut objectives for the conflict.
---
---
Mr. Johnson of Louisiana told the New York Post that he's interested in using the more than $300 billion in Russian assets seized after fighting began in the region to fund future Ukraine aid.
"It would be pure poetry to fund the Ukrainian war effort with Russian assets," Mr. Johnson said. "As you can imagine, that idea has been met with great enthusiasm on the Republican side. I suspect it will be with our colleagues on the other side as well. It's an eminently responsible thing for us to do."
Mr. Biden asked that Congress approve over $61 billion in Ukraine aid in his latest emergency supplemental request, which included money for weapons and aid. House Republicans balked at pairing the Ukraine aid with Israel aid and opted to pluck money for the Jewish state from the package.
Lawmakers in the lower chamber passed $14.3 billion in Israel in a bipartisan vote, but the White House has promised to veto the bill because of how it's paid for. Mr. Johnson opted to use money meant for the IRS from the Democrat's Inflation Reduction Act, saying that reshuffling the funds would reduce the deficit.
But the nonpartisan Congressional Budget Office said the reshuffling of money would add more than $12 billion to the deficit over the next decade because up to $26 billion in revenue from the agency would be lost.
The aid bill has also hit a dead end in the Democrat-led Senate, where Senate Democrats and Republican Minority Leader Mitch McConnell want to see aid for Israel paired with Ukraine spending.
But House Republicans are unlikely to budge on more Ukraine aid until they get answers. Mr. Johnson couriered a slate of a dozen questions for the Biden administration on what exactly the goals and objectives were for the Ukraine conflict days after becoming Speaker of the House.
The document, which was produced by Rep. Mike Garcia of California, includes questions on what the endgame is in the region, what happens if aid stops flowing and whether Ukraine can actually win.
Mr. Johnson said that the White House provided a 14-page document of responses that "left much to be desired."
"We're in the process of going back to the White House now and asking for further detail. There's a lot of confusion, I think, because the White House has not been forthright or specific about what the goal, what the objective is there, how long this may last. They've not told us any of that."
4 total views, 1 views today