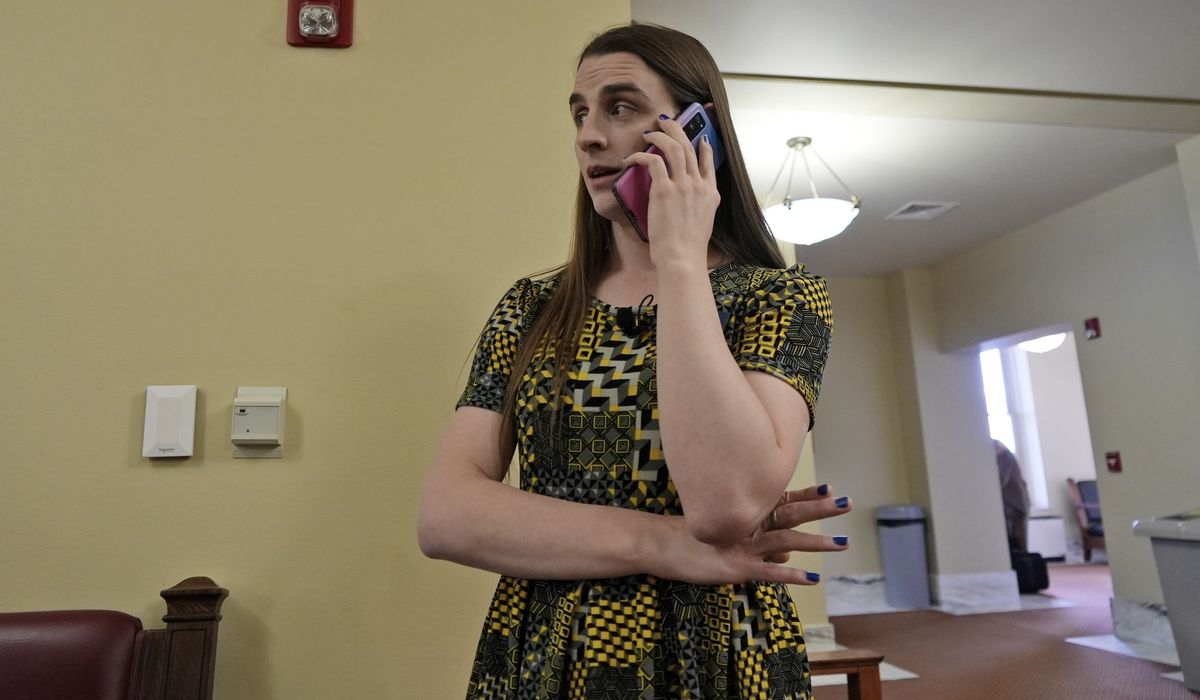 Montana state Rep. Zooey Zephyr had already run afoul of the House leadership by accusing legislators of having "blood on your hands," but after a raucous protest at the state capitol, the Republican majority declared enough.
The state's House voted Wednesday to bar the Democrat from the floor for the rest of the session, the latest example this year of lawmakers going to extraordinary lengths to preserve legislative decorum by penalizing those who breach it.
Montana is far from alone. As defiant lawmakers disrupt proceedings with overheated language, outrageous accusations and raucous protests, state legislative leaders are cracking down faster than you can say "Robert's Rules of Order."
"Freedom in this body involves obedience to all the rules of this body, including the rules of decorum," House Majority Leader Sue Vinton, who sponsored the censure resolution, said on the House floor.
The importance of those rules failed to impress Ms. Zephyr, the first transgender legislator in state history, who said that when House Speaker Matt Regier "asks me to apologize on behalf of decorum, what he is really asking me to do is be silent."
"If you use decorum to silence people who hold you accountable, then all you are doing is using decorum as a tool of oppression," the Missoula Democrat said in floor remarks before the censure vote.
The first-term Democrat may still cast votes but may not participate in floor debates for the rest of the session, which ends next week. The Democrat was also permitted to keep the seat.
Others didn't get off that easily.
In Tennessee, the Republican-led House voted earlier this month to expel two Democratic legislators who commandeered the podium and used a bullhorn to call for gun-control legislation and lead chants for noisy protesters in the gallery.
State Reps. Justin Jones and Justin Pearson were removed, while the vote to expel a third Democrat, Rep. Gloria Johnson, failed by one vote.
Both Mr. Jones and Mr. Pearson were quickly reinstated by their local committees on an interim basis ahead of the Aug. 3 special election and June 5 primaries.
In both states, the penalties resulted from a clash over legislative norms between Republican majorities and mostly younger Democratic lawmakers convinced that the righteousness of their causes justifies the breaking of rules.
The Tennessee protest came in reaction to refusal to pass more gun controls in the wake of the deadly shooting at Covenant Christian School in Nashville by a transgender former student. Ms. Zephyr's "blood on your hands" blast referred to the GOP's support for legislation banning minor children from undergoing gender-transition procedures.
The transgender-rights issue was also front and center in Oklahoma last month during the vote to censure Democratic state Rep. Mauree Turner.
The Republican-led House removed the lawmaker from all committee assignments for impeding an investigation into a transgender-rights activist accused of assaulting an officer and a lawmaker by throwing water on them during a protest.
"This member knowingly, and willfully, impeded a law enforcement investigation, harboring a fugitive and repeatedly lying to officers, and used their official office and position to thwart attempts by law enforcement to make contact with a suspect of the investigation," said the House leadership in a March 7 statement.
The lawmaker, who is nonbinary, was offered the chance to keep the committee seats by issuing a formal apology, but said "I think an apology for loving the people of Oklahoma is something that I cannot do."
In all of those cases, Democrat legislators were disciplined by a Republican-controlled chamber, but in Arizona, Republicans took down one of their own.
The Arizona House voted April 12 to expel Republican Liz Harris after an ethics committee investigation concluded that she violated the chamber's rules by "eroding the public trust in the legislative process" with her "disorderly behavior."
The report found that she invited a witness to a February hearing who accused her colleagues and other officials of criminal activity, including taking bribes from the Sinaloa drug cartel; that she sought to hide the testimony from House leaders beforehand; and that she misled the committee investigators.
"What should have been a joint hearing to examine commonsense election reforms devolved into disgraceful fringe theater," House Speaker Ben Toma said in a statement. "I'm not alone in believing that it was irresponsible and bad judgment for Ms. Harris to invite a person to present unsubstantiated and defamatory allegations in a legislative forum."
Ms. Harris called the report "a lie" as she carried a box of her personal belongings to her car, telling reporters that the expulsion vote was "an example of how … if you don't toe the line, this is what happens."
Whether the high-profile disciplinary votes help or hurt is another question.
After the Tennessee expulsions, the three lawmakers known as the Tennessee Three became celebrities on the left as they were hailed by Democrats and gun-control groups.
The legislators were invited to the White House to meet with President Biden, while Sen. Raphael Warnock, Georgia Democrat, compared them to civil-rights icon Martin Luther King Jr.
The two expelled lawmakers are expected to win back their seats in the special election, and the Tennessee Constitution forbids expelling a lawmaker twice for the same offense.
MSNBC host Lawrence O'Donnell asked Mr. Jones in an April 12 interview: "Do the Republicans understand what a huge mistake it was to follow the Speaker of that House down this road?"
Mr. Jones, who has called for House Speaker Cameron Sexton to resign, said that "Speaker Cameron Sexton tried to flex this extremist authoritarian abuse of power, and it's backfired."
Ms. Zephyr may be on the cusp of the same treatment.
USA Today columnist Rex Hupke declared in a Thursday op-ed that: "Montana Republicans tried to erase a transgender lawmaker. Instead, they created a hero."
On the other side was Montana Republican Party chairman Don Kaltschmidt, who said "this radical legislator instigated a riot that ended in multiple arrests and endangered legislators and staff."
"Revoking House Floor privileges from Representative Zephyr shows that Representative's behavior is unacceptable and not tolerated in the Montana State Capitol," he said.
Seven people were arrested in the Monday protest that saw about 100 noisy activists spill into the House gallery as Ms. Zephyr held a microphone in the air on the House floor in solidarity with the protesters.
Republican state Rep. David Bedey called the protest an "assault on our representative democracy."
"The free expression of ideas cannot flourish in an atmosphere of turmoil and incivility," he said.
This article was based in part on wire-service reports.
19 total views, 1 views today