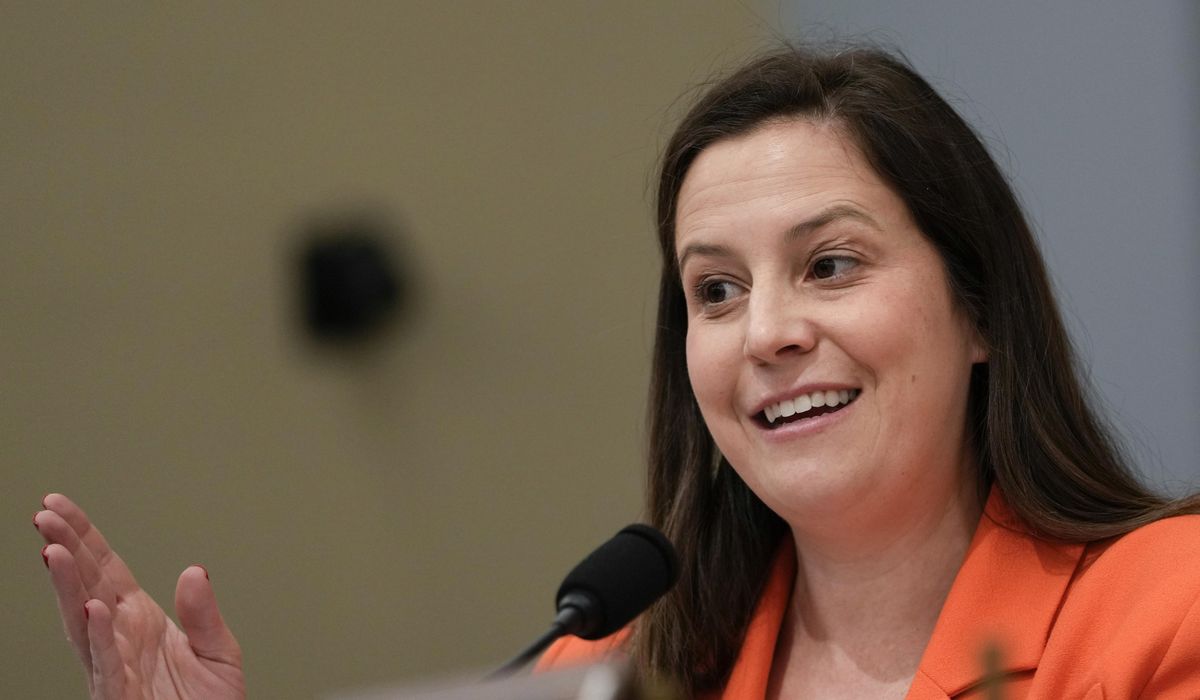 Republican Conference Chair Elise Stefanik said the New York judge overseeing former President Donald Trump's fraud trial "wrongfully denied" the ex-president's mistrial request.
Mrs. Stefanik, New York Republican, made the case against Judge Arthur Engoron in addition to her previously filed judicial ethics complaint, which accused the judge of having an "inappropriate bias" against Mr. Trump.
The latest addition to Mrs. Stefanik's initial complaint accuses the judge of "even more egregious misconduct" for shooting down the ex-president's request for a mistrial.
---
---
"A week ago, I filed an ethics complaint against Manhattan Judge Arthur Engoron for his partisan antics, bias, and railroading of President Trump. After my complaint, a New York appellate court smacked down Judge Engoron for his blatantly unconstitutional gag order," Mrs. Stefanik said on X. "Today, I'm supplementing my ethics complaint against Judge Engoron with examples of even more of his egregious misconduct after he just wrongly dismissed President Trump's motion for a mistrial."
Mr. Trump's legal team filed the mistrial request this week and accused Judge Engoron of displaying bias by conferring with his law clerk so much that it appeared the duo were "co-judging" the case.
Judge Engoron denied Mr. Trump's request Friday. He ruled that the request from the ex-president's lawyers was "without merit."
"My rulings are mine and mine alone," he said. "There is absolutely no 'co-judging' at play."
Mrs. Stefanik's previous ethics complaint, which she filed last week, charged the judge with a "clear judicial bias" in presiding over Mr. Trump's fraud trial.
"This judge's bizarre behavior has no place in our judicial system, where Judge Engoron is not honoring the defendant's rights to due process and a fair trial," Mrs. Stefanik said. "These serious concerns are exacerbated by the fact that the defendant is the leading candidate for President of the United States, and it appears the judicial system is being politicized to affect the outcome of the campaign."
The complaint leaned into the claim that a gag order, which Judge Engoron handed down after Mr. Trump and his team went after his law clerk on social media, was illegal.
That gag order was temporarily lifted on Thursday by a different New York judge who cited free speech concerns and questioned Judge Engoron's authority to police what the former president says outside of the courtroom.
The fraud case was brought by New York Attorney General Letitia James, who says Mr. Trump, his two adult sons, his company and top executives fraudulently inflated the values of their assets to get tax benefits and advantageous loan terms.
Mr. Trump has long held that the fraud case and dozens of other criminal charges stemming from other indictments against him are part of a Democratic plot to thwart his 2024 presidential bid.
"This Judicial and Prosecutorial corruption and misconduct took place BEFORE THE TRIAL EVEN STARTED, & WITHOUT ANY KNOWLEDGE OF THE CASE," Mr. Trump said on Truth Social. "Judge Engoron just did what the highly partisan A.G. told him to do. He is her complete and total puppet!"
4 total views, 1 views today