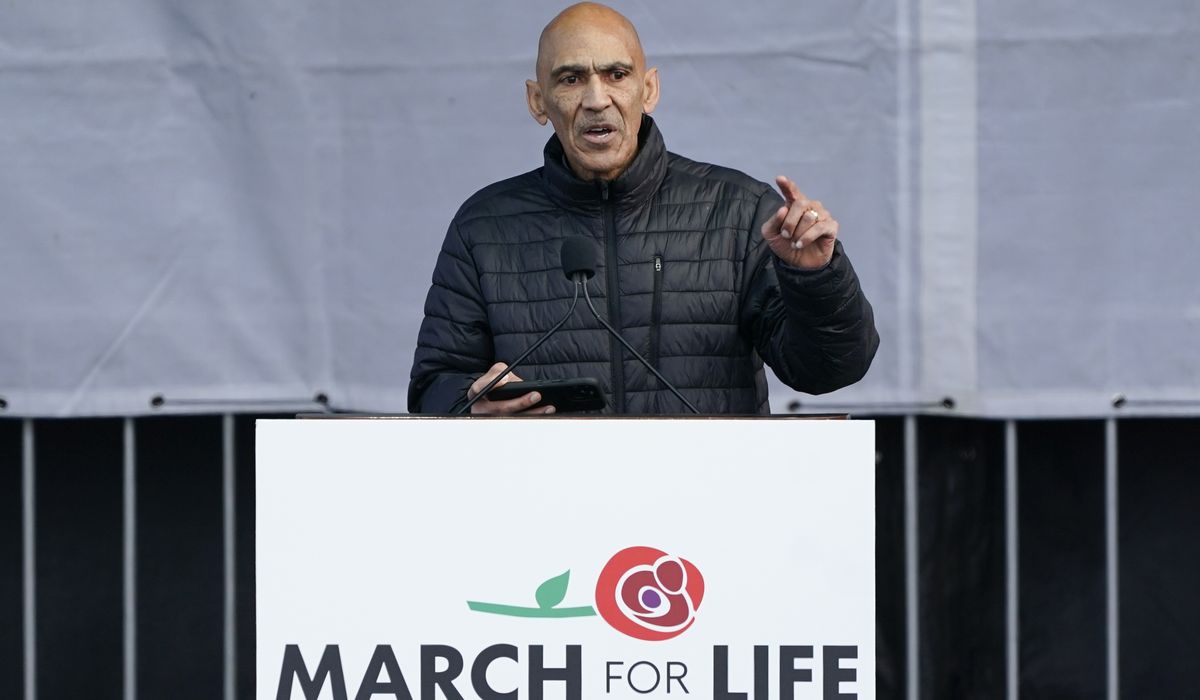 Pro Football Hall of Fame coach Tony Dungy was hit with a media blitz ahead of his Friday speech at the March for Life, but Sen. Ted Cruz for one had his back.
The Texas Republican called Mr. Dungy a "hero" for appearing at the 50th annual march on the National Mall, his first time speaking at pro-life movement's signature gathering.
"The woke left and the corporate media hate and try to cancel anyone who is pro-life," tweeted Mr. Cruz. "Tony Dungy is a hero. Standing firmly for the rights of the unborn doesn't make anyone an extremist."
Sen. Rick Scott, Florida Republican, praised Mr. Dungy as a "man of faith and integrity who is standing up for his beliefs" and blasted the "disgusting attempt by the Left to cancel and shame people of faith."
The soft-spoken Dungy landed at the bottom of a media dogpile this week for a tweet dinging school transgender policies. He took more heat for appearing at the March for Life. Some also criticized his reference at the pro-life rally to Buffalo Bills safety Damar Hamlin's on-field cardiac arrest.
"To push his abortion views, Tony Dungy today invoked Damar Hamlin and his fight to recover from cardiac arrest. Kid. You. Not," said OutSports writer Cyd Ziegler in a Friday tweet.
In his March for Life speech, Mr. Dungy noted that the NFL cancelled the Jan. 2 game and that even people who aren't necessarily religious prayed for the player "because a life was at stake."
"Well, that should be encouraging to us, because that's exactly why we're here today," Mr. Dungy told the crowd. "Because every day in this country, innocent lives are at stake. The only difference is they don't belong to a famous athlete, and they're not seen on national TV. But those lives are still important to God and in God's eyes."
The woke left and the corporate media hate and try to cancel anyone who is pro-life.

Tony Dungy is a hero.

Standing firmly for the rights of the unborn doesn't make anyone an extremist.
#WhyWeMarch #MarchForLife
https://t.co/47k5ZO69V4

— Senator Ted Cruz (@SenTedCruz) January 20, 2023
Mr. Dungy's March for Life appearance came at the height of a media uproar over his Wednesday tweet about another hot-button social issue: school accommodations for transgender students.
He responded to a Daily Wire tweet about schools putting menstrual products in boys' restrooms with a tweet in reference to "furries," the nickname for people who identify as animals.
"That's nothing. Some school districts are putting litter boxes in the school bathrooms for the students who identify as cats. Very important to address every student's needs," tweeted Mr. Dungy.
The rumor about schools installing litter boxes met with pushback last year from fact-checkers like Reuters, which said there was "no evidence" to back up the claim made in October by podcaster Joe Rogan.
Mr. Dungy deleted the tweet and issued an apology Thursday, saying that as "a Christian I should speak in love and in ways that are caring and helpful. I failed to do that and I am deeply sorry."
As far as his detractors were concerned, however, the damage had been done.
Dave Zirin, sports editor of The Nation, unloaded Thursday on Mr. Dungy with a column ripping him as a "right-wing zealot" and the March for Life as a "madhouse of right-wing gadflies."
"I'm done with Tony Dungy and the way the NFL and NBC coddle his right wing extremism," tweeted Mr. Zirin with a link to his column headlined "Tony Dungy is a Right-Wing Zealot and the NFL and NBC Don't Care."
Mr. Dungy, a former NFL defensive back and the first Black coach to win a Super Bowl, retired from the NFL in 2008 and has served as an analyst for NBC Sports since 2009.
USA Today Sports columnist Nancy Armour accused Mr. Dungy of putting transgender and nonbinary youth "in harm's way with his bigotry and ignorance, under the guise of his 'Christian' faith.'"
"Dungy, like so many others, has used his faith as justification for discriminating against LGBTQ people, claiming homosexuality is antithetical to his Christian beliefs," she said in a Thursday column. "But that's as much nonsense as kids using litter boxes."
Deadspin declared that "Tony Dungy is out here spreading unhinged conspiracy theories."
Indianapolis Star columnist Greg Doyel tweeted Thursday that "Tony Dungy's tweet about LGBTQ kids and litter boxes was insensitive and appalling, given LGBTQ youth suicide rates and his own tragic family history," referring to the 2005 suicide of Mr. Dungy's son James.
Last week, OutSports listed examples of Mr. Dungy's support for conservative groups and criticism of same-sex marriage in an article headlined, "What to make of Tony Dungy's anti-gay present and past, and NBC's choice to remain silent."
"Dungy continues to be quite possibly the most publicly anti-LGBT person in the recent history of the NFL," said OutSports in the Jan. 12 article. "Yet his employer, NBC, is silent on all of this. Dungy's colleagues are silent on it."
Conservative sports columnist Jason Whitlock swung back by slamming the anti-Dungy outcry as "well-orchestrated."
"The backlash against Tony Dungy is well-orchestrated and not remotely organic," Mr. Whitlock tweeted Friday. "The motive is to outlaw a biblical worldview. The anti-God agenda is so strong and obvious. I'm so sick of alleged Christians sitting silent while someone like Tony has his character assassinated."
Former NFL quarterback Danny Kanell, a CBS Sports analyst, also stood up for Mr. Dungy.
"Lot of hit pieces on Tony Dungy coming out in last 24 hours," he tweeted Friday. "All I can say is Coach Dungy is one of the most genuine, humble, and morally upright people I've ever met. There is not an ounce of hate in him. The only hate in these articles is the hatred of Christianity."
107 total views, 2 views today