Tesla On Autopilot Slams Michigan State Trooper's Car, Prompting Second NHTSA Probe This Month
A Tesla slammed into a police car early on Wednesday morning of this week, prompting Federal vehicle safety regulators to open an investigation into the incident. The Model Y involved in the incident was reportedly on Autopilot at the time of the crash, according to CNBC. 
The Model Y struck a police officer's blue Dodge Charger while troopers were in the midst of investigating another driving colliding with a deer at about 1AM. The police car was parked and sitting in the right line of the highway with its emergency lights on at the time of the incident. 
There were no injuries sustained by the officers or the Tesla "driver", who was subsequently issued citations for both failure to move over and driving with a suspended license. He admitted to officers that the vehicle was operating in Autopilot mode.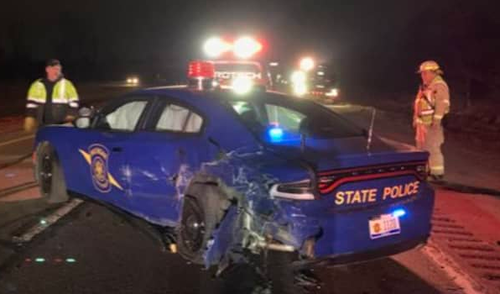 Meanwhile, the National Highway Transportation Safety Administration was already in the midst of investigating another Tesla collision that occurred about 100 miles Southeast, in Detroit, just days prior. That incident was described as a "violent" crash between a Tesla and a tractor trailer. 
The NHTSA said in a statement: "Consistent with NHTSA's vigilant oversight and robust authority over the safety of all motor vehicles and equipment, including automated technologies, we have launched a Special Crash Investigation team to investigate the crash."
And while CNBC notes that the "NHTSA has previously opened probes into more than a dozen crashes that were thought to involve Tesla's advanced driver assist systems, including Autopilot," so far Musk's nationwide beta test looks at though it shows no signs of stopping. 
The NHTSA has urged Tesla before to "improve Autopilot technology." Robert L. Sumwalt, the board's chairman, recently said: "It's time to stop enabling drivers in any partially automated vehicle to pretend that they have driverless cars."
Here's our coverage of some of the latest Tesla crashes: 
No injuries to troopers or anyone involved. Driver of the Tesla, a 22 year old man from Lansing was issued citations for failure to move over and DWLS. pic.twitter.com/zTSJOhuJMP

— MSP First District (@MSPFirstDist) March 17, 2021
Tyler Durden
Fri, 03/19/2021 – 12:50

Source: Zero Hedge News
90 total views, 1 views today