US Apprehends Most Migrants In Two Decades As Reports Of Molested Kids Emerge
While Nancy Pelosi insists that the situation at the US-Mexico border has improved under President Biden, and Vice President Kamala Harris – who Biden put in charge the migrant surge – refuses to even visit, the numbers on the ground paint a sobering picture.
According to new figures from the Customs and Border Protection agency, the US just had the most apprehensions in nearly two-decades, as 172,331 migrants were arrested in March after illegally entering the country.
NEW: Customs and Border Protection releases its monthly numbers, indicating 172,331 have been apprehended in March.

That's the biggest number recorded in nearly two decades.https://t.co/YFTCqirqMl pic.twitter.com/TIZYIjLkel

— Nicole Sganga (@NicoleSganga) April 8, 2021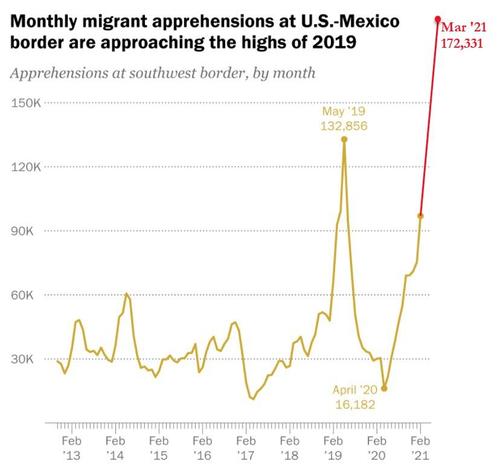 The March numbers are a 70.6% increase over February's 101,028 apprehensions.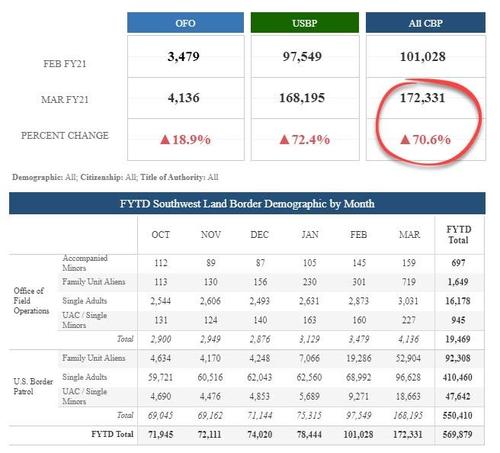 Meanwhile, Texas has launched an investigation following accusations of child sexual abuse at a federal outflow migrant facility in San Antonio, after two Texas agencies received tips alleging the assaults.
More via The Epoch Times:
The separate complaints came to the Texas Health and Human Services Commission and the Texas Department of Family and Protective Services about the Freeman Coliseum, where some unaccompanied minors—children who crossed the southern border illegally without an adult—are currently being held, Abbott told reporters at a conference held in front of the site.
"Earlier today, the Texas Health and Human Services commission and Texas Department of Family and Protective Services, separately received tips that alleged child abuse and neglect at the San Antonio migrant facility," Abbott said. "These products are a bi-product of President Biden's policies."
The allegations comprise four main complaints that allege child sexual assault, children not eating throughout the day, not enough staff on hand to supervise the children, and children with COVID-19 are not being physically separated from those who don't have the virus. It is unclear how many children were allegedly abused or adversely affected by neglect.
Abbott called the situation at the facility a "health and safety nightmare," and called on the administration to move the children away to safer facilities and shut down the facility. "Biden's open border policy caused this crisis," Abbott said on Twitter.
Biden opened the borders & failed to plan for the influx of unaccompanied minors.

Now he must respond to allegations of child abuse & neglect on his watch.

DPS & TX Rangers are investigating.

The administration must close the facility & protect these children. pic.twitter.com/s1chzDQYlx

— Greg Abbott (@GregAbbott_TX) April 8, 2021
*  *  *
Meanwhile, Kamala 'Hunger Games' Harris can't be bothered to even visit…
Tyler Durden
Thu, 04/08/2021 – 12:53

Source: Zero Hedge News
79 total views, 2 views today