US Cites Ukraine Crisis To Approve $6 Billion Tank Deal For Poland
With tensions and fighting heating up along the front line of contact in the separatist Donbas region of Eastern Ukraine, and now as the US has issued fresh estimates saying it believes Russia has up to 190,000 troops mustered across the border, US allies in Eastern Europe and American defense contractors are naturally busy milking the situation – with new contracts and weapons flying out the proverbial door.
The latest is a fresh $6 billion tank deal: "US Defense Secretary Lloyd Austin announced on Friday the planned sale of 250 Abrams tanks to Poland, as Washington moves to strengthen the defenses of a key eastern European ally amid a mounting threat of war between neighboring Ukraine and Russia," Reuters reports.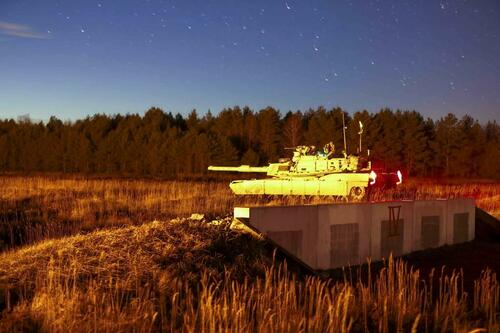 And of course, this whopping price tag (which the US taxpayer will be on the hook for, ultimately) was deemed justified based on the current 'Russian invasion' threat. 
Apparently, it's no longer just Ukraine that's being eyed as an object of aggression by Russia, according to Secretary Austin's words: "Some of those forces (are) within 200 miles (321 km) of the Polish border," he said in the Friday statement. 
"If Russia further invades Ukraine, Poland could see tens of thousands of displaced Ukrainians and others flowing across its border, trying to save themselves and their families from the scourge of war." 
He made the announcement during a trip to Warsaw to shore up joint security initiatives with Poland's military, which has been part of NATO since 1999. "What Mr. Putin did not want was a stronger NATO on his flank, and that's exactly what he has today," Austin said at the press conference.
"It will also strengthen our interoperability with the Polish armed forces, boosting the credibility of our combined deterrence efforts and those of our other NATO Allies."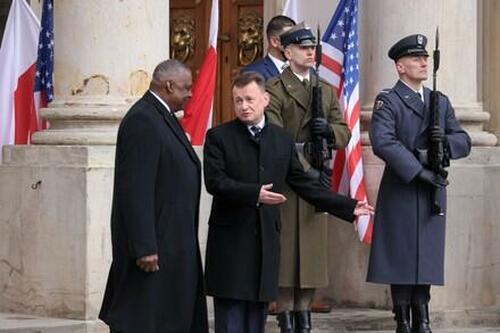 At the same time, according to The Hill: 
The U.S. has sent a total of 4,700 troops stationed at Fort Bragg, N.C., to Poland to help assure the alliance. 

Austin said Friday that the troops are prepared to respond to a "range of contingencies," adding that they would work with the Polish government "should there be any need to help American citizens leave Ukraine."
Thus one of the real drivers of Washington's greatly hyping the 'Russian invasion' threat over much of the last two months has been made clear: it's time for NATO's 'eastern flank' to go shopping, in the form of acquiring billions of dollars in new US weaponry. Major American defense contractors and their allies in the deep state must be salivating over the prospect of further escalation.
Tyler Durden
Fri, 02/18/2022 – 18:00
Source: Zero Hedge News

52 total views, 1 views today