US Producer Prices Surge Most On Record
After consumer prices exploded higher yesterday – and were immediately rejected by establishment types as 'transitory', despite the market's obvious disagreement – all eyes were on this morning's producer prices for signs of more pressure. Many were fearful of a repeat of last month's debacle  delay (and there were rumors of a softer PPI print leaked earlier today)
The rumors were wrong as April Producer Prices exploded 6.2% YoY (well ahead of the 5.8% expected) which was clearly impacted by the base effect of last year's collapse, but even sequentially, the PPI print was shockingly hot, rising 0.6% MoM (double the +0.3% expected). Excluding food and energy, so-called core PPI advanced even more, or 0.7%.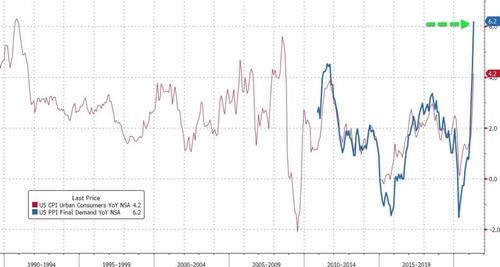 Source: Bloomberg
That was the biggest YoY jump on record:"There is more inflation coming," Luca Zaramella, chief financial officer at Mondelez International Inc., said on the food and beverage maker's April 27 earnings call."The higher inflation will require some additional pricing and some additional productivities to offset the impact."
jumped 0.7% from the prior month and increased 4.6% from a year earlier.
Michael Hsu, chief executive officer at consumer-product maker Kimberly-Clark Corp., said in April that the maker of Scott toilet paper and Huggies diapers is "moving rapidly especially with selling price increases to offset commodity headwinds."
Digging below the surface further, ex-food, energy, and trade, producer prices soared 4.6% YoY, the most on record also.
Source: Bloomberg
Some more details at the final demand level:
Final demand services: Prices for final demand services rose 0.6 percent in April, the fourth consecutive advance. Half of the broad-based increase in April is attributable to the index for final demand services less trade, transportation, and warehousing, which moved up 0.5 percent. Margins for final demand trade services also rose 0.5 percent, and the index for final demand transportation and warehousing services jumped 2.1 percent. (Trade indexes measure changes in margins received by wholesalers and retailers.)
Product detail: Within the index for final demand services in April, prices for portfolio management rose 1.5 percent. The indexes for airline passenger services; food retailing; fuels and lubricants retailing; physician care; and hardware, building materials, and supplies retailing also moved higher. Conversely, margins for machinery and vehicle wholesaling fell 5.6 percent. The indexes for apparel wholesaling and for securities brokerage, dealing, investment advice, and related services also declined.
Final demand goods: Prices for final demand goods climbed 0.6 percent in April, after rising 1.7 percent in March. Leading the April advance, the index for final demand goods less foods and energy increased 1.0 percent. Prices for final demand foods moved up 2.1 percent. In contrast, the index for final demand energy fell 2.4 percent.
Product detail: A major factor in the April increase in prices for final demand goods was the index for steel mill products, which jumped 18.4 percent. Prices for beef and veal, pork, residential natural gas, plastic resins and materials, and dairy products also moved higher. Conversely, the index for gasoline fell 3.4 percent. Prices for chicken eggs and for carbon steel scrap also declined.
Yesterday's data – which showed the strongest monthly gain in the overall consumer price index since 2009 – suggested companies are passing along at least some of the input-price inflation.. and today's PPI surge suggests that push through to CPI is far from over.
Not transitory.
Tyler Durden
Thu, 05/13/2021 – 08:37

Source: Zero Hedge News
64 total views, 1 views today