Update(0957ET): At the start of the week, IDF troops had photographed themselves inside the building and room which serves as "Hamas parliament". On Wednesday Israeli media has confirmed the entire building has been demolished, in what a appears a symbolic act wherein Israel is showing the world the terror group is 'finished' in the Gaza Strip.
"After troops photographed themselves inside Hamas's parliament building in Gaza City several days ago, the military has demolished the site," Times of Israel (TOI) writes. "The building was captured by the 7th Armored Brigade and Golani Infantry Brigade." The below video of the demolition is widely circulating and was featured by TOI:
After Golani soldiers photographed themselves inside, the IDF demolished Gaza's parliament building. This video is reported to be from the blast. pic.twitter.com/K2hceFxEYB

— Emanuel (Mannie) Fabian (@manniefabian) November 15, 2023
Below is the before and after Israeli troops took it over this week…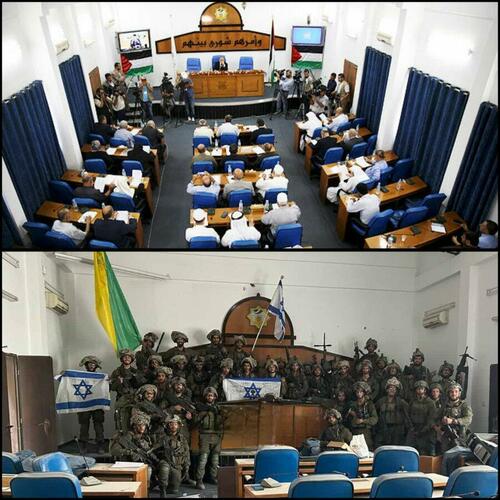 But fierce fighting continues, and the IDF has reported at least 51 Israeli troops killed since the start of the ground invasion.
* * *
At this point most of the over one million Palestinians who had been living in the northern half of the Gaza Strip have fled to the southern half. But Israel's military has been reportedly ramping up its bombardment of the south too, despite for weeks urging Gazan civilians to make their way to this supposed 'safe zone' area – which it turns out is anything but.
There's not just bombs to worry about, but the rain has been falling too, creating an additional crisis for the densely packed tent cities which have been popping up. Now there are fears of flooding, increasing the potential for the spread of disease.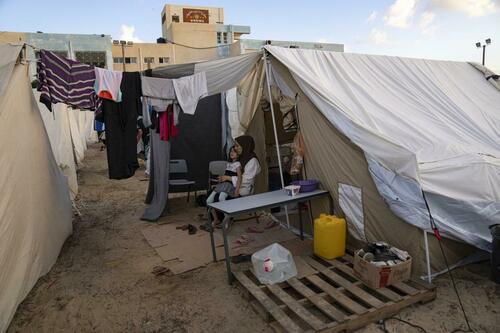 "The start of the rainy season and the possibility of flooding increased fears that the densely populated enclave's sewage system will be overwhelmed and disease will spread," an Al Jazeera correspondent reports Wednesday.
"At a U.N. shelter in Khan Younis in southern Gaza, the rain brought dismay for displaced people who woke to find the clothes they put out to dry the night had been drenched by rain," the report adds.
The temperature is also dropping, which adds to the mystery of the hundreds of thousands of internally displaced refugees. Basic supplies, such as food and water, are in extreme shortage.
One eyewitness who is displaced described the spiraling situation as follows:
"We were in a house built of concrete and now we are in a tent," said Fayeza Srour, who sought safety in the south after Israel began its military offensive in response to the Oct. 7 rampage by Hamas fighters who entered southern Israel from Gaza.

"The nylon tarps, the tent and the wood will not resist any flooding… People sleeping on the floor, what will they do? Where will they go?"
Basic medicines are also in short supply, or else non-existent in some places, also as the hospital system throughout the north has collapsed, amid overnight reports that Israeli troops began storming some wings of al-Shifa hospital in Gaza City, which is the Strip's largest.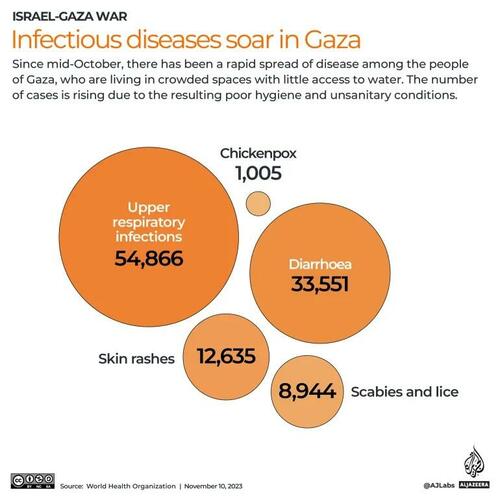 WHO spokesperson Margaret Harris has told reporters in Geneva that "We've already got outbreaks of diarrhoeal diseases." She said the organization has received reports of over 30,000 cases.
"We've got so much infrastructural damage. We've got a lack of clean water. We've got people very, very crowded together. This is another reason why we are begging for a ceasefire to happen now," Harris said.
As for the rain, while some have expressed relief and happiness that water can be collected to drink, it also generally makes living conditions all the more miserable…
"Everything is gone!"

Heavy rain in the Gaza Strip has worsened conditions for displaced Palestinians. Rainwater is seeping into tents, soaking belongings and beds. The lack of heating sources, due to electricity cuts and fuel scarcity, makes it difficult for people to stay warm pic.twitter.com/XbKQ2wSW6D

— Middle East Eye (@MiddleEastEye) November 14, 2023
<p text="More than 11,100 Palestinians have been killed in Gaza since Oct. 7, according to Gaza's Health Ministry. While there is no breakdown between fighters and civilians, most of the dead are women and children.">The Washington Post documented this week that "More than 11,100 Palestinians have been killed in Gaza since Oct. 7, according to Gaza's Health Ministry. While there is no breakdown between fighters and civilians, most of the dead are women and children."
"In just a little over a month of war, that amounts to over 0.5 percent of Gaza's more than 2 million people," WaPo underscored.
Loading…
7 total views, 1 views today