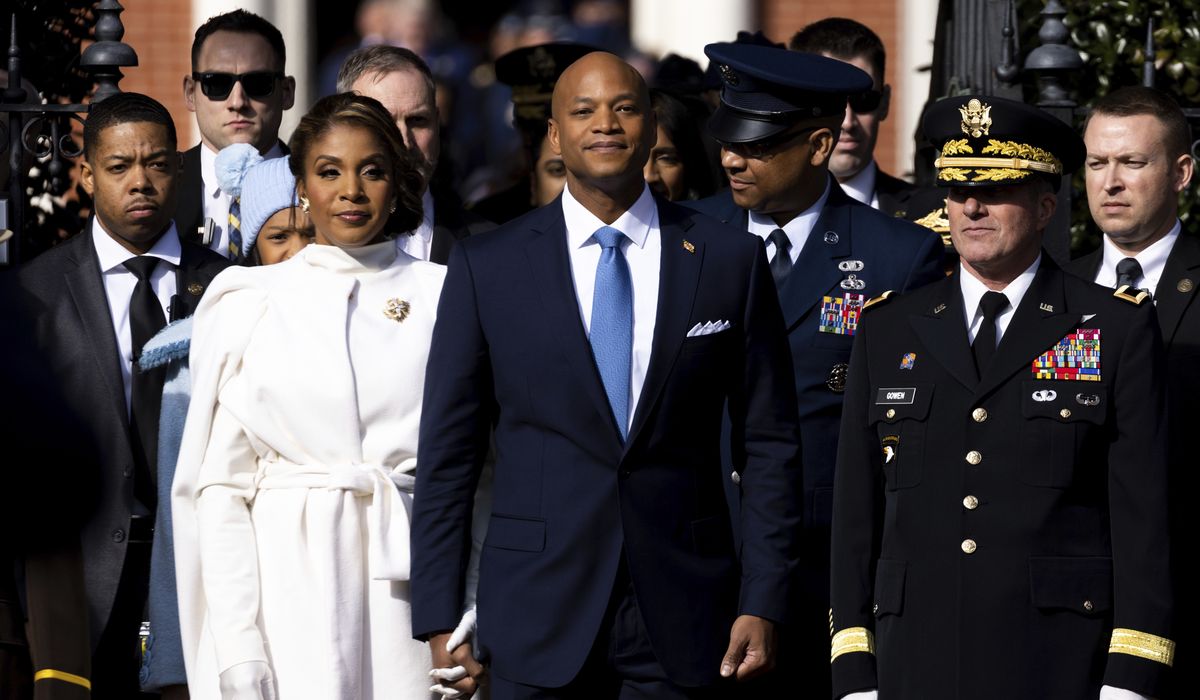 ANNAPOLIS — Democrat Wes Moore took the oath of office as Maryland's 63rd governor Wednesday, becoming the first Black to lead the state and promising an economic agenda that includes closing the "racial wealth gap."
Saying the imagery of Maryland's past is "very personal and emotional to me," Mr. Moore took the oath of office at the statehouse on a Bible that belonged to Frederick Douglass. He also used a Bible that was his grandfather's.
Before the ceremony, Mr. Moore, 44, underscored his historic inauguration by attending a wreath-laying at a dock in the port city where enslaved Africans, including Kunta Kinte of "Roots" fame, once arrived in America in chains.
An Army veteran and first-time officeholder, Mr. Moore is viewed as a rising star in the Democratic Party. He attracted major campaign dollars from Hollywood, Big Tech and Wall Street, and his name is already mentioned among Democrats as a possible contender for national office.
Mr. Moore is the only Black governor in the nation and just the third Black to be elected governor in U.S. history. The others were Douglas Wilder in 1989 in Virginia and Deval Patrick in 2006 in Massachusetts, where he served two terms.
Also Wednesday, Aruna Miller was sworn in as Maryland's lieutenant governor, the first Asian American in the state to hold that office.
Chryl Laird, an associate professor of government and politics at the University of Maryland, said Mr. Moore is emblematic of changing demographics in the U.S.
"Maryland has a fraught history with respect to communities of color, especially African Americans," she said. "It was a slaveholding state. And so I think this is a significant stride. He is somebody who's done basically everything right and done it well, with grit and courage and through adversity, and came up the ranks in a way that is very reminiscent of other black historical figures who were not starting from positions of power or access."
Mr. Moore won a crowded Democratic primary last year that included former Democratic National Committee Chairman Tom Perez. In the general election, he easily defeated Trump-backed Republican Dan Cox, a former state delegate.
Mr. Cox pointed out Wednesday that he won Maryland's counties by a more than a two-to-one margin over Mr. Moore, who won bigger vote totals in the state's more populated cities and counties in the Baltimore-Washington corridor.
"All of Maryland must be represented, respected and our rights protected by Gov.-elect Moore," Mr. Cox tweeted. "Mr. Moore's family upbringing of faith and military service makes me hope that he will keep his word."
Mr. Moore succeeds two-term Republican Gov. Larry Hogan, who left office with an approval rating of 77% and a budget surplus.
208 total views, 2 views today