Central banks and mainstream economists were entirely wrong about the narrative that inflation is "transitory," but after more than a year of raging inflation to four-decade highs, there are signs that current price spikes are waning.
One of those price declines is the Food and Agriculture Organization of the United Nations (FAO) index of world food declined by 8.6% to 140.9 points in July, marking the fourth consecutive month of declines since hitting an all-time high in March. However, the international price of a basket of commonly-traded food commodities is still 13.1% higher than in July 2021.
As shown below, the UN food index recorded the largest monthly decline since the summer of 2008.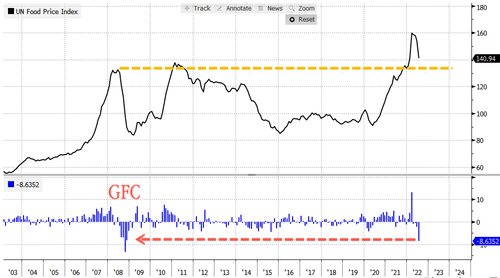 "The decline in food commodity prices from very high levels is welcome, especially when seen from a food access viewpoint; however, many uncertainties remain, including high fertilizer prices that can impact future production prospects and farmers' livelihoods, a bleak global economic outlook, and currency movements, all of which pose serious strains for global food security," said FAO Chief Economist Maximo Torero.
Besides slumping food prices, inflation expectations alongside commodity prices (fuel prices) have recently eased and come as recession risks across G10 markets are pulled forward (the US has fallen into a technical recession) as central banks raise interest rates aggressively to fight the inflation storm.
23 total views, 1 views today