By Sebastian Boyd, Bloomberg markets live reporter and strategist
There's a possibility the yen may have touched bottom for the current cycle, at least against the dollar, with measures of interest-rate differentials between the two currencies starting to narrow.
Colleague George Lei warns the yen is unlikely to outperform, though once-deeply negative six-month and 12-month yen forward points seem to have begun to turn a corner.
Traders in the US are now looking ahead for possible cuts, while those in Japan are thinking yields may be allowed to rise eventually.
That means that those two measures of interest-rate differential may start to rise and eventually start pulling the three-month points up with them. There's a very strong correlation between six-month forward points and USD/JPY over the past five years, and it gets even better if with a lag.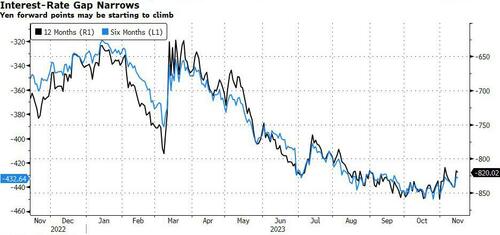 Meanwhile, the gap between one-year rate swaps in dollars and yen fell to the narrowest since June. A big hawkish data surprise in the US would turn that around, but as long as we continue to see the labor market soften, the rate gap will continue to narrow.
It's not obvious how long the yen's recovery will last, but US consumer price data did Japanese authorities a huge favor on Tuesday. The yen had bumped up against 151.95 per dollar on Monday, the level that provoked intervention in October 2022. But when US CPI came in softer than expected a day later, yields tumbled and the dollar plunged.
The scale of the move was exaggerated and there's obviously a likelihood it gets unwound. But fed funds rates are now pricing in no more hikes and brought the likelihood of a rate cut forward to May from June, pushing USD/JPY right back below 151 again.
Loading…
6 total views, 1 views today