'Zarif-Gate' Leaked Audio Scandal: Iran FM Gives Embarrassingly Frank Assessment Of Iran's Decision-Making
Deeply embarrassing leaked audio has surfaced which has sparked a crisis in Iran and which may negatively impact ongoing nuclear talks in Vienna. Iranian Foreign Minister Javad Zarif was heard in audio confirmed by The New York Times as authentic saying that the Islamic Revolutionary Guard Corps (IRGC) overrules many government decisions, strongly suggesting it's the military that's actually fully in control of the country. While this may be to some degree stating the obvious, it's hugely unexpected for Iran's top civilian diplomat to actually candidly admit as much. One state media newspaper has already emphasized it's a major "scandal" for the country.
Zarif is typically very guarded, but in the tapes that surfaced Sunday (it's unclear at this point the origin of the leak) he's heard discussing slain Guard Gen. Qassem Soleimani and how the elite commander undermined him in a variety of ways, noting he often went against Iran's interests. The audio interview took place over two months ago, reports say, and was intended as a classified "oral history" project covering President Rouhani's two terms in office from Zarif's perspective. 
"In the Islamic Republic the military field rules," Zarif is heard telling a pro-government journalist."I have sacrificed diplomacy for the military field rather than the field servicing diplomacy." He goes so far as to say that Soleimani would often task himself as Iran's top diplomat with "requirements".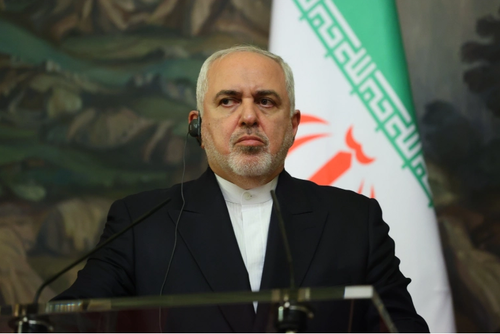 It involves three hours of audio with the pro-government journalist as well as economist Saeed Leylaz which Zarif apparently believed would never see the light of day, or at least wouldn't be released for years to come. But it was leaked to media outside Iran on Sunday, with much of it quickly translated.
The NY Times describes that "A copy was leaked to the London-based Persian news channel Iran International, which first reported on the recording and shared it with The New York Times."
"On it, Zarif confirms what many have long suspected: that his role as the representative of the Islamic Republic on the world stage is severely constricted. Decisions, he said, are dictated by the supreme leader or, frequently, the Revolutionary Guard," the NY Times emphasizes.
"The structure of our foreign ministry is mostly security oriented," Zarif is heard saying, while also painting a picture of being left in the dark on many major policy decisions. For example he blamed the late Soleimani, who was killed in a US drone strike at Baghdad airport, for seeking to torpedo the nuclear deal (JCPOA) – as Islamic hardliners in Iran have long been against striking a deal with the US. He also described that Russia was on board with this.
Furious fallout in #Iran over @IranIntl's publication of Zarif interview. Farhikhtegan said leak questioned Rouhani's nuclear file management. Recently, elements in IRGC came under criticism for security breaches. But now Rouhani is being targeted.https://t.co/QnJcI1GtyN

— Jason Brodsky (@JasonMBrodsky) April 26, 2021
This internal decision-making struggle also appeared to have huge consequences in terms of handling major crises. The BBC reports on one very notable instance as follows, based on the audio:
Mr Zarif complains that the Revolutionary Guards sidelined him on many occasions.

He mentions the early hours of 8 January 2020, when Iran attacked an Iraqi military base housing US forces with more than a dozen ballistic missiles in retaliation for the killing of Qasem Soleimani. He says he only found out about the missile attack two hours after it happened.

Later that day, he adds, when a Revolutionary Guards air defence unit shot down, apparently by mistake, a Ukrainian passenger airliner that had just taken off from Tehran, killing all 176 people on board, commanders only wanted him to deny Iranian culpability.
And then there's Syria… 
He recalls how Soleimani wanted him to take particular positions in meetings with the Russian foreign minister, and says the general effectively took Iran into the war in Syria because Russian President Vladimir Putin wanted Iranian forces on the ground to complement the Russian air campaign in support of the Syrian government.
Zarif is also heard to complain than Gen. Soleimani at times used Iranian civilian airliners, specifically Iran Air, for military purposes, which opened up the country to sanctions and other reputational damage, and further put civilians at risk. This confirmation comes after it's long been suspected that Iran used civilian aircraft for gun-running to Hezbollah and other regional allies. 
In a leaked audio file #Iran's FM Zarif says he heard from @ClimateEnvoy John Kerry that #Israel has attacked Iranian positions in #Syria 200 times and he basically says why wasn't he informed first by the IRGC?

— Hossein Ghazanfari (@TehranDC) April 26, 2021
Imagine for a second a Trump official sitting on the NSC, like Kerry does, told Iran details about Israeli strikes?

I believe the media would be screaming TREASON and they wouldn't be too far off, but of course they'll say and do nothing because they're useless propagandists. https://t.co/ZsDowqtVWN

— Donald Trump Jr. (@DonaldJTrumpJr) April 26, 2021
On Monday the Iranian Foreign Ministry insisted the remarks have been taken "out of context" from a classified interview, which was "cherry-picked". A government spokesman said "what Zarif has said should be seen as a whole and not cherry-picked."
The recording "was by no means an interview from the beginning, nor was it supposed to be an interview… it was a part of a routine and confidential dialogue that takes place within the administration," the spokesman added, seeking to dispel any assertions that the contents represent the positions of the Iranian government. 
Tyler Durden
Mon, 04/26/2021 – 12:22

Source: Zero Hedge News
45 total views, 2 views today